When it comes to creating drugs to combat the world's most devastating diseases, established pharmaceutical companies sometimes prefer extending the lifecycle of existing drugs to developing truly new and groundbreaking treatments.
But as the US Food and Drug Administration's most recent standards emphasize, it is crucial that pharmaceutical companies stay focused on their core mission – bringing genuinely new medicines and treatments, ones with revolutionary, disease-modifying potential, to the pharmaceutical market.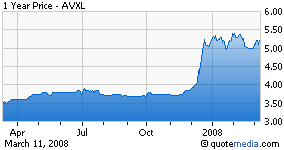 Enter Anavex Life Sciences Corp. (NASDAQ:AVXL). The company's proprietary SIGMACEPTORTM Discovery Platform makes use of a new class of molecules known as sigma ligands, which show strong promise in treating a range of diseases, including Alzheimer's, epilepsy, depression and several types of cancer – combating the diseases themselves rather than merely the symptoms.
Anavex is currently focused on two key drug development programs. Its SIGMACEPTORTM-N program targets neurological diseases, and currently has three compounds in development – one for Alzheimer's, another for epilepsy, and a third for depression. The SIGMACEPTORTM-C program, meanwhile, is made up of candidate drugs for prostate, colorectal, breast and lung cancers as well as other types of solid tumors.
So far, indicators have been very promising. Pre-clinical data on the company's SIGMACEPTORTM-N compounds has revealed, among other things, the anticonvulsant, anti-amnesic, neuroprotective (i.e. protects nerve cells from degeneration or death) and anti-depressant properties of its lead epilepsy candidate. Meanwhile, scientific publications are emphasizing the promise of sigma ligands and highlighting the fact that they stop tumor growth and induce selective cell death in various tumor cell lines, including leukemia, melanoma and cancers of the lung, colon, brain, ovary, breast, prostate, and kidney – underscoring the enormous potential of SIGMACEPTORTM-C.
The potential of these programs, say company officials, is enormous. According to Anavex's estimate, the market size for cancer drugs will reach $83 billion annually by the year 2015 in the world's seven major pharmaceutical markets alone (France, Germany, Italy, Spain, UK, USA and Japan). The company estimates that markets for drugs that combat Alzheimer's disease, epilepsy and depression will reach an annual $8.25 billion, $12.7 billion, and $14.0 billion respectively by that same year.
Companies that can help to meet this enormous need stand to realize enormous success – particularly companies whose work is in tune with the FDA's most recent drug development priorities. Anavex's drug candidates have shown effectiveness at very low doses and high safety profiles, even in large doses, qualities singled out alongside novelty for emphasis by the FDA's new standards.
While its head offices are in Geneva, Switzerland, Anavex's core research facility is an 11,000-square-foot laboratory in Athens, Greece – home base to a core team of 15 researchers with expertise in medicinal chemistry, molecular biology and pharmacology.
The company also maintains a network of scientific collaborations with renowned European research and academic institutions such as Montpellier University, Louis Pasteur University and the Academy of Athens' Institute of Biomedical Research. These partnerships have been a great source of strength to Anavex, allowing the company to keep its research and development costs at comfortable levels while maintaining full control over its research and intellectual property rights.
The company has a busy calendar of activities planned for the near future. It is planning to file Investigational New Drug [IND] applications for three of its lead drug candidates in 2008, with the goal of proceeding rapidly into Phase 1 clinical trials. Meanwhile, it is continuing to advance numerous other compounds, currently in the discovery or lead optimization stage, for insertion into both the SIGMACEPTORTM-N and SIGMACEPTORTM-C pipelines.
Given the strength of its groundwork and the urgent need for new medications in its areas of focus, Anavex seems poised for growth in the near term.