We recommended selling First Solar (NASDAQ:FSLR) on June 13, and maintain the same position even now. We expect the margins of First Solar (FSLR) to squeeze as a result of falling ASPs from excess PV supply in the market. Furthermore, we expect the threats from other low cost leaders and high efficiency cell producers to materialize in the near future, which will put further pressure on the revenue generation ability of the company.
On Friday, First Solar's shares jumped nearly 13%, as construction recommenced on the California-based Antelope Valley Solar Ranch One plant, after a permit was attained to do the same. The project was long overdue and will help the company in improving its 2012 revenue forecast. Also, a strong backlog of pipeline projects will provide some stable revenue streams for the largest producer of low cost thin-film cells. But in the long term, we foresee loosened demand for First Solar PV modules as crystalline silicon PV producers, e.g. Canadian Solar (NASDAQ:CSIQ), approach First Solar's production cost levels.
This contract does not signify that the company will be able to secure more contracts in the future.
Canadian Solar has forecast that by 4Q2012, it will be able to achieve $0.60/watt module production costs. In fact, as we mentioned in our previous coverage of the Solar Industry, Canadian Solar has approached First Solar production cost levels of $0.73/watt. In addition, thin-film cells produced by First Solar have low efficiency levels of around 13%-14%, significantly lower than crystalline silicon PV cell efficiency levels of 18%-19%. Low cost and high efficiency crystalline silicon PV manufacturing is a serious threat to First Solar's business model, a company which proclaims cost leadership in the Solar Industry.
Furthermore, owing to low efficiency levels, more thin-film cells are needed to produce the same level of electricity, thereby occupying more space than crystalline silicon cells. Space can be an important factor for companies operating in densely-populated areas of India and China. Space could be another threat to First Solar PV module sales in emerging markets. Therefore, we expect a dip in First Solar's earnings and maintain a sell recommendation. Major factors that could reverse our sell recommendation will be an improvement in First Solar PV cells efficiency levels or a decrease in production costs.
First Solar is the largest producer of cheap thin-film PV cells with a global manufacturing capacity of 2.4GW. The company has one of the lowest production costs, of $0.73/watt, in the industry, and is facing declining sales owing to falling ASPs and falling demand for its thin-film modules. Revenues declined 12% YOY in 1Q 2012, and the company has announced a restructuring plan to reduce production costs and enhance operational efficiency. The U.S. Solar Industry posted the second fastest installations growth in 1Q 2012, due to strong commercial demand of solar energy modules.
The stock is currently trading at $15.40, and has a short ratio of 3.66. Currently, the stock is trading at a forward earnings multiple of 3.92x.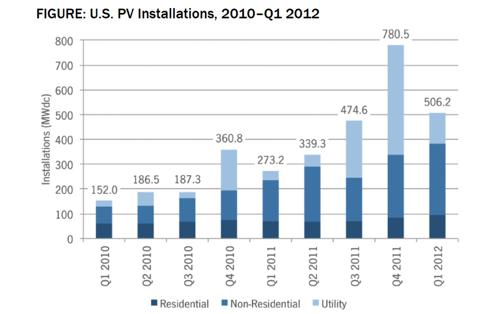 Disclosure: I have no positions in any stocks mentioned, and no plans to initiate any positions within the next 72 hours.