Anybody who argues that the health care markets don't work should pay attention to yesterday's sharp drops in the stocks of Wellpoint (WLP), Aetna (AET), Humana (HUM) and Coventry (CVH).
Point and figure charts show that these stocks may have a way to go before bottoming out. Wellpoint lowered its guidance because its medical costs, or claims, are rising faster than expected, and enrollments aren't living up to expectations. Even though employment remains at basically full employment levels, the number of uninsured and under insured patients is climbing. Many of Wellpoint's plans are in California and Colorado and other states with high numbers of illegal immigrants who are uninsured but can't be denied health care services, especially emergency care.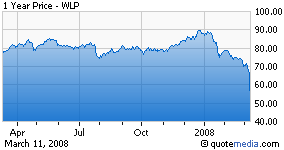 In today's markets, consumers have virtually unlimited access to expensive diagnostic and treatment procedures, which means Wellpoint and other health insurers have little control over costs. The thing to remember is that over time, health insurers do a pretty good job of capturing their percentage of health care costs. They'll raise premiums to make up for the higher claims and lower enrollments. This will drive more people into the ranks of the uninsured and under insured, but the HMOs will do fine in the long run---until the government steps in and shuts them down.