With oil prices hitting $107 per barrel on Monday and OPEC holding its production levels steady, commodities continue to be an intriguing play. One small-cap player positioned to benefit from the supply crunch that's pushed prices upward is Warren Resources (Nasdaq: WRES).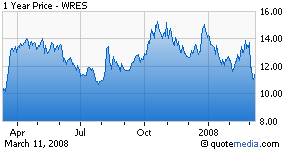 Founded in 1990 and headquartered in New York with a market cap of $655 million, Warren operates as an independent energy company. It engages in the acquisition, exploration, and development of oil and natural gas reserves in the United States. Its primary exploration and development activities are focused in the Rocky Mountains and the Los Angeles Basin of California.
Warren is a leading developer of coalbed methane natural gas [CBM] in the Rocky Mountain region. Although the land is largely undeveloped, the company has two core areas that are believed to have significant CBM resources: Washakie Basin, in southwestern Wyoming, and the Powder River Basin in northeastern Wyoming. The company owns natural gas and oil interests in Southern California that account for a significant portion of its revenue, along with ownership of natural gas and oil interests in Texas, New Mexico and North Dakota.

Its drilling, production and land operations are conducted through its wholly owned subsidiary, Warren E&P, which was founded as the Petroleum Development Corporation in 1973. Warren Resources completed its IPO in December of 2004 and has yet to look back. Despite a pullback in its share price last week, the company's stock still trades nearly 15% above its year-earlier level.
For the fourth-quarter ended Dec. 31, Warren reported net income of $4 million, or $0.07 per diluted share, on $20.2 million in sales. These results came in short of analysts' predictions, which were calling for net income of $0.09 per diluted share. However, total revenue was up 110% on a year-over-year basis.
Despite the earnings shortfall, one analyst is particularly impressed with the company's operating efficiency. In an interview with SmallCapInvestor.com, Mark Lear, an analyst for Sidoti & Co., said Warren is "putting up peer-group leading production growth."
For the current year, Lear is forecasting EPS of $0.49 on revenue of $112.2 million, up 145% and 82%, respectively, from this past year. And that's just the beginning. Lear then sees revenue surging another 71.6% in 2009. His current price target of $20 compares favorably in relation to Monday's close of $11.25.
For 2008, five analysts surveyed by Thomson Financial are expecting Warren to report EPS of $0.48 per share, compared with $0.20 in 2007. Revenues are expected to rise 71.5% to $105.7 million.
These sharp improvements in revenue are being fueled by an aggressive drilling strategy at the company's Wilmington oil field. The Wilmington field is located in Southern California and is the third largest oil field in the United States, allowing Warren to ramp up its production in 2007 by a staggering 80% in this region. It has been the source of 2.5 billion barrels of oil since it was discovered in the 1930s.
The company is looking to continue to follow a path of rapid expansion in 2008 and has the resources to do it. Cash flow from operations hit $10.1 million in the fourth quarter of 2007, up 110% from the fourth quarter of 2006. Warren also recently obtained a $250 million line of credit from the capital division of General Electric Co. (NYSE: GE). With 90% of the company's net acreage remaining undeveloped, the sky is the limit for Warren Resources.
One notable challenge that the company is currently facing that could hinder production levels in 2008 is an emissions issue at the Wilmington unit. Warren is pressing the South Coast Air Quality Management District for a permit to install a new high-efficiency gas flare that would result in higher oil production levels and lower emissions.
"Our production estimate assumes emission issues are resolved by Q2 of '08, but if they are not, our 2008 oil production estimate could decline between 30,000 and 270,000 barrels (from 1.3 million) depending on which quarter the company is permitted to increase production," Lear wrote in a research note.
Though the emissions situation is worth monitoring, Warren (WRES) is turning out to be a remarkable growth story nonetheless. It is well positioned in an industry that is experiencing soaring prices and the company seems to be sitting on plenty of untapped reserves. Taken together, these factors will likely continue to make the company a formidable player in the energy industry in the years ahead.
Disclosure: none