Shares of the major agriculture ETFs and stocks are moving higher on Monday despite weakness in most other markets.
Agriculture Tracking ETFs
As shown by the chart below, corn represented by the Teucrium Commodity Trust Fund (NYSEARCA:CORN) (blue) is leading agriculture commodities higher. However, wheat represented by the Teucrium Commodity Trust Fund (NYSEARCA:WEAT) (red), and soybeans represented by the Teucrium Commodity Trust Fund (NYSEARCA:SOYB) (orange) are all moving higher. The broader agriculture fund Power Shares DB Agriculture Fund (NYSEARCA:DBA) is also higher.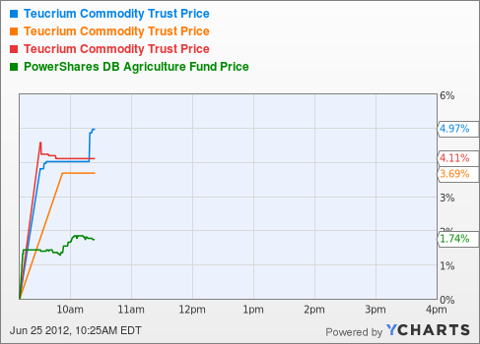 CORN data by YCharts
Agriculture Stocks
Shares the major agriculture plays are benefiting from higher commodity prices. The moves higher in Potash (NYSE:POT), Mosaic (NYSE:MOS), CF Industries (NYSE:CF), and Intrepid Potash (NYSE:IPI) are impressive considering the S&P 500 (NYSEARCA:SPY) is down over 1.5% so far on the session.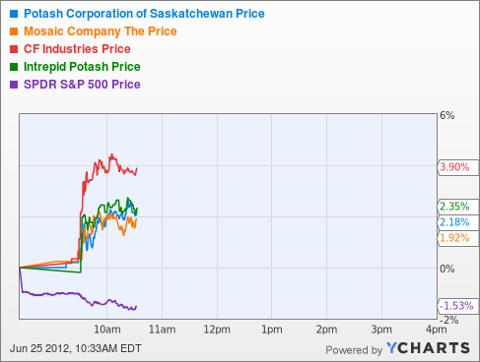 POT data by YCharts
Drought Risk
The reason behind the move higher on Monday likely has to do with the increasing risk of a Midwest drought, which would have a major impact on supply of agriculture commodities. It should also be noted that the U.S. corn stockpile is projected to fall to a 16-year low by the end of August.
My Take
Investors who are trading either the agriculture commodities or the agriculture stocks need to be aware that their trade is going to be highly influenced by the weather. For this reason I would suggest investors avoid trading the agriculture stocks unless they are highly experienced in trading agriculture. Investors who agree with Jim Rogers's bullish outlook for everything agriculture, and are looking to make a long-term bet on the sector should, in my opinion, consider buying Deere & Co (NYSE:DE) as a derivative play. DE pays a dividend of 2.44% and is not so much influenced by the daily fluctuations in agriculture commodities as it is influenced by the long-term trends in the industry.
Disclosure: I have no positions in any stocks mentioned, and no plans to initiate any positions within the next 72 hours.