NovaGold Resources Inc. (NYSEMKT:NG) has had a tough run ever since the shocking suspension of the Galore Creek project last year. Last week, the Vancouver-based company tried to raise as much as C$150-million through an equity issue, but had to cancel the deal the next day because of "pricing conditions."
In light of that situation, RBC Capital Markets analyst Stephen Walker has done an analysis of NovaGold's cash position, and where investors can expect it to be through fiscal 2008.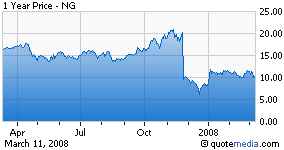 NovaGold ended 2007 with C$16-million in cash, and has secured another C$64-million from a credit facility and sale of investments and other sources. So Mr. Walker gives the company C$78-million in available cash. However, it has capital expenditure at the Rock Creek and Donlin Creek projects, as well as suspension costs at Galore Creek and other expenses. He calculates that the company will have just C$4-million in available cash at May 31.
Later in the year, the situation should get better because NovaGold will generate cash from Rock Creek and expects another C$24-million from the exercise of warrants. Mr. Walker figures the company will have C$21-million in cash at the end of 2008, but notes that the company needs a stock price above C$7.00 a share to exercise the warrants.
In a note to clients Mr. Walker wrote:
Given its spending commitments in 2008, we highlight the liquidity risks that [NovaGold] could be faced with later in 2008, especially if there are start-up problems at Rock Creek, or if its stock price languishes below C$7.00 a share.
He expects NovaGold to try another equity issuance "in the near-term."