In the past 52 weeks, Cummins Inc. (NYSE:CMI) has traded between $79.53 (52 week low on 10/04/2011) and $129.51 (52 week high on 3/16/2012). The stock's recent performance has been horrible and the bloodshed may not be over even though CMI has already dropped more than 30% since May 2012. Nevertheless, in the long term, CMI is a very good industrial play for your portfolio. If you are short this stock, be very careful.
Cummins Inc. makes engines, electric power generation systems and engine-related component products that address industrial, construction and highway equipment. The company is very vulnerable to global recession talks and any bad news related to China.
So how low can CMI really go? According to technicals, the stock has a weak support of $87. If CMI could go below this support, there is a chance of a further 5-10% drop. If this happens, traders will have to act quickly, and investors will have to be patient for the remainder of the 2012 year. On the upside, CMI has at least four strong resistance points towards its 52 week high of $129.51, which are around $95, $106, $112 and $121. The recent relative strength as well as MACD shows bearish conditions for the stock.
Here are some reasons why investors should be cautious and if already long, patient, about CMI in the near term.
Truck manufacturing and power generation markets are the first few markets that are affected by talks about global recession.
Cummins Inc. has been a Wall Street darling because of its exposure to China, India and Brazil. Recently, the news coming out of these countries have not been very encouraging.

Note: There was a recent report regarding China's economic data being manipulated, but there is no need to pay too much heed to such reports. One of our recent articles discusses why.

Foreign exchange volatility impacts CMI greatly because more than 50% of CMI's sales are non-US.
There is a lot of volatility in the class 6-8 truck cycle. The class 6-8 truck fleet in the US has been aging and needs an overhaul. Although this should be a catalyst for Cummins, capital spending pressures resulting from talks about another recession can keep this catalyst at bay, and CMI's stock may lose both steam and appeal in the near term.
A slowing pace of economy will pose a big challenge for CMI.
But should investors that are already long this stock panic and sell because of this near term uncertainty? Absolutely not.
Cummins' business is mainly affected by the fleet age of trucks and equipments, which is a bit cyclical in nature, and overall macro environment globally. Let us first understand it's business segments, sales by each segment and also let's take a look at the company's performance in the past and estimates for the next couple of years.
Cummins Inc. operates in mainly four business segments:
Engines:

CMI makes diesel as well as natural gas engines for heavy/medium duty trucks, buses, RVs, industrial equipments and even light duty automobiles. Engines accounted for 53% of FY 2011 sales. In 2009, Caterpillar Inc. (NYSE:CAT) announced exiting the highway truck engine market, which will help CMI gain market share in this segment in the coming years.

Electric Power Generation Systems:

In FY 2011, 14% of total sales came from this segment, which includes engines, controls, transfer switches, alternators etc. for electric power generation systems.

Components:

CMI also manufactures engine components, filtration systems, exhaust systems and turbo chargers, and this segment was 16% of total sales in 2011.

Distribution:

17% of CMI's FY 2011 sales came from the Distribution segment, that basically has more than a dozen joint venture distributors and also company owned distributors spread in about 70 countries.
CMI's past performance and future estimates:
Here's a breakdown of the company's actual reported numbers for FY 2010 and 2011, and estimates for 2012 and beyond.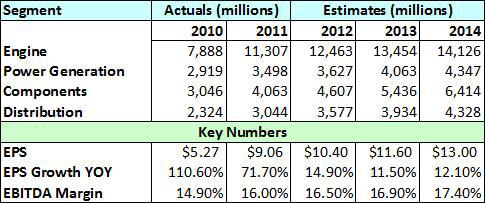 As you can see here, CMI's numbers do not display a dismal picture at all. In fact the positive trend in the EBITDA Margin is a good sign.
EBITDA Margin is basically the company's EBITDA as a percent of sales. Trend in the EBITDA Margin tells if the company is getting more or less profitable as a percent of sales. A higher expected year over year trend makes a stock a good buy. Although modest, CMI's EBITDA Margin has been growing and is expected to grow. Long term, going into 2012 end and 2013, this bodes well for the stock. A proven case of positive EBITDA Margin is Sprint (NYSE:S) - the stock has rallied from $2.20 to above 3$ in no time.
Zero Sell ratings
Of the 20 analysts that follow CMI, 9 have a Hold rating, 4 have a Buy/Hold rating and 7 have a definite Buy rating. Interestingly, there are no Sell ratings by any of the analysts.
Aussie-Yen FX rate increasing, indicating China growth
Argus Research released a report last week stating that the recent uptrend in the Aussie-Yen FX cross rate that tends to signal China's growth rate indicates that markets may see a rally similar to the one in Q1 2012 in summer end and beyond. The Aussie-Yen cross rate is used to gauge Chinese growth because when investors are bullish on China, they invest in "hard-asset currencies" like the Australian dollar, sending the Aussie-Yen FX cross rate to start trending higher. This is a known metric used to identify Risk-On rallies (see this February 2012 video explaining this metric). If such a rally happens, a short position might suffer greatly if not covered at the right time. Short squeezes could take the stock past the strong resistant levels and before we know it, the stock will start its march towards its 52 week high. The technicals of such a chart would be a sight to watch.
In the first quarter of 2012, CMI has already seen a strong demand in the US, even though the demand was weak in China and Brazil. This demand might increase towards the end of 2012.
Target price for 2013
Considering the 2013 EPS of $13.00, CMI should trade at around $115 if you consider that it will trade about 8 times its earnings. The P/E going into 2013 should in fact be higher because the company seems to be poised to gain more market share (at least in the engine markets) during the timeframe, and if it goes to as high as 11x, the target price could be more than $140.
So what should investors really do? Here are some options:
If you have a short position on CMI, hold for the near term but keep a watchful eye and be ready to cover.
If you are long CMI, do not sell at a loss. Be patient, earn your modest 1.77% dividend yield in the meantime.
If you want to go long, wait for that pullback and then buy on dips. Then, be patient.
If you want to short this stock, this may appear to be the right time, but be careful. The stock will take no time in improving (already, the UP/Down volume pattern shows CMI is under accumulation) and becomes a risky short.
With stocks like CMI, investing rather than trading will give better results.
Additional disclosure: I consider CAT a buy, but I am not long CAT.