Residential REITs
Despite the continued volatility in mortgage markets, American Capital Agency Corp. (NASDAQ:AGNC) has been able to outperform with the stock being up 16% YTD. The stock offers incentives of a lucrative dividend yield of 15.5% for yield-hungry investors, coupled with low risk. AGNC, in our opinion, would be a major beneficiary of the recent supportive activity in real estate mortgage markets, which is represented by a surge in mortgage originations. Based on the following reasons, we recommend a long position on AGNC. However, investors should assess the risk stemming from quantitative easing by the Fed.
Industry Drivers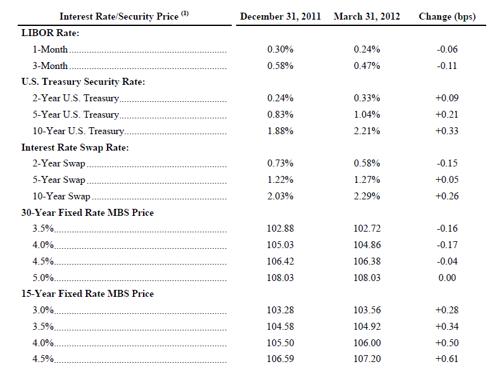 REITS are closely tied with interest rates. The impact of any changes in the general level of interest rates can run in either direction for REITs. While adversely affecting the market value of the investment portfolio and interest income, variations in interests can also accelerate prepayments for REITs. Accelerated prepayments increase premium amortization costs, which are generally amortized over the projected life of the security. During 1Q2012, the yield curve steepened. Rates on the 2-year treasury security increased by 9bps, while rates on 10-year treasury security increased by 33bps. However, rates are unlikely to shoot in the near future owing to macroeconomic headwinds.
Another industry driver is the trend in the real estate markets. The Federal Housing Authority reported that house prices in the U.S. have modestly increased in the first quarter of 2012. The House Price Index ((NYSE:HPI)) was up by 0.6% from 4Q2011. This, they say, was largely due to a relatively smaller homes inventory and increased affordability.
The mortgage rate on the benchmark 30-year fixed mortgage dropped from 3.91% to 3.89% last week. The rates are expected to drop further.
U.S. Mortgage originations are at 318.00b, up from 302.00b one year ago. U.S. mortgage originations, purchases are at a current level of 80.00b, unchanged from last quarter. Currently, mortgage originations, refinancing is at a level of 239.00b, up from 196.00b one year ago. This is a change of 21.94%.
All these factors point towards an increased mortgage financing, which would enhance the company's ability to generate higher earnings.
Upcoming developments
Experts believe that the Fed's efforts for quantitative easing (QE3) have the potential to flatten the yield curve. In that case, these efforts would accelerate prepayments and can an unfavorable affect on net interest margins for REITS. On the other hand one can also expect the stock price to appreciate due to the perceived optimism related to increased general economic activity.
Another catalyst that has the potential to drive stock prices in future is the increased risk stemming from the Federal Housing Finance Agency's (FHFA) initiatives through its Home Affordable Refinance Program 2 (HARP 2). The program is designed to help distressed borrowers refinance their mortgages. The program has the potential to negatively affect the REIT business.
| | | | | |
| --- | --- | --- | --- | --- |
| | | | | |
| Market Cap: | 9.80B | 2.86B | 2.62B | 17.76B |
| Qtrly Rev Growth (yoy): | 363% | 18% | -38% | 13% |
| Revenue (NYSE:TTM): | 1.38B | 292.36M | 614.10M | 2.05B |
| Gross Margin : | 100% | 100% | 100% | 64% |
| EBITDA : | N/A | N/A | N/A | 1.26B |
| Operating Margin : | 93% | 94% | 91% | 29% |
| Net Income : | 1.28B | 296.45M | 555.28M | 53.69M |
| EPS : | 6.69 | 3.89 | 0.55 | 3.03 |
| P/E : | 4.89 | 7.51 | 4.65 | 19.5 |
| P/S : | 7.05 | 9.74 | 4.38 | 8.72 |
American Capital Agency Corp.
AGNC invests in securities, for which interest and principal payments are guaranteed by a U.S. government agency or any of the U.S. government-sponsored entity. With an aim to generate attractive returns to be distributed among their shareholders, the Bethesda-based REIT funds its investments primarily through short-term borrowings. The company generates income through the interest rate spread it earns between its interest income on its interest-sensitive assets and the interest costs of its interest-bearing liabilities.
Financial Review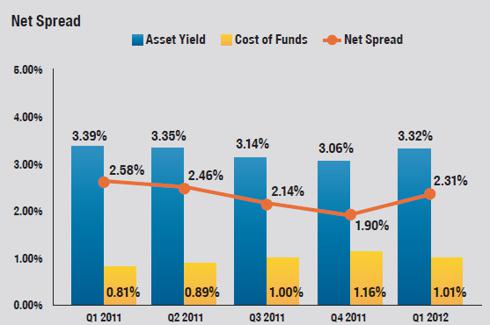 AGNC posted a strong EPS of $1.29 for 1Q2012, beating analyst estimates by a sweeping $0.14, the reasons for which include higher leverage, reduced cost of funds, and lower projected prepayment. The projected prepayments rate for the company's investment portfolio decreased from 14% in 4Q2011 to 9% in 1Q2012. This decrease was primarily due to an increase in interest rates during the quarter, variations in the combination of the investment portfolio and changes in the assumptions of the prepayment model, reflecting market conditions.
Interest income of $514mn saw a material surge of over 200% over 4Q2011, largely due to an increase in the investment portfolio during the quarter. The company was able to add $25.9b worth of new assets in its investment portfolio during the quarter to reach $80.6b. Most of the purchases were of low coupon mortgages, low coupon pass-through securities backed by lower loan balance, and HARP loans. The surge in interest income was partially offset by a decline of 7bps in average asset yield over 4Q2011 to reach 3.32%. The decline in average asset yield occurred due to acquisition of lower coupon investments. The net interest spread earned widened during the first quarter of 2012. It was up from 1.9% in 4Q2011 to 2.31% in 1Q2012.
Debt-to-equity (leverage) increase from 6.6x in 1Q2011 to 8x in 1Q2012. The recent equity offering help reduce financial distress risk. The company has $ 1.7b of unrestricted cash and cash equivalents at March 31, 2012, up by 29% from December 31, 2012.
Dividends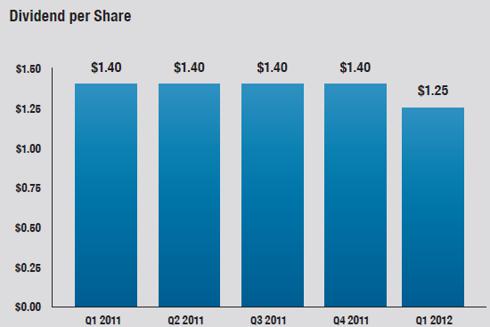 The stock, with a beta of 0.2, has a history of high quarterly dividend payments. It is currently offering an extremely lucrative dividend yield of 15.5%. It generated $472b from its operating activities, while it paid a total dividend of $301.3mn on common stock in 1Q2012. The stock offers a combination of sustained ability to continue such dividends in future, along with less risk as depicted by its beta.
Relative Valuation
The stock is currently trading at a modest premium with regards to its book value when compared to most of its peers. It has a price-to-book value of 1.11x, whereas Armour Residential REIT Inc. (NYSE:ARR), CYS Investments Inc. (NYSE:CYS), Chimera Investment Corp (NYSE:CIM) and Annaly Capital Management Inc. (NYSE:NLY) have price-to-book values of 1.02, 1.03, 0.8 and 1.05 respectively.
Recommendation
Activity in the mortgage markets in the U.S. is increasing, and since, AGNC has sufficient financial muscle to both capitalize on it and continue paying high dividends, we recommend our investor to go long on it.
Annaly Capital Management Inc.
We think NLY is a very attractive stock offering a 13% dividend yield and a low beta. Read our analysis on NLY here.
Chimera Investment Corporation
Chimera Investment Corporation , like AGNC, invests in residential mortgage-backed securities (RMBS), residential mortgage loans, commercial mortgage loans, real estate-related securities, and other asset classes, and operates as a REIT. However, unlike AGNC, it invests in both, agency or non-agency RMBS.
CIM recently announced that it had appointed Earnst & Young as the new auditor. The company has also failed to report is Q42011 report. It also announced a decrease in its 2012 second quarter dividend to $0.09 per common share. The stock has a high beta of 0.83 and that is why it is offering a dividend yield of 16.1%. However, the delays and ambiguity in filing its annual report is a potential hindrance in attracting investors to such high dividend yield and a reason for a dip in its stock price.
Equity Residential (NYSE:EQR)
EQR is one of the largest residential mortgages operating in the U.S., with 579 properties in 24 states. It doesn't hold too much value for investors in terms of its dividends, since it offers a dividend yield of 2.3%. Moody's has recently revised its outlook for EQR to stable from developing, after it received $150 million in termination fees. The company employs a debt of $9.44b, with a debt to equity ratio of 145.8. The revised outlook by Moody's reflects a decrease in it leverage levels. Its stock is up by 3.8% YTD.
Hatteras Financial Corp. (NYSE:HTS)
HTS is another REIT that operates in the U.S. and invests in agency fixed-rate and adjustable-rate single-family residential mortgage pass-through securities. It has a market cap of 2.9b and a dividend yield of 12.3%. The dividend yield seems to be sustainable since it has an operating cash flow yield of 13%. It is a low risk stock with a beta of just 0.2.
Disclosure: I have no positions in any stocks mentioned, and no plans to initiate any positions within the next 72 hours.