NASDAQ filings confirmed that twenty-two (22) new institutional investors recently bought shares of Conn's, INC. (NASDAQ:CONN), bringing the total to 126 institutional holders of more than 14 million shares, or 58%, of the company. "They are buying," and buying big, said one investor. So, let's take a closer look at this expanding enterprise.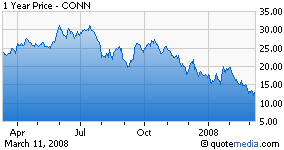 Since 2004, Conn's new store openings have grown at a steady clip of 6 per year, and 7 in 2007. Currently, Conn's operates 69 retail stores and continue to open new stores. Gross revenues have increased 25% during that same period without sacrificing profitability. Long-term debt is virtually non-existent, being paid down from 36.5 million in 2004 to meager 88,000 today. So what's the secret behind their success?
For years, the Visa (NYSE:V) and MasterCard (NYSE:MA) financial instruments have harvested billions in profits from consumers and retailers by providing outside financing. Many retailers have unwisely allowed these credit card institutions to reap billions in after sale profits like interest, financing fees, and other chargers -- but not so with Conn's. Financing is provided by Conn's in-house credit facility, giving them a higher revenue advantage over the competition.
Now meet the cash cow, the "QSPE" (qualifying special purpose entity). Conn's transfers their lucrative retail installment contracts and revolving charge accounts to their QSPE in exchange for cash and subordinated securities. Therefore, lucrative servicing fee income and interest income remains in-house. Conn's retains those hefty financing profits of approximately 18 to 21 percent, along with all transaction fees -- CHA-CHING. Moreover, those lucrative financial contracts are collateralized.
Let me simplify. Conn's is the seller, bank, and finance company all-in-one. All this gives Conn's an enormous advantage over the competition. Now that's smart business.
Conn's share price is unreasonably trading down in sympathy with the retail sector. This could make CONN a very attractive buy, and a short squeeze target. Conn's has 22.9 million shares outstanding and a float of 10.1 million. Factor in the 5.7 million shares currently held short and a 34-day cover ratio, and you could easily see a panic reversal of Conn's trading upwards of 20.00 dollars in days. For the long-term investor, a 32.00 dollar target price seems reasonable and sustainable within 12 months. This is definitely one stock to put at the top of your shopping list.
Disclosure: Author has a long position in CONN