Duke Energy (NYSE:DUK) is trading close to its highs and historically it tends to pullback when this occurs. In the past year it has done this several times and it looks like it is getting ready to pullback again. There is a pretty good chance that it could trade down to the 21 ranges before resuming its upward trend. This does not mean we are bearish on Duke Energy. On the contrary we are bullish. This is simply a strategy to take advantage of this aberration. Investors looking for a more detailed analysis of Duke Energy can read our latest article on the subject Duke Energy Corp: A Good Long-Term Investment?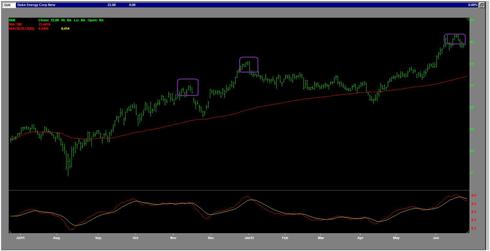 The strategy involves selling a covered call and selling a put. Let's look at some of the benefits associated with selling puts and covered calls
Benefits of selling covered calls
Income generation
Downside protection and reduction in Portfolio volatility
Predetermined rate of Return
Converts a common stock into a dividend paying stock
Investors looking for more details on the benefits of selling covered can read our piece on the "Benefits of a Covered Writes Strategy".
Benefits associated with selling naked puts
An investor usually sells a put option if his/her outlook on the underlying security is bullish.
In essence, you get paid for entering a "limit order" for a stock or stocks you would not mind owning.
It allows one to generate income in a neutral or rising market.
Acquiring stocks via short puts is a widely used strategy by many retail traders and is considered to be one of the most conservative option strategies. This strategy is very similar to the covered call strategy.
The safest option is to make sure the put is "cash secured." This simply means that you have enough cash in the account to purchase that specific stock if it trades below the strike price. Your final price would be a tad bit lower when you add the premium you were paid up front into the equation. For example, if you sold a put at a strike of 20 with two months of time left on it for $2.50; $250 per contract would be deposited in your account.
Most put options expire worthless and time is on your side. Every day you profit via time decay as long as the stock price does not drop significantly. In the event it does drop below the strike you sold the put at; you get to buy a stock you like at the price you wanted. Time decay is the greatest in the front month.
Suggested Strategy Part I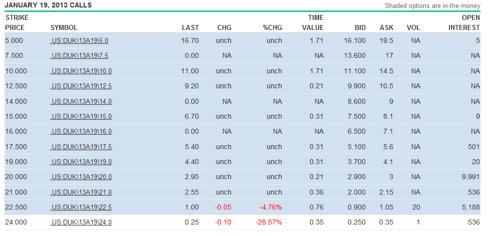 We would wait for the stock to trade above 23.00 before initiating this strategy. The Jan 2013 22.50 calls are trading in the $0.76-0.90 ranges. If the stock trades above 23.00, this option should trade in the 0.90-1.05 ranges. For this example, we will assume we can sell the calls for $0.90. For each contract sold $90 will be deposited into your account.
Part II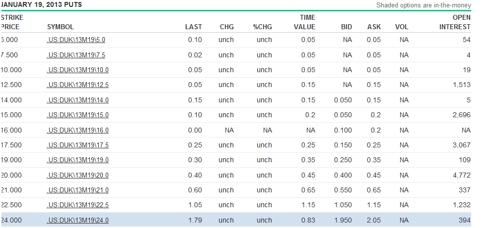 Sell the Jan 2013, 21.00 puts for 60 cents or better. For each contract sold $60 will be deposited into your account.
Advantages
With this strategy, you have the chance to collect two premiums in addition to the dividend. One from the selling covered calls, and the other from selling puts. This works out to an additional gain of 6.8% in roughly 7 months. You get 2.8% from selling the put and 4.00% from selling the call. If you sell calls and puts with more time on them, your gains will rise. One additional benefit is that you have the chance to get into the stock at a lower price.
Risks
The stock could trade above the price you sold the calls at, and you could end up losing your shares. One simple method to avoid this would be to roll the call if the stock is trading significantly above the strike price.
The other risk factor is that the stock trades below the strike price you sold the puts, and the shares are assigned to your account. This should not be big deal as one only sells puts when one is bullish on the long-term prospects of the stock. If the shares are assigned to your account, you get the chance to get in at a much lower price.
Conclusion
This strategy should only be employed by those who are bullish on this stock as there is a chance the shares could be assigned to your account. The benefit of this strategy is that you open up two new streams of income, and you have the option of getting into the stock at a lower price. You also have the option of rolling the calls if the stock is trading significantly above your strike price, and you do not want to lose your shares. Investors looking for other ideas might find this article to be of interest Reasons To Be Bullish On Kodiak Oil & Gas
Disclaimer
It is imperative that you do your due diligence and then determine if the above strategy meets with your risk tolerance levels. The Latin maxim caveat emptor applies-let the buyer beware
Disclosure: I have no positions in any stocks mentioned, and no plans to initiate any positions within the next 72 hours.
Additional disclosure: EPS and Price Vs industry charts obtained from zacks.com. A major portion of the historical data used in this article was obtained from zacks.com. Options tables sourced from money.msn.com.