I am initiating coverage on Facebook (NASDAQ:FB) with an Equal Weight rating and a 12-month price target of $29. Facebook operates the world's largest social networking platform with over 900 million monthly users. The company allows users to connect, share and communicate with one another, enables advertisers to deliver ads with increased accuracy and provides developers a robust platform for product distribution. I highlight the following key points to my investment thesis:
Unrivaled Network Effect and Brand Equity: Facebook commands a powerful network effect over its 900+ million monthly users by delivering superior experience that result in consistent engagement, greater stickiness and high switching cost. The company evolved from a dorm room project to the largest and most recognized social networking platform in the world due its ability to connect people and facilitate information sharing.
A Disruptive Platform in Online Advertising: Facebook delivers tremendous value to advertisers because it can pinpoint target audience and utilize social context to amplify marketing impact. Relevant ads generate increased user engagement and superior experience, which attracts advertisers and creates a virtuous cycle of continuous growth.
Mobile Ads to Become the Next Growth Driver: Facebook will benefit from increasing mobile ad spending and rising smartphone adoption. The platform's 488 million monthly mobile users, higher user engagement and integration with Apple will lead to rising usage of high margin products such as Sponsored Stories and incremental user growth.
Social Game Opens New Market Opportunities: Social game is on the rise due to low learning curve, minimal tech requirement, "freemium" model and social context. Facebook's partnerships with leading developers, such as Zynga (NASDAQ:ZNGA), allow it to enhance the user experience with engaging products, diversify revenue streams and penetrate the fast growing virtual goods market.
Open and Entrepreneurial Culture Drive Innovation: Facebook employees are encouraged to challenge the status quo, take risks and seek continuous improvements. This culture allows employees to derive a tremendous level of satisfaction and sense of achievement, which lead to higher talent retention and acquisition that fuel its innovative growth trajectory.
My DCF-based price target of $29 values Facebook at 37x 2013E earnings and 30x 2014E earnings.
Upcoming catalysts include 1) better than expected Q2 results; 2) new product launches; 3) sooner than expected mobile monetization 4) increased user engagement
Key risks include 1) inability to ramp up mobile monetization; 2) advertisers' preference for free products such as Facebook Page and Youtube over paid ads; 3) challenging international growth due to high barriers to entry from local incumbents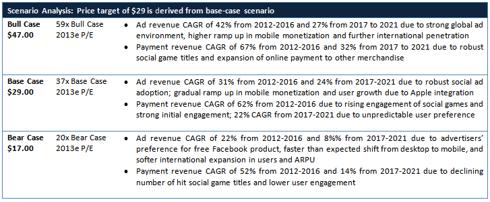 Business Overview
Facebook operates the world's largest social networking site with over 900 monthly active users (MAU). Current CEO Mark Zuckerberg founded the company in 2004 and its mission is simply "to make the world more open and connected." Over the past years, the company evolved from a simple dorm room project to a platform that not only let users to connect with one another but also transform online advertising with improved audience targeting and social context.
At the heart of Facebook is its social networking website, facebook.com, which let users to connect with their friends, family and colleagues, and share interesting ideas, news, videos and events with users in their social network. Similarly, users can receive newsfeeds on the activities and events that are taking place within their social network.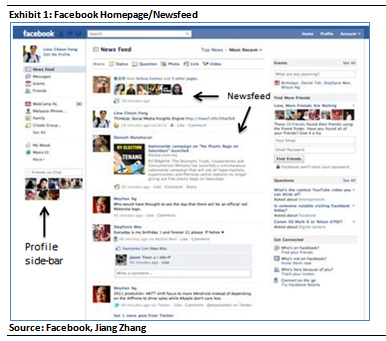 Like any other website, Facebook derives a majority of its revenue from online advertising. As of 1Q12, advertising accounts for 82% of Facebook's net revenue, compared to 87% in 1Q11. The remaining portion is from third party payments through its virtual currency, Facebook Credits.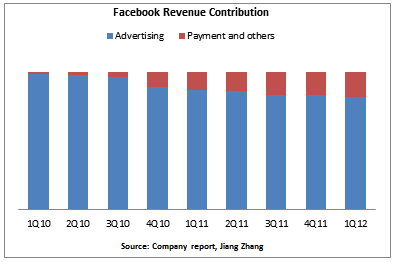 Facebook offers a robust and comprehensive advertising solution consisting of social ads, display ads and fan-pages. A distinctive advantage of social ad is that advertisers can leverage Facebook's large database of user information to target relevant audience, amplify the brand awareness and reach, and achieve better payoff compared to traditional online advertising.
Facebook ads include social ads and sponsored stories. Social ads aim to legitimize advertisers' message by incorporating actions or trusted recommendations from users' friends. This results higher recall rate and the likelihood of user engagements or purchases.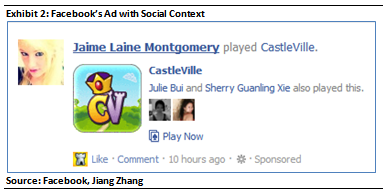 Sponsored Stories aims to amplify the reach, distribution and prominence of the brand based on users' actions. For example, when a user "Likes" Coors Light, Coors Brewing Company can pay to turn these actions into mini visible ads on their friends' newsfeed, thereby greatly amplifying the brand's distribution.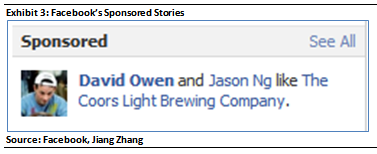 According to comScore, user homepage and newsfeed are the most engaging content on Facebook, accounting for 27% time spent, followed by profile (25%) and photo (17%).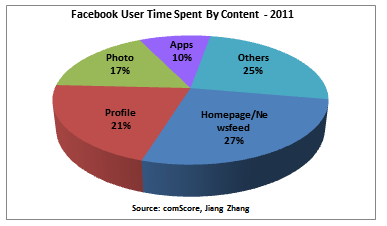 Display ads is similar to traditional online advertisement in that they appear as banner ads but are delivered based on the demographic information provided by the user.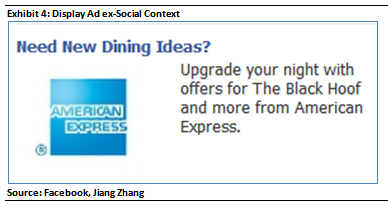 The third type of advertising solution is fan-page, in which an influential individual or a company can create a personalized page that fans and followers can subscribe to. Advertisers can increase brand awareness by broadcasting their messages directly to the subscribers' news feeds.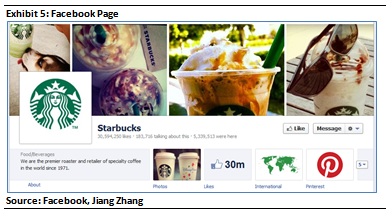 For the developers, Facebook offers a set of tools and application-programming interface called The Facebook Platform that allows them to integrate applications into Facebook and reach its 900+ million users.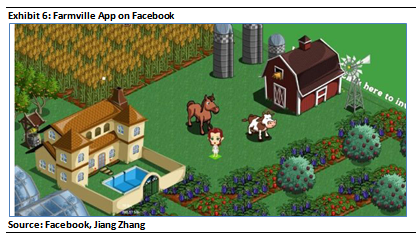 As of 1Q12, Facebook integrated over 9 million apps and websites from developers ranging from individuals to global software companies. Facebook also created an online payment infrastructure to encourage app developments and allow developers to receive payments from users in a secure environment. As of 1Q12, payments from third parties accounts for 18% of Facebook's net revenue.
Investment Thesis
I am positive on Facebook due to its unrivaled network effect and brand equity, disruptive advertising platform, attractive mobile opportunity, entrance into online payment, and strong corporate culture.
Unrivaled Network Effect and Brand Equity
As of 1Q12, the company has over 900+ million MAUs.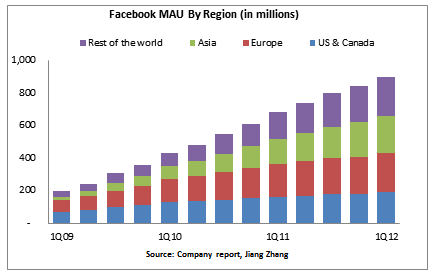 The number of Daily Active Users (DAUs) numbered 526 million, which translates to 58% daily user engagement rate.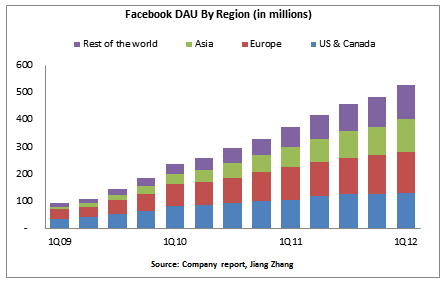 Its large user base and high level of engagement make Facebook the largest social networking platform in the world.
Social network websites existed well before Facebook. Most notable of these sites was MySpace. However, Facebook was able to gain stronger network effect among users because its focus on authentic identity, information sharing, and social graph. These three aspects effectively differentiated Facebook from the earlier non-real name social networks.
Authentic identity allows users to connect with their real friends and share genuine interests. The personalized social network experience is not only engaging and meaningful, but also allows people to build and maintain relationships that ultimately result in long-term happiness.
Sharing is a critical component of good user experience and continuous engagement as it promotes an open culture and better understanding of others' lives and perspectives. The large amount of information shared on Facebook also let businesses understand their target market, making Facebook a treasure trove of valuable information and an unrivaled advertising platform.
The user's networks and demographic information ultimately create a social graph that allows both Facebook and developers to continuously refine the platform and deliver a more engaging experience.
The combination of authentic identity, sharing and social graph translates to greater user stickiness and high switching cost because users would be unlikely to transfer all the information, photos, interests, and cherished memories to a competing platform, resulting higher retention rate than the competing social networks.
Aside from possessing strong network effect, Facebook also carries an essential brand within people's lives and merit a unique investment case. Brand is often an overlooked attribute when it comes to investing. Unlike financial figures and competitive advantage, brand is difficult to quantify and grasp. However, brand could be just as important as the financial and strategic factors when making informed investment decision.
According to Walter Landor, founder of brand and marketing consultancy firm Landor Associates, "products are made in the factory, but brands are created in the mind," meaning that brand is an unintended consequence of many little things the product has on the opinions of consumers, and cannot be easily manipulated. While marketing and product positioning can play a short term role in manipulating consumers' brand perception, poor product experience cannot be compensated by clever advertising in the long term. Therefore, brand is not a strategy or a tactic that can be devised in the conference rooms, but the result of consistent behavior and execution by the company and its product, and their value to the consumers.
Users' association of Facebook's brand with friends, connections, interests, sharing and information is the result of incremental developments the company pursued to create the ultimate social networking experience.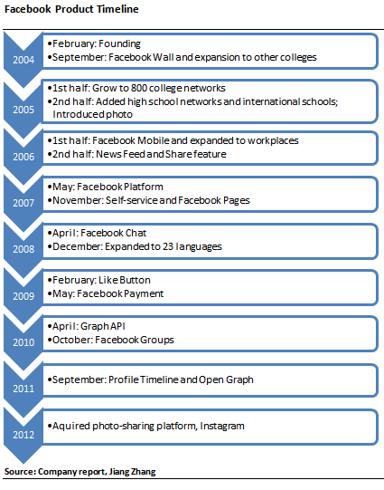 Facebook's superior user experience and strong network effect has transformed the company into an iconic global brand among social networks, which gives it tremendous power over users, advertisers and developers.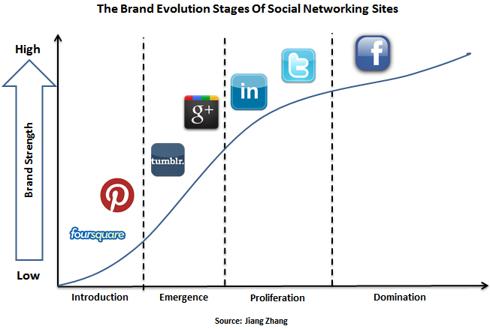 Leveraging Social Network To Transform Advertising
Facebook not only changed the way people connect with one another but also emerged as a powerful platform that is transforming the advertising industry by integrating reach, relevance, engagement and amplification.
Reach. Facebook has the ability to reach vast consumer audience with over 900 million MAUs. In addition, the company is one of few advertising channels that has a global reach as it is the third largest worldwide web property and the most visited social networking site in most of the major economies around the world.
Relevance. Beyond reach, relevance is also critical from an advertiser's perspective. Both offline (eg. TV, print, radio) and online (eg. Banner ads, video) advertising are capable of reaching large audiences, but also share the same fundamental weakness in that advertisers cannot precisely determine whether the ads are delivered to the relevant audience. For example, offline channels attract advertisers based on viewership, readership, and the number of listeners, while online channels attract advertisers based on user traffic or the number registered users. However, beyond these figures, advertisers cannot precisely determine whether the ad can reach the relevant audience and the impact of their marketing message, thereby making ROI analysis highly unpredictable.
Facebook directly addresses this weakness and brings online advertising to a new level with improved targeting so advertisers can reach the relevant audience based on their demographics, friends and activities. As a result, Facebook can achieve higher ad delivery accuracy than that of the industry average in both broad and narrow ad campaigns, and allow advertisers to achieve measurable marketing ROI.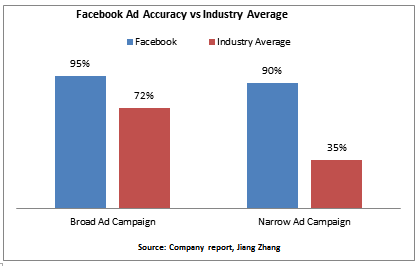 The improved audience targeting makes Facebook the preferred social media advertising platform according to a survey by STRATA.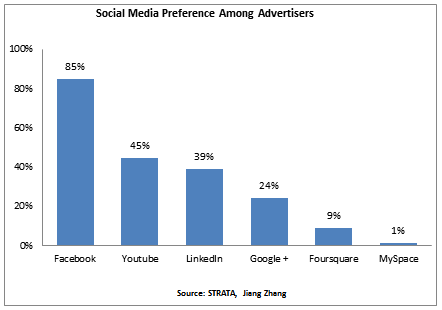 Users also benefit when ads are more relevant towards their interests and demographics, thereby increasing the likelihood of ad engagement. According to AYTM Market Research, approximately half of users in the US consider Facebook ads relevant.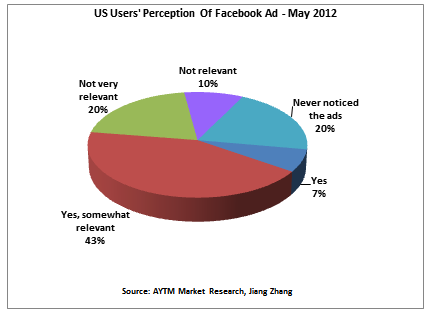 User engagement with relevant ads is a significant revenue driver for Facebook. According to Marin Software, Facebook experienced strong upticks in cost per thousand, cost per click, and click-through rates from April 2011 to March 2012.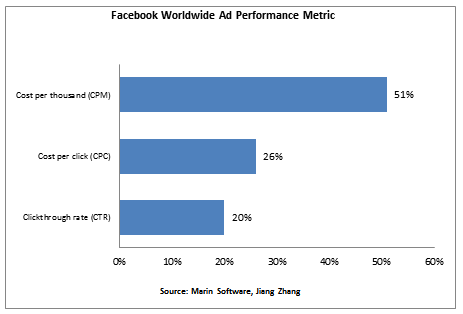 Most notably, higher CPM indicates rising adoption of Sponsored Stories, which is Facebook's most expensive advertising product. Continued adoption of Sponsored Stories among advertisers due to higher user engagement will give Facebook strong pricing power that leads to higher ARPU and margin expansion.
Amplification. Facebook's ability to deliver ads with social context can amplify the impact of the message at each stage of marketing cycle.
From an advertiser's perspective, word-of-mouth has the highest impact on purchasing decision and brand choices. In a 1955 book titled "Personal Influence: The Part Played by People in the Flow of Mass Communication," author Paul Lazarsfeld and Elihu Katz pointed out that advertisers broadcast their messages to certain individuals so they can positively influence their social networks' interests and purchasing decision via word-of-mouth.
Because Facebook facilitates a continuous two-way engagement between brands and users through information sharing and feedback, brands can leverage users' voices to greatly amplify the impact of their advertising messages among users' friends. According to a study by comScore, Facebook allows brands to extend their media exposure by 50-200% through use of Facebook Page.
Facebook's reach, relevance, engagement, and social context deliver tremendous value to the advertisers, the users and itself. Advertisers can confidently deliver their ads to the relevant audience, thereby achieving the high ROI and effectiveness. Users enjoy superior online experience when ads are more relevant to their demographics and interests. Facebook benefits from increasing user engagement, which it can leverage to attract additional advertisers. The result is a virtuous cycle that supports Facebook's sustainable business model.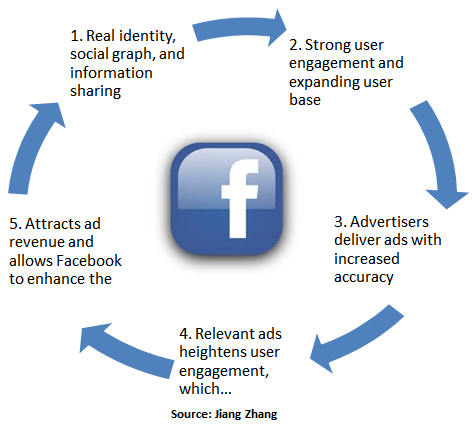 Social advertising is at a nascent stage of development with significant market opportunity ahead as advertisers are only experimenting with this revolutionary advertising model. While the current adoption is mostly concentrated in the developed market, such as the United States, Western Europe, Canada and Australia, adoption in emerging markets is ramping up. I note that Facebook's Chinese counterpart, Renren (NYSE:RENN) (Equal Weight, $6 target) recently pointed out that targeted ads outgrew display ads in 1Q12 as both large and small businesses experiment with the platform.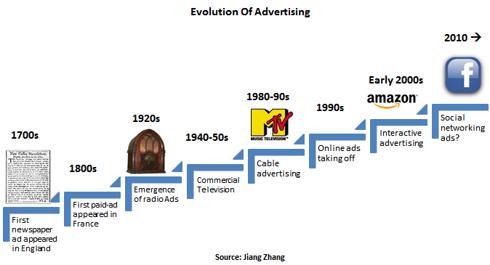 Mobile Ads the Next Growth Driver; Partnership with Apple A Strong Positive
Facebook is well positioned to capitalize on the growing trend of mobile advertising. In my view, smartphone adoption, mobile penetration and power over users' mobile time spent set the stage for Facebook's next growth driver.
According to eMarketer, US mobile ad spend is rising above previous expectations as consumers trade up from feature phones to smartphones and shift more time spent to smartphones from desktops. By 2016, US mobile ad spend could reach $10.83 billion from $1.45 billion in 2011.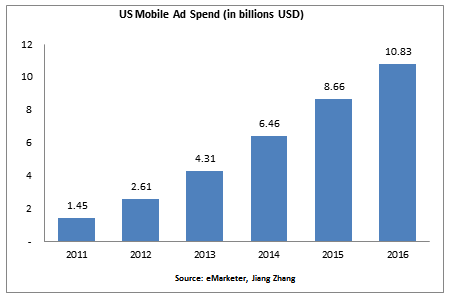 By format, Search will continue to account for approximately half of the mobile ad market, followed by banners and rich media. However, banners and rich media is expected to grow 55% annually compared to 52% for search.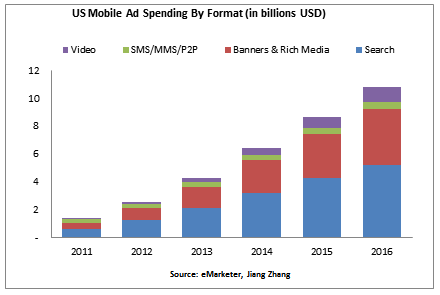 Despite achieving minimal monetization in mobile ads, Facebook already established a solid foundation of user penetration and engagement to pursue its mobile strategy.
User engagement on Facebook via mobile devices has been gaining momentum over the past two years. I note that mobile MAU as percentage of worldwide MAU more than tripled to 54% of worldwide MAU from 18% in early 2009.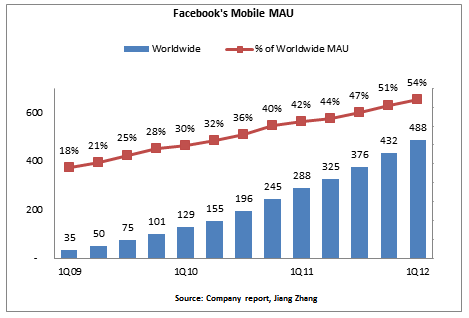 Not only can Facebook attract a growing number of mobile users, the company also has a monopoly over users' time, which effectively differentiates itself from the competing social networks. According to comScore, average minutes per visitor on Facebook in March 2012 was 441 minutes, which is 4x the amount users spend on Twitter.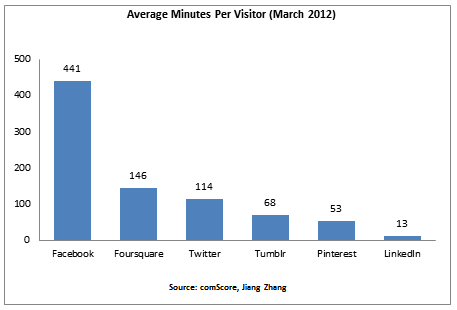 Facebook's rising mobile adoption and engagement indicates its superior social networking experience over its rivals and give advertisers strong incentive to invest in high margin product such as Sponsored Stories, which Facebook began to implement in its mobile platform in March 2012.
Finally, Facebook's integration with Apple's iOS will be positive to the development mobile ad and user growth. Under the iOS integration, users can synchronize their Facebook status feed, calendar, events, photos, locations and contacts with Apple devices (eg. iPhone, iPad, iPod Touch).
The integration further bodes well for Facebook's Sponsored Stories. According to STRATA, iPhone and iPad rank among top three mobile device preferred by advertisers.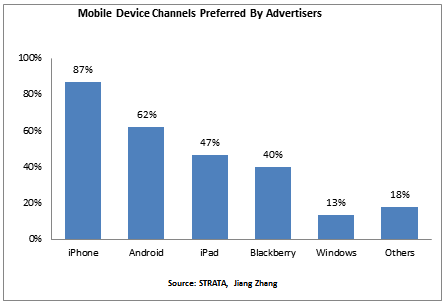 Incremental user growth could also follow. I note that after Apple integrated Twitter into iOS 5, the number of Apple user who also user Twitter more than tripled. In addition, iOS 5 have contributed over 10 billion tweets and 47% of all photos on Twitter. Facebook could also experience similar increase in use growth and engagement from Apple integration.
Social Gaming On The Rise
Social gaming is on the verge of disrupting traditional gaming industry due to their social context, low learning curve, minimal tech requirement and "freemium" model. According to Business Insight, the global social gaming market will reach $4 billion by 2015 from $1.5 billion in 2010. Over the same period, the US market will rise to $1.2 billion from $670 million, and the number of US gamers will rise to 150 million from 95 million.
Users find the social games more meaningful and enjoyable when played with real friends since such interaction enhances an individual's happiness and overall well-being. Because many social games are easy to understand and do not require sophisticated devices, these games are appealing to people who are not historically known as gamers and can be adopted through positive network effect.
I am positive on Facebook's partnership with Zynga as it leverages Zynga's dominant position in social gaming to diversify its revenue stream, enhance user experience and penetrate the fast growing virtual goods market.
Zynga enjoys strong leadership in social gaming due to its first-mover advantage, large user base and a strong portfolio of social games. According to AppData, Zynga ranks first in user engagement with approximately 58 million DAU.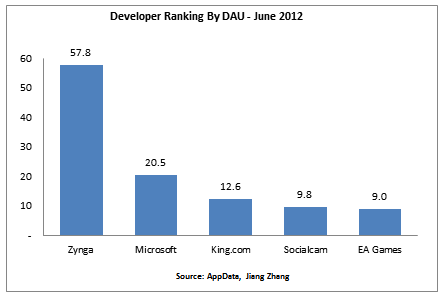 The company also boosts more MAU than the next four competitors combined.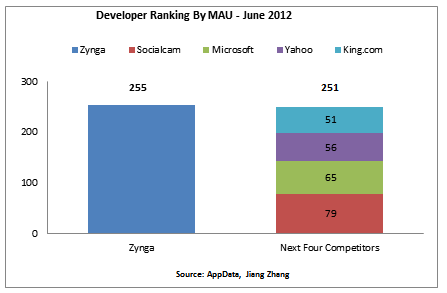 Zynga also allows Facebook to diversify its revenue stream from online ads to the fast growing virtual goods market. Currently, Facebook derive 18% of its revenue through Facebook Credit virtual currency, in which it takes a 30% commission from sales of Zynga's in-game items. According to eMarketer, worldwide virtual goods revenue could reach $8 billion from 2015 from $3 billion in 2010.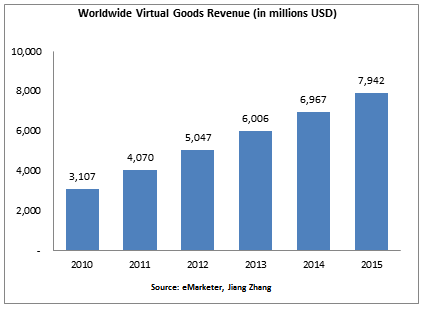 Zynga can capture a significant share of the $8 billion virtual goods market because it is extremely skilled at inducing users to pay for virtual goods. At the beginning of the game, users begin to develop an understanding and interest in the game through a series of simple tasks and achievable accomplishments. After investing considerable amount of time and building an impressive game board, users are more inclined to purchase virtual items to maximize their gaming experience.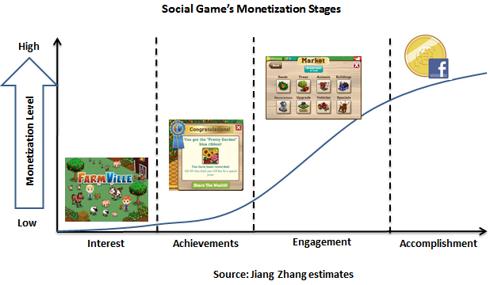 Zynga is a natural fit for Facebook as it improves Facebook's user experience and engagement in addition to revenue diversification. Meanwhile, Zynga leverages Facebook's 900+ million users for viral distribution of its products and minimizing sales & marketing cost.
Open and Meritocratic Culture Drive Innovation
Finally, I believe that Facebook's young, energetic, innovative and open culture is critical to the company's growth.
According to Seattle-based research firm PayScale, Facebook employees are the youngest among major US technology firms with the median age of 26. Young employees bring fresh ideas that are more relevant to Facebook's core user base and entrepreneurial spirits to the company. Because their CEO Mark Zuckerberg is 27, many employees are excited to work alongside him to fulfill their social mission, and achieve a lasting impact on the world.
Facebook adopted a unique culture and managerial approach called the "Hacker Way," which emphasizes continuous improvement and iteration because no product or service is ever complete. Employees are often encouraged to actively challenge the status quo and take risks to improve Facebook.
At Facebook, argument is not won based on the person's title but is based the code he or she produces. The company holds "hackathon" events in which everyone builds prototypes for new ideas. The meritocratic environment allows employee to take ownership, pursue new ideas and innovate. In fact, some of Facebook's best features, such as timeline, chat and video originated from hackathon.
According to PayScale, Facebook employees are the most satisfied among major US technology firms. In my view, aspiring goals and high job satisfaction will likely attract future talents and retain key employees that will fuel Facebook's continued development.
Financial Analysis and Valuation
Given the emerging adoption of Facebook's social ad platform and the weak global macro environment, I conservatively modeled advertising revenue to grow at a CAGR of 31% from 2012 to 2016. For the subsequent five years, I modeled revenue CAGR of 24% given the uncertainty surrounding Facebook's mobile monetization.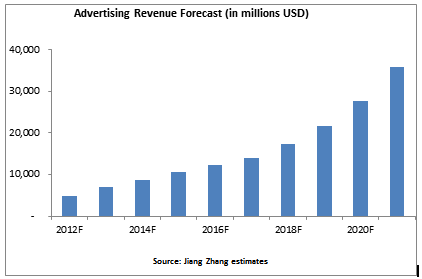 For payments revenue, I modeled CAGR of 62% from 2012 to 2016 as social gaming is on the rise. However, I conservatively modeled 22% CAGR from 2017 to 2021 given the uncertainty towards user preference and developers' ability to introduce future titles that attract users.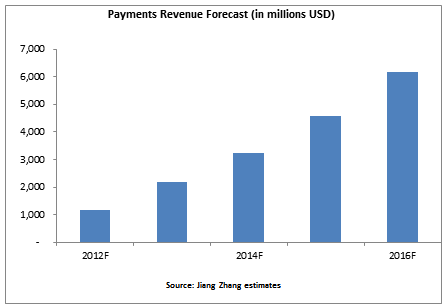 Together, I forecasted net revenue CAGR of 38% from 2012 to 2016, and CAGR of 23% from 2017 to 2021. I would like to reiterate that the current estimate could prove to be conservative given Facebook's strong appeal to advertisers and potential market gain from both offline and online advertisers.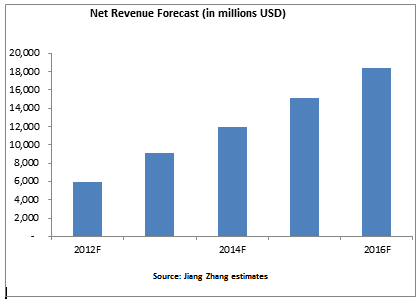 I forecast a slight gross margin decline from 77% in 2011 to 74% in 2012 as Facebook continue to build data centers and servers for its mobile initiative. The company will likely experience margin expansion from 2014 onward as it ramps up on mobile ads.
Operating expense will likely increase in the next five years as Facebook hires engineers and invests in building the mobile platform. The company will also likely to expand its sales & marketing team to attract additional advertisers. In the long-term, I forecast gradual decline of operating cost due to economy of scale.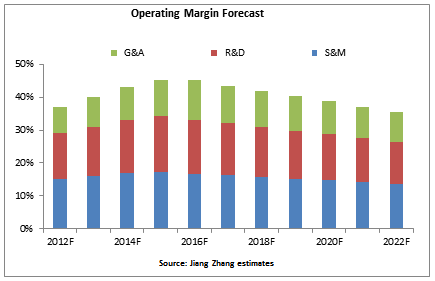 CAPEX will likely to rise materially over the next two years from 16% of sale in 2011 to 26% of net revenue in 2012 and 18% in 2013 as Facebook invests in building its own data centers and servers. After the investment stage, spending will likely to decline linearly and stabilize at 2-3% of net revenue for maintenance CAPEX.
EPS is projected to achieve a CAGR of 36% for the next five years and moderate to 32% from 2017 to 2021.
Valuation
My DCF-based price target of $29 per share implies that Facebook is fairly priced compared with the closing price of $31.60 on June 20, 2012.
Facebook Comparables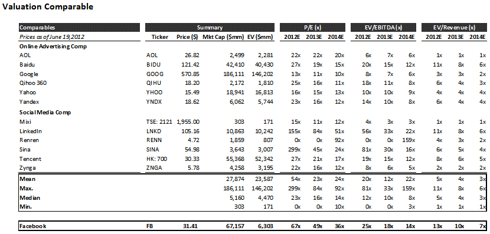 Facebook Discounted Cash Flow Analysis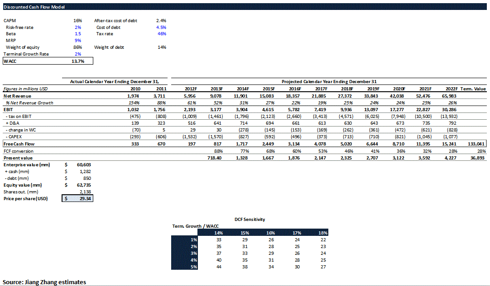 Pro forma Income Statement
Disclosure: I have no positions in any stocks mentioned, and no plans to initiate any positions within the next 72 hours.