The U.S. government released (pdf) new single-family home sales figures for May 2012 today. Seasonally adjusted sales were 369,000 versus 350,000 expected by analysts. This marks a 19.8% gain over May 2011 sales of 308,000.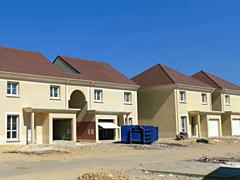 After the release of this news, the S&P Homebuilders Index (NYSEARCA:XHB) showed a temporary spike, with shares headed down the rest of the morning.
Just last week, builders reported filing 780,000 building permits, which also handily beat expectations. The National Association of Realtors recently reported that home sales were disappointing, despite strong demand. Supply constraints have lowered inventory levels to 6.6 months of supply.
Any weakness in the sector could be from a continued negative outlook by economists at the Federal Reserve, which is justifying the extension of Operation Twist on a weak housing market and uncertain growth forecasts for the economy as a whole. It plans to further twist the yield curve by investing assets in longer-term U.S. Treasury securities in an attempt to lower interest rates. This is dropping rates on securities like the 10-year Treasury to historic low levels. It is also propelling a refinance and home purchase boom.
The recent trends in the sector are improving home prices, mounting supply constraints, steadily improving demand, and a growing backlog for production. The outlook certainly shows a reason to be bullish. As the chart shows below, there is an upward trend forming in the sector.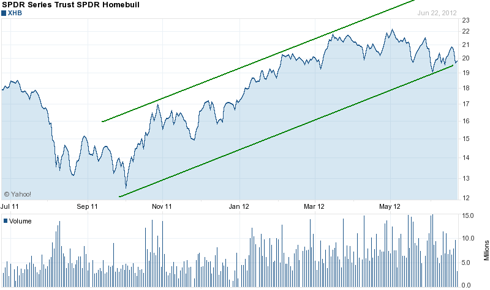 Click to enlarge
Investors concerned about downside risk in this sector can rest assured that builders are modestly optimistic, as the National Association of Homebuilders reminds us:
"[June's] modest uptick in builder confidence comes on the heels of a four-point gain in May and is reflective of the continued, gradual improvement we are seeing in many individual housing markets as more buyers decide to take advantage of today's low prices and interest rates," said Barry Rutenberg, chairman of the National Association of Home Builders (NAHB) and a home builder from Gainesville, Fla.

"While the June HMI is in keeping with our forecast for gradually improving single-family home sales this year, recent economic reports that have shown some weakening in the pace of recovery likely factored into the marginal gain," said NAHB Chief Economist David Crowe. "In addition, builders across the country continue to report that overly tight lending conditions and inaccurate appraisals are major obstacles to completing sales at this time."
Analysts acknowledge that we are a long away from victory, but its a pleasant surprise to see these green shoots forming in housing.
Disclosure: I have no positions in any stocks mentioned, and no plans to initiate any positions within the next 72 hours.