My recent calls on Ford (NYSE:F) have been spot on, as I advised traders back in April that even though Ford's stock had been sold heavily and it appeared cheap on a price-to-earnings multiple, plenty of downside remained. I followed that up with a call that Ford would approach $10, and that $9 was a realistic target based on last year's euro-induced low.
Amazingly, Ford hit $10 on the nose and made a rapid, ill-advised retracement into the mid-$10s:
Click to enlarge image.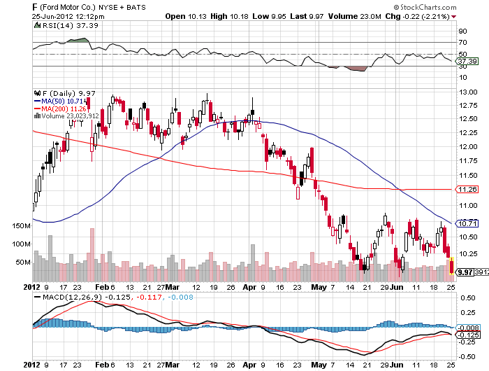 Click to enlarge
After Ford made that first bounce off of $10, I sold my August put contracts to protect profits (at about $10.20). Since then, we've seen a bounce off of $10 in early June, and today (Monday) Ford has a good shot at closing under $10. A close under $10 could initiate some capitulation among bulls, and draw further interest from short sellers.
Volume to the downside has expanded of late, with the stock dropping last Friday as more than 55 million shares traded hands. That was more than 20% higher-than-average volume. Ford's stock isn't oversold on technical indicators such as RSI, since the decline has been relatively balanced.
With the broader market under continued pressure from the euro crisis, there's simply no looming catalyst for upward momentum on Ford's stock price. With earnings due at the end of July, investors will have a chance to see if Ford has been able to mitigate losses in its European operations and just how large an impact the EU crisis has had on automotive purchases here in the states.
I don't expect earnings to surprise to the upside. Rather, I expect sales and earnings to corroborate what I've been saying for the past few months: While there is plenty of pent-up demand, it will not materialize within the next few quarters.
With governmental intervention unable to stop market deterioration (the Spanish banking bailout) and the ECB seemingly unwilling to initiate another round of LTRO, market participants are going to continually shed risky assets until a credible plan is devised. As a result, Ford's stock and the company's large EU exposure will continue to be sold, with $9 as a likely target.
Disclosure: I am long F July 11 put options.