Article originally written 3/3/08.
I had covered Ecology & Environment ((NASDAQ:EEI) or the "Company") in a previous write up but some recent market activity prompted me to provide a quick update. While I focus primarily on valuation when analyzing a potential investment, the growing volume in EEI has been an eye opener for me, particularly when the stock was trading just about 3,500 shares per day from Aug-Oct 2007. Since then, daily trading volume has been picking up, and shares are starting to trade around a tight band around $11.50. Tight is a relative term and given that EEI is a microcap, bid/ask spreads have narrowed to $11.30/$11.70 for fairly consistent intervals.
TABLE I: AVERAGE DAILY TRADING VOLUME BY MONTH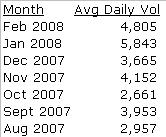 What's also occurred during this time period is the release of updated filings by EEI's institutional investors. In February, securities firm Wedbush Morgan reported a 9.7% stake while Jeff Gendell's Tontine Capital Management reported an 8.3% stake - both now hold larger positions when compared to previous filings. Other institutional interests reported in February included a 6.1% stake by Axa Financial, and an 8.1% stake by Franklin Resources.
In addition to institutions, some insiders have made some tiny open market purchases as well. This is significant given that insiders already own over 30% of EEI. While daily trading volume and institutional accumulation are not necessarily tangible signs that anything is "going on" with EEI, these two aspects may support the notion that the market may finally be noticing EEI.
EEI is an environmental consulting firm based in Lancaster, NY. The Company is a real brain trust, employing 870 people covering over 75 scientific and engineering disciplines, and provides a wide range of services for the security, energy, natural resource, and infrastructure industries. For example, EEI may help manage the environmental impact of a new gas pipeline project for a gas company, or may help manage the tax credit and economic incentives facing wind farm developments. The Company also is employed by states to devise disaster plans to address both natural and man-made disasters and also works on cultural restoration projects.
EEI is also a global firm, completing 35,000 projects in over 83 countries. The Company has completed a variety of projects including an environmental evaluation of the first Gulf War in Kuwait and Saudi Arabia, air pollution and wastewater analysis in China, oil and gas consultation projects in Kazakhstan, and restoration of native Indian items in Peru. It's fairly clear that the Company's mandate covers nearly any project that offers some sort of environmental component or consideration.
TABLE II: EEI SERVICES
click to enlarge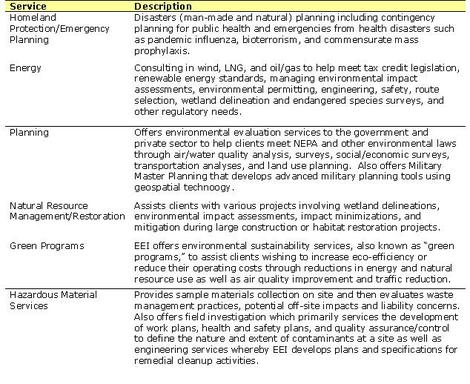 The Company is also benefiting from powerful secular tailwinds in its industry. Given global environmental concerns, there's been a renewed focus on global health, environmental, and energy issues. This has spawned a variety of regulations and initiatives with respect to energy infrastructure, transportation, water, and other areas. In addition, international demand for environmental consultation is growing as industrialized nations like China and India increase their focus on managing growth and environmental concerns. Most importantly, a lot of these issues are coalescing, increasing systemic risk. The 2007 Global Risk report from World Economic Forum [WEF] suggested that risk levels across its 23 key categories have risen in recent years.
CHART I: WEF 23 GLOBAL RISKS BY SEVERITY
click to enlarge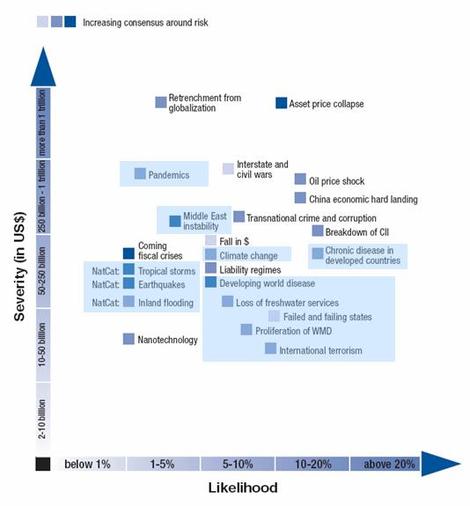 CHART II: WEF GLOBAL RISK CORRELATION
click to enlarge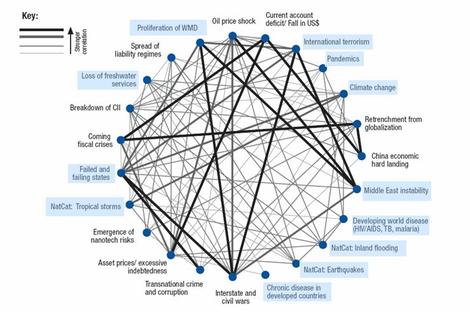 These risks, while daunting, are actually significant opportunities for firms like EEI. The blue shaded categories in the charts above indicate areas where EEI has experience in addressing those risks. As global institutions, governments, and companies emphasize these issues, opportunities for EEI should expand. It is also important to note the increasing complexity of these problems, which should benefit EEI, particularly because the firm boasts a deep bench of talent with advanced degrees. While these secular tailwinds are a benefit to the Company, the reason I invested in EEI was because of company-specific drivers. Those have not deviated much from my original analysis, so what follows will be a general update of the initial investment drivers I previously laid out.
The most important reason to invest is valuation and EEI is a cheaply valued company on both an absolute and relative basis. The Company trades for 0.4x EV/LTM Revenue and 6.2x EV/LTM EBITDA. These metrics may not seem that cheap at first glance but it's important to realize that the Company increased its spending on SG&A and marketing costs in Q1 2008 to ramp up for a greater number of larger, new project bids. As a consulting firm, EEI has to spend in advance of any project wins. As a result, EEI's operating expenses are higher but results of those expenses will not materialize until later quarters.
At its annual shareholder meeting, EEI stated that revenues could grow 15+% in 2008. This is very significant when considering the Company's revenue base has not changed materially in the past four years as illustrated in Table III. Revenue growth was dormant during the past four years because the Company reduced its exposure to lower margin U.S. government contracts to focus on higher margin private and international government contracts with an emphasis on alternative energy projects including wind farms, LNG terminals, clean-coal, and nuclear power.
This has resulted in increasing gross profit margins, which grew from 37% in 2004 to 45% in 2007. Through Q1 2008, gross profit margins have continued to increase. Now that the Company is focused on growing this segment, a 15% increase in sales could have a much more profound impact on its operating income.
TABLE III: EEI HISTORICAL GROSS PROFIT MARGINS
click to enlarge

If EEI is capable of generating 10-15% in top line growth, I expect that it could generate EBITDA of $8MM for 2008, which would translate into an EV/Forward EBITDA valuation of 4.9x. This would also result in an EPS figure of over $1.20 (excluding minority interest), making EEI worth just ~10.0x forward EPS. On a free cash flow basis, EEI trades for under 8.0x 2007 cash flow. Considering that the Company generated an ROIC of 18% in 2007 and is very likely to generate a similar ROIC for 2008, one could argue that EEI should have a much higher valuation. The Company's comparable universe also suggests EEI is undervalued. Based on mean and median ranges across a variety of valuation multiples, EEI could be valued over $20 per share.
TABLE IV: PUBLICLY TRADED COMPARABLES
click to enlarge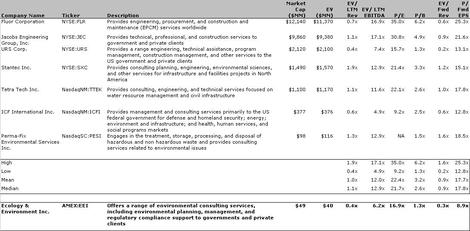 CHART III: EEI COMPARABLE VALUATION
click to enlarge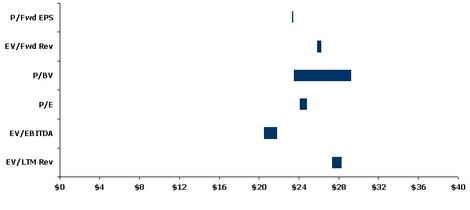 While there's very rarely a "perfect investment," EEI has much to offer including a clean balance sheet, strong capital returns, cheap valuation metrics from EV/EBITDA to P/B to P/CF, and motivated owner/managers that own over 30% of EEI. The Company even pays a dividend with a current yield of 3.1%. One drawback to investing in EEI is its dual class share structure with founders having 10:1 voting rights against non-founder shares, but this is relatively common with smaller public companies that have a significant stake held by founders. The management team at EEI has operated with integrity in regards to its business and shareholders so I don't consider this to be much of an issue. Aside from the dual class shares, some investors may not be able to stomach the daily volatility shares of EEI tend to have.
With nearly 70% of EEI held by insiders and the four investment firms mentioned above, shares are not easy to trade despite the increasing trading volume. Nonetheless, if investors can stomach some daily volatility and detach the notion that it has anything to do with the Company's intrinsic value, EEI could perform very well in the current environment. Aside from being quite cheap given the quality of the business, the Company has strong tailwinds and motivated owner/managers that should eventually result in a higher market valuation.
Also, simply stepping back and analyzing the institutional holders suggests that they may see significant upside with EEI. Considering the dollar value they control, investing in a microcap that produces a 25% return really doesn't move the needle for large investment firms. An analyst generally has to conduct the same level of due diligence on a company regardless of size so if the payoff is not adequate, there's little reason for large funds to invest in microcaps.
A large fund could have 10% of a $50MM company and if that achieves a 30% return, the investment gain is the equivalent of a rounding error given the sizes of these funds. In contrast, those funds could spend the same time researching and investing in a larger, more liquid company, and produce a larger absolute dollar return off a much smaller percentage return given how much more capital the funds can deploy in these bigger companies. It's because of these constraints, especially in a volatile market where small caps have been sold off, that I believe these firms may have some strong convictions in regards to EEI's valuation.
Disclosure: The author manages a hedge fund that is long EEI.