Silver
Silver has recently hit its lowest price since November 2010, while silver ETFs are currently trading near the 2011 lows. This is primarily a result of the worsening Euro debt crisis, as well as a general decline in global growth. However, once macroeconomic conditions start improving, we expect a significant upside in silver stocks, especially in Silver Wheaton (NYSE:SLW), and silver ETFs, namely iShares Silver Trust (NYSEARCA:SLV). SLW's cheap valuations and lucrative potential growth enable us to recommend a long position for investors. For SLV, we recommend a neutral position for short-term investors because of the volatility associated with silver prices and exposure to the macroeconomic environment. However, for long-term investors, SLV could be a potential buy.
Industry introduction:
Silver is a unique precious metal and is a store of value. It has four major end markets: industry, photography, jewelry & silverware, and investment (coins & medals).
Industry supply:
According to Reuters GFMS, the following factors will influence silver's supply in 2012:
Mine production will grow by approximately 4%, primarily due to additional gains in Mexico and Canada
Scrap supply will be flat, as losses in photographic recycling outweigh all other gains
Producer hedging will still be a net supplier, but at relatively lower levels
Government sales are difficult to predict
For supply, the most important component is mine production (accounting for 73% of total supply in 2011). The forecasted increase in its production will prevent silver prices from rebounding a lot.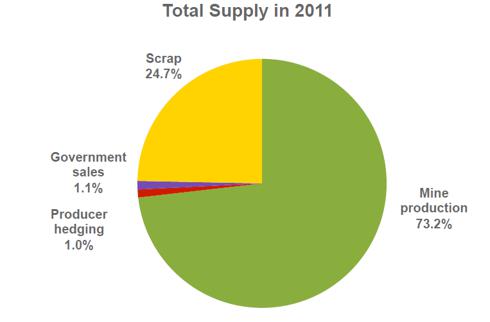 Click to enlarge
(Click to enlarge)
End markets' demand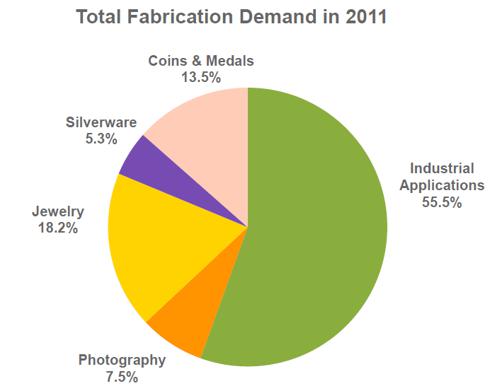 Click to enlarge
(Click to enlarge)
The demand for silver is projected to rise in the future. This is primarily a result of a huge increase in its largest component, industrial demand. In addition, the rising silver demand for new industrial uses makes it the most important end market for silver demand.
Major sectors in industrial applications' segment include electrical and electronics, photovoltaic, brazing alloys and solders, ethylene oxide, and other applications. Last year, photovoltaic demand eased because of an oversupply in 2010, leading to a 2.7% reduction in overall industrial applications' demand in 2011. In addition, the Euro zone crisis also impacted industrial demand from 4Q2011 onwards.
However, the demand in industrial applications is expected to increase in most of these sectors in the future. This is because silver's technical proficiency limits the ability to switch to lower-cost alternatives. In addition, there is a wide range of new industrial applications of silver, like auto catalysts, food packaging, superconductors etc, whose demand is also forecasted to increase.
In 2011, the demand for jewelry and silverware suffered a dip, primarily due to highly volatile silver prices and a drop in consumption. However, jewelry's demand is expected to pick up this year because of relatively higher gold prices, declining silver prices, and the continuing shift from gold to silver. This will have a positive impact on silver stocks as well. Silverware might also improve because of ongoing low silver prices.
The retail silver demand for coins and medals surged by a record 19% last year, primarily due to high sales of the American Silver Eagle bullion, and a strong demand from China for bullion coin. The recent dip in silver prices has also increased the demand for silver bullion coins.
The following graph clearly shows the declining demand for silver in photography over the past couple of years, as the switch from conventional to digital X-rays continues. However, according to GFMS, photography demand for silver posted its "slowest percentage decline in six years" because "medical field is deferring migration" to digital systems due to a shortage of funding. In future, we expect this demand to drop because further economic hardship will delay this switching trend. Even if it continues its downward shift, the impact will be small as the current level of demand is already too low.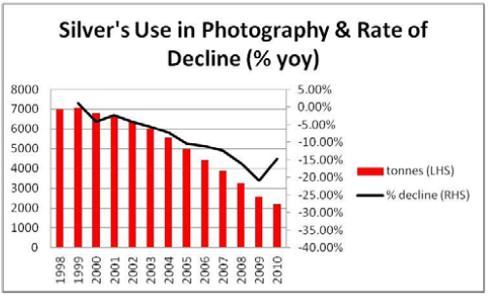 Click to enlarge
(Click to enlarge)
Silver has recently hit its lowest price since November 2010. The continuation of the Euro crisis and appreciation of the U.S. dollar have contributed to this consistent decline in silver prices. As a result, both Silver Wheaton's and iShares Silver Trust's prices have declined recently.
Silver Wheaton - The Company description:
Silver Wheaton is the largest metal streaming company in the world. It makes an upfront payment so as to get the right to purchase a fixed percentage of the future silver production from a mine. It derives its sustainable competitive advantage from its limited exposure to mining risks, leverage to increasing silver prices, and its exceptional growth profile.
Financial performance review:
In 1Q2012, SLW recorded 26% higher revenue than in the previous year. Its operating cash flows also increased by 29% during the same period. Its attributable silver equivalent production also recorded an increase of 8%, as compared to 1Q2011.
Its long-term growth prospects are very lucrative. This is because its streaming model is a unique funding solution for mining companies. The following figures ensure that it will continue increasing its long-term production levels, and execute its growth strategy for acquiring silver stream interests:
Approximately U.S.$ 1 billion in cash in hand
An undrawn $400 million revolving credit facility, and
Forecasted annual operating cash flows of more than $600 million
Valuation:
Silver Wheaton's forward price-to-earnings ratio of 11.9x trails the industry average of 15x. Its share price dropped by 9.5%, while the S&P 500 index rose by 6%, on a year-to-date basis.
Future prospects:
One of the largest and lowest-cost gold mines, Pascua-Luma , is scheduled to commence production in mid-2013, from which SLW will receive 25% of the life-of-the-mine silver production. This will be a driver for its long-term production growth. SLW does not have any ongoing capital expenditures, nor is it exposed to some sort of exchange rate risks, which makes it less vulnerable to typical risks of a mining company.
Silver ETF - iShares Silver Trust
Silver ETFs are currently trading near the 2011 lows, as they lost more than 6% this week. The primary reason for this drop was a disappointment for bullish traders who were looking for further quantitative easing by the Fed. During the ongoing Euro debt crisis, investors favored the dollar and U.S. Treasuries as safe havens instead of gold and/or silver. Currently, it is underperforming the S&P 500 index by margin of 3.1% (on a YTD basis).
Disclosure: I have no positions in any stocks mentioned, and no plans to initiate any positions within the next 72 hours.