Although investors typically prefer to focus primarily on metrics when assessing investments, the 4th of July Independence Day celebration in the United States is less than two weeks away and provides an opportunity for investors to focus to some degree on sentimentality and a desire to support businesses that instill patriotism.
There are a number of alternative methods that could be used to assess patriotism in firms. A key consideration is assessing "patriotism" in a firm is how the firms impact the United States economy. Those firms in the United States that develop and export their products across the world and are globally dominant in their industry cause our economy to be globally competitive. The United States has rich history of having companies in the computer and electronic technology products ($190 billion), machinery manufacturing ($137 billion), transportation equipment manufacturing ($190 billion), and chemicals industries ($179 billion) that are globally competitive and account for the majority of U.S. exports. These key competitive industries are shown in the accompanying graphic utilizing United States Office of Trade & Industry Information data.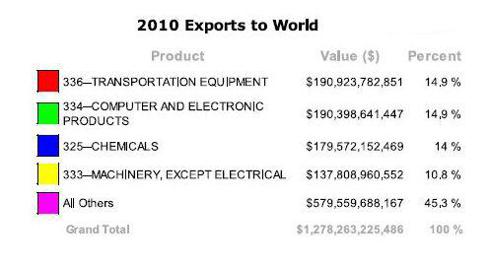 Click to enlarge
The five stocks selected as patriotic stocks for this analysis are: Apple (NASDAQ:AAPL), Boeing (NYSE:BA), Caterpillar (NYSE:CAT), Dow Chemical (NYSE:DOW), and Microsoft (NASDAQ:MSFT). Below, the importance of these firms to the United States economy and their market positioning, growth, and investment prospects are described.
Industry: Computer and Electronic (Technology) Products
Firm: Apple
AAPL is a transformative computer and consumer technology company based in California. AAPL's principle products are computers, mobile phones, and mobile entertainment devices. AAPL made headlines related to exporting when concerns about their ability to export the Ipad to China were recently raised. At issue is whether AAPL received the full successor rights to export to China in its acquisition of Proview. Although the debate is expected to be settled with a nominal financial settlement from AAPL, it illustrates the challenges and regulations inherent in global exporting. Although AAPL generally manufactures abroad, it is included in this list of patriotic companies because of the heavy concentration of highly-paid employees in the United States (47,000 of 70,000), vastness of its global market for products and its status as a preeminent and culturally-relevant firm that routinely is selected as the top global brand. The demand for AAPL products is truly global, with only 39% of sales coming from the United States and the availability of Iphone network agreements in 89 countries.
In terms of investment potential, AAPL has exhibited tremendous performance in all business lines over recent years, which has led the stock to follow suit. AAPL's revenues have grown from $24 billion in FY 2007 to $108 billion in FY 2011, more than a four-fold gain. Operational efficiencies led AAPL to more than match revenue gains, as net income gains over the period increased five-fold, growing from $3.4 billion in FY 2007 to $26 billion in FY 2011. AAPL's stock rallied in conjunction with these revenue and net income gains, rising from $123 per share four years ago to $577.67 today, more than a four-fold increase. However, in 2012 AAPL stock has begun to sag, falling from an all-time high reached in April 2012 of $636. AAPL shares appear undervalued by most metrics, with just a trailing price-earnings ratio of 14 and a price-forward earnings ratio of 10, and a price-earnings growth ratio of 0.57. Furthermore, AAPL has a mountain of cash on its balance sheet ($28 billion) and no long term debt. Investors have clearly priced in major deceleration of earnings and revenue growth.
Industry: Transportation Equipment Manufacturing
Firm: Boeing
BA is the world's leading aircraft manufacturer with a rich tradition of patriotic service to the United States. Since World War II BA has been a major supplier of aircraft to the United States military. With nearly 160,000 employees including headquarters in Illinois and significant commercial aircraft manufacturing operations in 3 states (California, South Carolina, and Washington State), BA is a major supplier of high paying jobs that supports regional economies across the country. BA is also a chief exporter, with $27.1 billion of exports, approximately 2 percent of overall United States exports and the largest single contributing firm.
BA's appeal for investors lies in large part due to its position as a large exporter. BA offers tremendous exposure to emerging market countries which comprise a significant share of anticipated growth for BA's demand over coming decades. Rising oil prices and pressure to reduce commercial aircraft operating costs also are forecast to speed up replacement cycles in commercial aircraft. BA's newest wide-body commercial airliner, the 787 Dreamliner, is designed to reduce operating costs on long-haul international flights.
It is relatively easy to make a case for investing in BA outside of patriotism. BA is operating at an all-time high in terms of revenues at $68.7 billion, and just missed record profits of $4 billion. BA continues to outperform their chief rival in French-based Airbus, which has revenues of $40 billion. In terms of metrics, BA is inexpensive by any standards, trading at a price-to-earnings ratio of just 12, a price-to-sales ratio of below 1 at 0.75, and a PEG ratio of 1.49. For a manufacturer BA's debt load is light, and there is more than enough cash on the balance sheet to account for long term debt. While BA has traditionally been conservative in raising dividend payouts, they raised their quarterly dividend payout in 2012 for the first time since 2009 and have significant capacity for further dividend increases, with a payout ratio of just 29%. BA's forecast of commercial aircraft demand in 2011 was greatly increased from their prior forecast. They anticipate robust demand from emerging markets in Asia, Latin America, and the Middle East driving sales. BA is expecting 33,500 additional aircraft, accounting for $4 trillion in sales.
The product launch of the BA 787 Dreamliner in 2011 followed years of development challenges in terms of supply chain logistics and firm organization. Many analysts believe that continued concerns about BA's ability to produce the 787 as demanded have continued to weigh heavily on the stock price. Although BA retains a strong manufacturing presence in Washington State, the company has recently expanded manufacturing functions in South Carolina, which could be a signal that BA will aggressively seek to obtain further operational efficiencies going forward.
Industry: Machinery Manufacturing
Firm: Caterpillar
CAT is a world leader in manufacturing machinery that is used primary in construction, agriculture, and mining applications. They also produce engines and turbines. Their markets are highly global in nature, with more than 2/3 of demand coming from outside of the United States and $13.5 billion of exports in 2010. CAT started in 1925 as a merger between two firms engaged in the production of agricultural machinery (they were known as Caterpillar Tractor Company until 1986). CAT's export sales are large and growing. Recently CAT has seen rapid sales growth in emerging markets such as China, with 5 billion of exports to China alone over the past five years and more than 2/3 of sales to destinations outside of North America. Because most of its products are related to either construction or the acquisition of materials for construction (mining), the firm is a pure play on the development of the global economy, particularly the fast-growing emerging market regions. CAT plays an important economic role in the United States as a major manufacturer supplying emerging markets. Because the United States has such a negative balance of trade with most nations in the world the remaining competitive manufacturers are all the more substantively and strategically important.
From an investment perspective, CAT has been a star investment in recent years. The company and its products have a wide competitive moat due to reputation and their status as the premier global supplier of heavy machinery and equipment. Their primary competitor, Komatsu of Japan, has experienced growth but has lagged CAT and does not have the reputation of the market leader. A significant opportunity and risk for CAT is their recent string of acquisitions, including German engine manufacturer MWM, locomotive manufacturer EMD, and mining equipment firm Bucyrus. The stock has more than tripled from a low of $23.23 in March of 2009 to the present value of $84.98. During that period, sales have exploded from $32 billion in FY 2009 to $60 billion in FY 2011. Although CAT has been hard hit by the European slowdown and some softness in Latin America, their business in the United States should provide support over the near term, which is perhaps fitting for our assessment of patriotic investments in the United States.
Industry: Chemicals
Firm: Dow
DOW Chemical, founded in 1897 is an integrated chemicals company and one of the largest exporters in the United States. From a simple initial product of bleach sales, DOW has expanded to a roster of over 5,000 agricultural, industrial, and consumer products produced in 36 countries around the world. From a patriotic standpoint, DOW is a producer of many chemicals that go into fireworks that have lit the night sky in the U.S. on July 4 throughout our history. DOW exports $38.5 billion annually of products, which alone represents 22% of the $179 billion annually that all firms in the U.S. Chemicals industry export. China represents a huge share of DOW's investments as they rapidly build capacity in China to serve global markets. DOW has a huge roster of over 5,000 products that are produced in 36 countries around the world.
DOW's share price and dividend payouts have been quite volatile in the past two decades. Following a long sustained climb to an all-time high in 2005, the share price has struggled since. However, the company has executed a turnaround that has allowed it to experience a sustained run since 2009. Over the past three years, financial metrics at the company have improved, with an increase in revenue of 33% from FY 2009 to FY 2011. The company pays a rich dividend of 3.8% and has significant capacity for dividend expansion going forward, with improving financials and a payout ratio of 54%.
Industry: Computer (Software) Products
Firm: Microsoft
MSFT is the leading provider of software, storage products, and information technology services worldwide, with FY 2011 revenue of $$70 billion, of which 46% is from outside of the United States. Although MSFT has branch offices worldwide, the vast majority of employment is in the United States. MSFT products are exported across the world, which is reflected in market share data. MSFT's flagship operating system, Windows, has a 92% global market share. MSFT's web browser, Internet Explorer, has 62% market share. Although international markets are the source of a great deal of revenue for MSFT, they face significant challenges in monetizing investments in China. This is due to widespread piracy in China that has cost MSFT 90% of its expected revenue for the country.
In terms of investment potential, MSFT has done an excellent job of driving financial performance through operational efficiency. The so-called technology "bubble" burst in 2001 ushered in a long period of stagnation and decline for the share price of MSFT from 2000 through 2009. However, investors have sent MSFT's share price on a sustained uptrend that has resulted in a doubling of the share price from 2009 through 2012. Improvments in revenue distribution across product lines, global revenue growth, and a new class of investors associated with dividend issuance and growth at MSFT have all contributed as catalysts to share price gains for the company. Despite the doubling of the share price, MSFT remains at historically low levels of valuation. The price-forward earnings is below 10, and although MSFT has leveraged its balance sheet in recent years, it still holds a very strong net cash and short-term investment position that will provide it with ample opportunities for acquisitions and dividend increases going forward.
The core businesses of operating systems, business productivity software, and Xbox have enabled the firm to expand revenues and profits. However, MSFT faces challenges in the long term in terms of diversifying their income stream. They have taken steps to do that, with numerous strategic partnerships that are expected to leverage their existing businesses with new technological and niche opportunities. They are working with Nissan to develop dealer management and CRM systems to help improve inventory tracking and management and Toyota to assist with supply chain management systems. They are working toward the major opportunity in technology in health care by working with GE to develop smart systems for patient tracking and care management and Phillips for development of technology-infused personal health records.
Please Note: This is the first of three articles recommending companies that reflect patriotism in companies in the United States. Each of the series of 3 articles will articulate an alternative method of assessing patriotism. This current article focuses on United States based global industrial leaders that are key exporters to the world. Article 2 identifies patriotic companies that are transformative global consumer brands. Article 3 identifies patriotic firms that have chosen at great pains to manufacture in the United States rather than abroad.
To be notified for articles II and III in my patriotism series, please follow me and sign up to receive email alerts for future posts. If you have a company you'd like to suggest for inclusion, please contribute your idea in the comments section. If I receive enough contributions I may add a fourth article with reader contributions.
Disclosure: I have no positions in any stocks mentioned, and no plans to initiate any positions within the next 72 hours.