In my last article on Arena Pharmaceuticals (NASDAQ:ARNA) on What ARNA Has To Say to the Advisory Committee, I updated my base case revenue model for 2012-2016, assuming the company received a positive vote from the Advisory Committee on May 10 and FDA approval on the scheduled June 27 PDUFA date. I first presented that model in Arena Pharma's 5-Year Rvenue Forecast in March.
Arena did say the right things to the Advisory Committee, and got an 18-4 vote recommending approval of Lorqess, or 19-4 if you count the one abstention, according to that voter who said he didn't know he couldn't abstain. With no clinical signal for any side effect that would require a Risk Evaluation and Mitigation Strategies (REMS) filing or post-approval cardiovascular outcomes trial (CVOT), a timely FDA approval seems likely on Wednesday. Based on the materials Arena submitted to the FDA, I also think the Agency will reclassify Lorqess from their preliminary restrictive Schedule II to a Schedule IV or V drug, eliminating the need for a four-month Drug Enforcement Administration process. Lorqess could be on the market after Labor Day.
In this article I want to update my base case revenue model to reflect the additional shares issued since my last article. This model uses a very conservative wholesale price of $1 per pill to Arena's North and South America marketing partner, Eisai Pharmaceuticals. At two pills per day, that is only $2 a day per patient.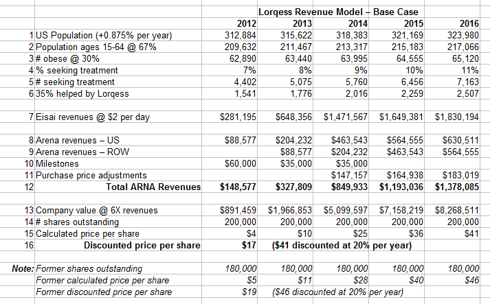 I've adjusted my base case revenue model for the 200 million shares now outstanding. I would refer you back to my earlier article for a line-by-line discussion of the assumptions. Under this model, Arena stock is worth $41 a share in 2016. Using the tough 20% discount rate, that translates to $17 today. Using a more normal 15% discount rate, that would translate to $21 today.
Note that the dilution from the most recent financing reduced the 2016 target price from $46 to $41, and the current value from $19 to $17. Development-stage companies have to raise money, but it makes a great deal of difference to the shareholders and employees holding stock options how carefully they go about it.
The High Case Model
I have added a second "How Good Can It Get?" revenue model to reflect a higher price per pill, sales to the overweight as well as the obese markets, a larger rest-of-world component reflecting Arena's recent agreement to expand Eisai's marketing area to Central and South America, and some alternative discount rates for the stock price.
In addition to suppressing the appetite, Lorqess directly helps diabetics reduce glucose production, is useful in smoking cessation and cocaine addiction, and is probably useful in alcohol addiction and depression. In recent talks with doctors, I've become more aware of the usefulness of Lorqess in treating multiple symptoms. For example, one doctor with the Veteran's Administration told me that the combination of obesity, diabetes and depression is so common that he has a keyboard macro to insert that phrase into reports. I knew obesity doctors are desperate for a new drug with low side effects that works, but I did not realize that other doctors treating other problems are likely to try Lorqess on any of their patients that happen to be overweight or obese.
Also, in a company marketing survey about 20% of obesity doctors said they would immediately prescribe Lorqess with phentermine. They are very familiar with phentermine, but it has to be dosed for no more than 12 weeks before the patient is allowed to detox. Most patients regain any weight they lost during this detox period. Because Lorqess has a completely different method of action that suppresses the appetite receptor, doctors are hoping patients can use Lorqess to at least plateau during the detox period, and then resume rapid weight loss when they can go back on phentermine. It won't take many Hollywood personalities to attribute their weight loss to LorPhen to make word-of-mouth take off.
The "how good can it get?" model is expanded from the base case model, and I will go through it line by line: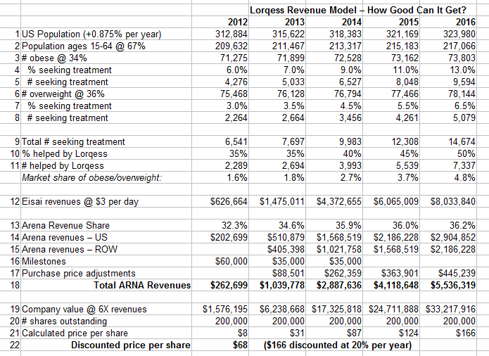 Line 1: The U.S. population is projected to grow at 0.875% per year.
Line 2: I assume that only the 67% between 15 and 64 years old are prospective patients.
Line 3: Obesity estimates for this age group vary, and 34% is a recent number. I used 30% in the base model.
Line 4: Last year, about 4.4 million people sought obesity treatment, or 6% of the calculated prospective patient group. I assume that this will grow by one percentage point in 2013 and then by two percentage points a year for the next three years as word spreads about the availability of Lorqess and LorPhen.
Line 5: Line 3 times line 4 gives us the number of obese that will seek treatment each year. Many of these might be pushed by insurance companies looking to reduce future liabilities.
Line 6: I've added similar information for those who are overweight, but not obese. Lorqess will be labeled for overweight with one comorbidity, and overweight patients will ask for it. About 36% of the population is overweight, totaling 70% for obese or overweight.
Line 7: I assumed that overweight people will seek treatment at half the percentage rate of obese people.
Line 8: Line 6 times line 7 gives the number of overweight patients per year.
Line 9: Line 5 plus line 8 gives the total number of patients per year.
Line 10: The FDA has two different standards for obesity drugs, and a new drug only has to reach statistical significance on one of them to be approved. That's because all diet drugs seem to work very well for some people and not at all for others. The two standards are in place to allow a drug that works well for a sub-population to get approval, even if its overall numbers are weak.
Within 30 days of starting treatment with Lorqess, doctors know who the high-responders are. In Arena's clinical trials, that cohort was about 35% of those taking the drug. In actual practice, I expect LorPhen to raise the percentage of high responders, and I've increased it by five percentage points each year starting in 2014. This is the obesity drug market share I am forecasting for Lorqess.
Line 11: Line 9 times line 10 gives line 11, the number of patients that will be on Lorqess each year.
Below line 11, I've calculated the market share Lorqess will get of the total overweight/obese population.
Line 12: Next I have assumed that Lorqess is priced at $1.50 a pill wholesale, with two pills a day. I recall one early conference call where the company said $1 was the low end of the reasonable range, and I may still be too conservative here. A retail price of $3 a pill would cost the patient $180 a month, which seems reasonable. (I expect most insurance companies to reimburse for Lorqess and LorPhen.) Assuming $3 a day per patient times the number of patients on line 11 gives us the annual revenues to their U.S. marketing partner, Eisai Pharmaceuticals.
In 2012, the drug will not be launched until after Labor Day, so I have divided the 2012 revenue calculation by four to get to the $627 million in sales by Eisai. To be conservative, I also divided the 2013 sales by two to account for rollout and stocking issues, reducing Eisai's revenues from Lorqess to $1.5 billion.
Line 13: Under the terms of its deal with Eisai, Arena will manufacture the product in Switzerland and sell it to Eisai for a purchase price starting at 31.5% of Eisai's annual net product sales. The purchase price will increase on a tiered basis to as high as 36.5% on the portion of annual net product sales exceeding $750 million. I assumed that each $100 million over the first $350 million earns Arena an extra percentage point. That gives us the percentage of revenues to Arena from Eisai, assuming Lorqess does not hit full stride until 2014.
Line 14: Line 12 times line 13 gives the U.S. revenues to Arena from Eisai's sales of Lorqess.
Line 15: I then assumed the same path for revenue growth in Europe and the rest of the world with a one-year lag. Arena filed for approval in Europe on March 2, and already is in discussions with potential marketing partners. Line 15 assumes European and South American introduction is delayed to the second quarter of 2013.
Line 16: In addition to their share of the sales of Lorqess, Arena gets up to an additional $60 million in milestone payments upon regulatory approval and the delivery of product supply for the launch. I show that as revenue in 2012. There's another $70 million in regulatory and development milestone payments that I split evenly between 2013 and 2014.
Line 17: There's $1.16 billion in one-time purchase price adjustment payments based on annual sales levels of Lorqess. I don't have any idea what that schedule of payments is. I assumed it added six percentage points to Arena's share of the revenues starting in 2013, which adds up to $1.16 billion by the end of 2016. The actual schedule may be faster or slower.
Line 18: Total revenues for Arena under this optimistic case equal $262 million this year, a little over $1 billion next year, almost $3 billion in 2014 as Europe kicks in, and over $5.5 billion two years later. If these numbers seem outrageous to you, fine - do your own spreadsheet.
Line 19: The big question is: What's it worth? Any drug that has blockbuster status is worth at least 6 times revenues, and usually more. Using 6 times revenues, Arena has a value of $1.5 billion this year, followed by $6.2 billion in 2013, $8.3 billion in 2014, and so on.
Line 20: After the recent financing the company has 200 million shares outstanding.
Line 21: The calculated price per share is $8 this year, $31 next year, $87 in 2014, and so on. Wall Street values companies by discounting their expected future prices. Once Lorqess is approved, spreadsheet models like this will be everywhere. Some will use more aggressive assumptions, and some will use less aggressive assumptions. Although Wall Street usually discounts future earnings and prices at a 10% rate, maybe 15%, I have used a more stringent 20% discount rate.
Line 22: Using a 20% discount rate, that $166 price in 2016 is worth $68 today. Using a 15% discount rate, $166 is worth $87 today. Using the 10% discount rate often granted to Big Pharma, the stock is worth $109 today.
The truth undoubtedly lies between my base model and my "How Good Can It Get?" model. We don't know what the pricing will be, we don't know how fast Arena will sign up a European and an Asian partner, and we don't know what discount rate Wall Street will assign to Arena. We do know obesity is a major problem for health care spending, and that Lorqess has the potential to be bigger than Lipitor simply because the addressable market is so much larger. It appears to me that Wall Street is drastically undervaluing Arena Pharmaceuticals.
Disclosure: I am long ARNA.
Additional disclosure: Subscribers to New World Investor are long a very large amount of the stock and options.