Gold mining stocks have fallen out of favor with the most of the investment public, and many long term gold bugs have thrown in the towel and given up on the shares. The poor performance of gold equities has been negative for most traders and anyone long on leverage. But this is not necessary negative for someone that understands the fundamentals and has a longer investment horizon.
The ultra bearish sentiment has created an opportunity for contrarian investors to pick up quality equities at bargain prices. The time to buy is when prices are depressed and when others are selling. At least if you are looking for value. This is not always easy to do and it requires a bit of contrarian thinking.
I see at least three reasons why gold equities represent opportunities for investors with a longer time horizon.
1 - Stock valuations among most majors are suppressed and do not represent anything resembling fundamental value. In a recent interview on King World News, Rick Rule said that he had started looking for bargains. He stated that there is a good chance that we may even see lower valuations over the next 12 - 18 months as much of the traditional financing from hedge funds and institutional investors is drying up, especially among junior exploration companies. This will open up opportunities to accredited investors to take advantage of private placement deals that will be available over the coming months.
The chart below shows the HUI to Silver and Gold ratio. This ratio compares the price of the gold and silver shares against the metal. This ratio is close to a 10 year high - indicating that the shares are almost at the lowest price point since the beginning of the bull market.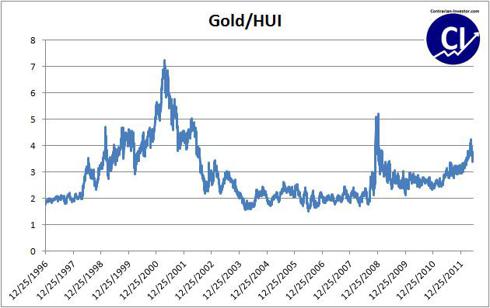 Click to enlarge
2 - Senior gold mining companies such as Newmont Mining (NYSE:NEM), Gold Corp (NYSE:GG) and Barrick Gold (NYSE:ABX) are selling at a discount. At present levels they are a very attractive alternative to holding physical gold. They have physical gold in reserves and offer plenty of upside potential, in addition to paying a dividend. For example, Newmont Mining pays a 3.09% dividend; this is about twice the amount you get on bank deposits while having an asset that will hedge against inflation. The table below shows seven intermediate and large gold mining companies that offer substantial value.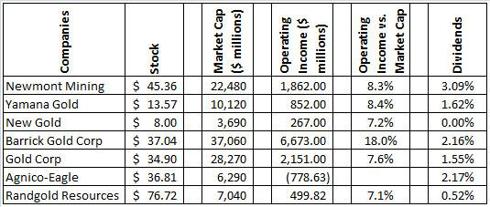 Click to enlarge
3 - Gold and silver is still in a secular bull market with several years left to run. The average commodity bull market last for about 18 years and we are only in year 12 - and based on the current economic landscape there is no reason to believe that this bull market would be different to previous bull markets.
Even if you discount further QE, which is very likely based on the world's financial situation, there is still growing demand for gold around the world. Central banks around the world have been accumulating gold aggressively. China for example, has been buying 45 tons more gold per month over the last 8 months than the preceding 8 months. This is an annualized increase of 500 tons per year. You can see this massive inflow of gold from import/export statistics from Hong Kong. The chart below shows the inflows of gold from Hong Kong to the mainland.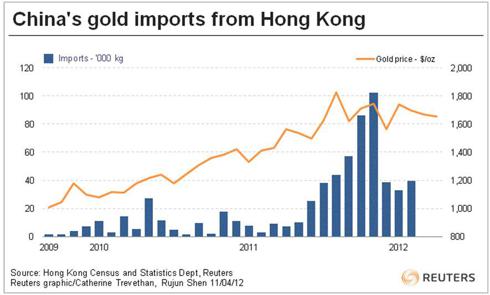 Click to enlarge
There is also a steady rise in investment demand. More and more institutional investors and sovereign wealth funds have been accumulating gold. Yet we are far away from the final stage of the bull market when the public wakes up and starts to participate. The chart below shows global investment demand for physical gold and gold ETFs.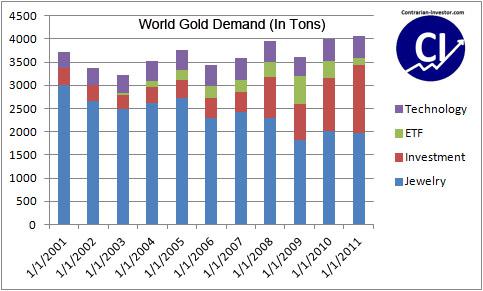 There may still be some weakness in the sector throughout the summer doldrums. But when the HUI bottoms out and turns around - the quality stocks will be the first to move higher. Consequently I suggest retail investors to slowly accumulate quality gold and silver shares such as Yamana Gold (NYSE:AUY), New Gold (NYSEMKT:NGD), Newmont Mining (NEM), Goldcorp (GG), Barrick Gold (ABX) and Silver Wheaton (NYSE:SLW).
Disclosure: I am long AUY.