Enerplus Corporation (NYSE:ERF) recently announced that starting in July, its monthly dividend will be cut in half, from 18 Canadian cents (currently $0.1749 US) per share to 9 Canadian cents (currently $0.0874 US). Since early in 2012, speculation has swirled that several high yield Canadian oil & gas companies would have to reduce their payouts, especially if involved in exploration and production.
In April, natural gas prices declined to generally unexpected lows, and though they subsequently rebounded in late April and into May, they still remain depressed. After natural gas prices trended lower through the first half of June, they recently slightly spiked up. See a recent performance chart for U.S. natural gas:


(Click to enlarge)
Additionally, crude oil prices spent most of May in a state of free-fall, declining around 20 percent. Their decline continued this week, as WTI crude broke below $80 per barrel. See a recent performance chart for WTI Crude Oil:
The effect of these declines in energy commodities has a clear affect upon E&P companies. Due to natural gas exposure, many have estimated that several high yield Canadian energy companies such as Baytex (NYSE:BTE), Enerplus, Penn West (NYSE:PWE) and Pengrowth (NYSE:PGH) may have to reduce their dividends due to declining commodity prices, potentially reduced global and North American energy demand, and increased production costs.
As a result of these expected cuts, as well as reduced reserve valuations, these companies have sustained considerable equity declines over the last several months, but also in the last few days. Since ERF cut its dividend, on June 12, it is down about 6 percent, but BTE and PGH are both down more than ERF in this term. This is so, even though PGH maintained its prior dividend, also on June 12, while on June 14, BTE announced that it was maintaining its prior dividend rate.
Investors may have good reason to believe that there will be other Canadian oil & gas dividend reductions in the wake of ERF's recent cut. The industry went through a series of cuts in late 2008 and through 2009, with ERF then also being one of the earlier cutters. This year, so far, Enerplus is the only of these companies to cut its dividend, but it may not be the last. In fact, now that one company has announced a reduction, another might follow within the coming month or two, especially if energy commodity prices do not soon materially appreciate from present levels.
Enerplus was among the first to cut its dividend in response to falling oil and gas prices in 2008, and they may again be among the first. ERF just announced a change starting in July, from $0.18 to $0.09 Canadian. The last time the monthly dividend was adjusted was to start 2009, reducing the payout from $0.38 to $0.18 per month. ERF also first reduced its dividend late in 2008, cutting it from $0.47 to $0.38 in November.
PWE reduced its dividend at the start of 2009, from $0.34 to $0.23, coinciding with ERFs second cut, or about two months after ERF's first cut. PWE made a second reduction in April of 2009, cutting its payout to $0.15, and then a third one in late 2010, reducing the monthly dividend to $0.09. PWE subsequently converted to quarterly dividends, but the $0.27 quarterly rate would be effectively unchanged from that last reduction in September of 2010.
PGH last adjusted its monthly payout in 2009, first reducing its monthly payout from $0.17 to $0.10 in February of 2009, or about three months after ERF's first reduction. PGH again reduced its dividend to $0.07 in October of 2009. Pengrowth's dividend has stayed at seven cents since that last cut, and last week, the rate was maintained into at least July.
BTE cut its dividend in December of 2008, from $0.25 to $0.18, and then in February of 2009 reduced it to $0.12. Unlike the above-mentioned companies, BTE has since increased its dividend, and done so a few times. In fact, BTE's dividend returned to $0.18 per month before the end of 2009, was at $0.20 by the end of 2010 and increased to $0.22 by the end of 2011.
Baytex has been the best performing listed equity, and the only one to increase its dividend since having to reduce it. Baytex is up substantially from its 2009 bottom, but it and the other named equities are all down in 2012. See a year to date performance comparison chart: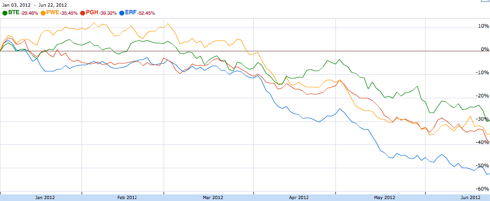 (Click to enlarge)
Perhaps now that ERF has announced a reduction, another will soon follow. Enerplus had a much higher yield to start off 2012, so it is possible that some companies will be able to maintain their yield, or make less substantial reductions than ERF's 50% cut. Nonetheless, some cuts are clearly expected by the market.