Cisco (NASDAQ:CSCO) is the world's leading supplier of networking equipment and software. Cisco's main competitors are Hewlett-Packard (NYSE:HPQ), Alcatel-Lucent (ALU), and Juniper Networks (NYSE:JNPR). The company is dominant in its core businesses, such as switches and routers, as shown by the graphic below
click to enlarge)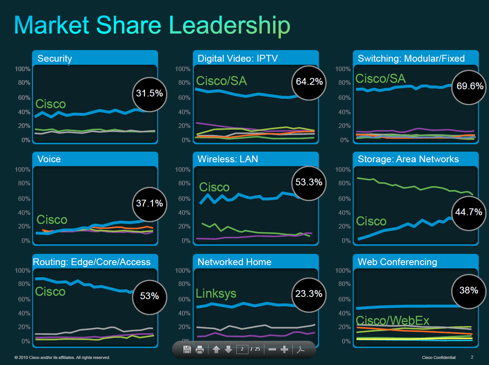 *Full Presentation can be found here (PDF FILE).
Cisco's dominance in its core businesses gives the company a durable competitive advantage, often referred to as a moat. Because of this, Cisco is a great stock to own if the price is right.
Quick Valuation
In order to estimate the fair value of Cisco I will use a discounted cash flow analysis. I use owner earnings instead of free cash flow in my analysis. The calculation of owner earnings is shown below.
| (In Million $) | 2011 |
| --- | --- |
| Net income | $6,490 |
| Depreciation & amortization | $2,486 |
| Stock based compensation | $1,620 |
| Other non-cash items | $-277 |
| Interest Payments | $628 |
| 5-year Avg Capital Expenditure | $-1,142 |
| Owner Earnings | $9,697 |
In 2011 owner earnings were about $9.7 billion on a float of 5.4 billion shares. Cisco's most recent balance sheet shows net cash of $5.92 per share. The average analyst estimate for 5-year earnings growth is 8.71%. I will use a 6% growth rate for the next 10 years and a 3% growth rate after 10 years in my calculation. Using a discount rate of 15% I arrive at a fair value estimate of $24.50 per share.
Selling Puts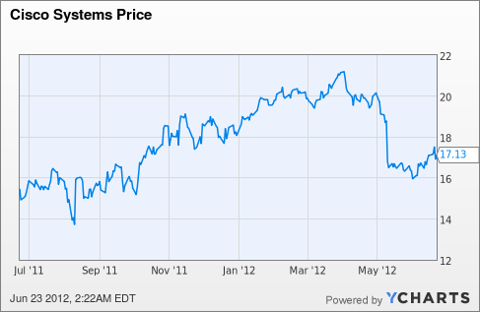 CSCO data by YCharts
As of this writing Cisco trades at $17.13 per share, a solid 30% discount to my fair value estimate. So one option is to simply buy shares of Cisco at the current market price. But let's say that you're a bit more conservative or pessimistic on Cisco's prospects and are only interested in buying shares for $16 or less. You could submit a limit order and wait for the stock price to drop to $16, all the while the cash needed for the purchase sits dormant in your account. Or you could get paid to wait for the stock price to drop by writing cash-covered put options.
An option has three components: A strike price, a premium, and an expiration date. By selling a put option you are giving the buyer of that option the right to sell you the underlying stock at the strike price on or before the expiration date. The buyer pays you the premium in exchange for this right. You keep this premium no matter what happens, but are required to buy the stock if the option is exercised.
Selling a cash-covered put option can end in one of two ways. If the stock never dips below $16 per share before the expiration date the option will expire worthless, you will not be required to buy any shares, and you're free to write another put. If, however, the stock does go below $16 per share and the option is exercised, you are required to buy the stock at $16 per share, which will be higher than the current market value.
Let's take a look at the different put options available to sell with a $16 strike price:
| | | | |
| --- | --- | --- | --- |
| Expiration Date (Days until expiration) | Strike Price | Premium (Last Trade) | Annualized Return |
| Jul 2012 (27) | $16 | $0.11 | 9.3% |
| Aug 2012 (55) | $16 | $0.40 | 16.6% |
| Sep 2012 (90) | $16 | $0.52 | 13.2% |
| Oct 2012 (118) | $16 | $0.66 | 12.8% |
| Jan 2013 (210) | $16 | $1.10 | 11.9% |
| Apr 2013 (300) | $16 | $1.51 | 11.5% |
The August 2012 expiration date provides the largest annualized return, receiving a $0.40 premium on a $16 investment in just 55 days, resulting in an annualized return of 16.6%. So if you sell a August 2012 $16 put option you immediately receive a premium of $40 (all options are in blocks of 100 shares) and you have $1600 tied up for 55 days. If the option expires worthless you can then write another put and collect another premium. If the option is exercised you will buy 100 shares Cisco for $16 per share, a price which you have already determined is a comfortable entry point.
The downside to this strategy is that if Cisco tanks, say to $14 per share, you are forced to pay $16 per share and suffer an immediate "on paper" loss. Of course, had you simply bought shares at the current price or even waited for the price to reach $16 and then bought shares, you would have suffered the same fate. But by selling puts you are able to offset this "on paper" loss with premiums.
Conclusion
By selling Cisco puts you are able to generate a 16.6% annualized return on investment as you wait for the stock price to drop to acceptable levels. Choosing a stock like Cisco, which is a large, reliable company with a competitive advantage, assures that your fundamental thesis on the stock should remain intact for the duration of the option lifetime. You should only sell puts on stocks that you would like to own and at strike prices that you are comfortable paying.
Disclosure: I have no positions in any stocks mentioned, and no plans to initiate any positions within the next 72 hours.