RadioShack (NYSE:RSH) has had its fair share of problems in the past, especially as big box retailers struggle to compete against online retailers like Amazon.
click images to enlarge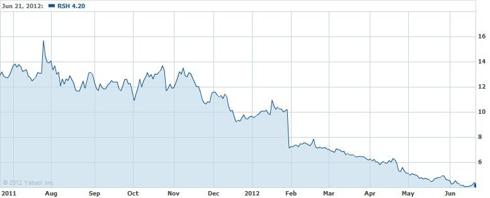 Click to enlarge
RadioShack's share price is down more than 65% in the last year. However, the company is profitable, and analysts still expect it to post a profit of 39 cents per share. This puts the stock's forward P/E at 10.8.
The company is trading at 60% of net tangible assets, which means the stock is cheaper than RadioShack's actual physical worth. The market seems to believe the company's future outlook is bleak. Thinking it's undervalued, many investors are looking to buy into RadioShack, but the stock may still have some downside.
Instead of purchasing the stock outright, it may be a better strategy for investors to consider selling a put.

Click to enlarge
Selling the $4 Jan 2013 puts will allow investors to lock in around 86 cents per share. This produces a return of about 21.5% -- pretty good, considering an investor only has to wait 7 months for the put to expire.
In this scenario, if RadioShack falls below $4, the put will most likely be called. In this case, the average cost for each share would be $3.14. This is a nice margin of safety from the current stock price.
For those willing to take less risk, selling the $3.5 put will be fairly effective as well. This would yield a 17.4% return in 7 months. In addition, if the put is exercised, the cost basis of each share would $2.89.
Both strategies yield strong returns. However, this strategy should really only be used by investors who are willing to take a chance on RadioShack. There's always a possibility the stock price will fall and the puts will be exercised.
Disclosure: I have no positions in any stocks mentioned, and no plans to initiate any positions within the next 72 hours.