Alcoa, Inc. (NYSE:AA) is the world's leading producer of primary and fabricated aluminum, as well as the world's largest miner of bauxite and refiner of alumina. Alcoa's innovation has been behind major milestones in the aerospace, automotive, packaging, building and construction, commercial transportation, consumer electronics and industrial markets over the past 120 years.
Sustainability is an integral part of Alcoa's operating practices and the product design and engineering it provides to customers. Alcoa has been a member of the Dow Jones Sustainability Index for 10 consecutive years. The share price of Alcoa looks extremely attractive. It is currently trading near the very significant 3 year support level, just above $8. A strong and sustainable rally may be just on the cards.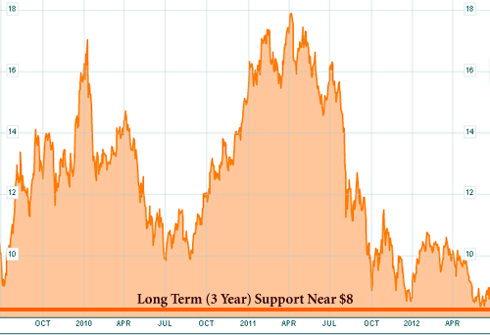 Click to enlarge
(Click to enlarge)
Aluminum Industry Outlook
The aluminum industry is highly cyclical. Prices of the metal solely depend on worldwide supply and demand. In the first quarter of fiscal 2012, Alcoa reported better-than-expected results on the back of growth in the aerospace and automobile sectors. Quarterly earnings are expected to improve significantly from here.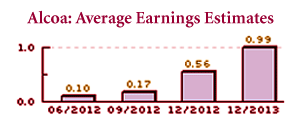 The company anticipates that global aluminum demand will go up by 7% this year. It also expects that burgeoning demand for aluminum along with market-related production cutbacks will lead to a global aluminum industry deficit of 600,000 metric tons in 2012. Region-wise, in 2012, China and India are expected to lead with double-digit growth. Russia and Brazil are projected to have 4% to 5% increases in aluminum consumption rates. Overall, Alcoa believes that the long-term prospects for aluminum remain bright and envisions that global demand for aluminum will double by 2020.
Due to the recent global slowdown in industrial growth, aluminum prices have been under pressure, prompting companies to cut back on production. Alcoa plans to close or curtail 390,000 metric tons, or approximately 12% of its global smelting capacity, in 2012. This will lower the company's cost position by 10 percentage points in smelting and 7 percentage points in refining by 2015 and improve its competitiveness.
Automobile Market: Medium to Long Term Growth Driver
In the medium to long term, aluminum consumption is expected to improve globally. The revival is palpable in the automotive and packaging industries, one of the key consumer markets. The automobile market is also becoming increasingly aluminum-intensive, because of the recyclable property of the metal and its light-weight properties. (Source: Zacks Investment Research)
On June 22, 2012, Alcoa saluted Tesla Motors on the introduction of the Tesla Model S electric vehicle, an all-aluminum premium sedan that accelerates from 0 to 60 miles per hour in 5.6 seconds, with zero tailpipe emissions.
The body of Model S is a state-of-the-art, aluminum-intensive design. Weight-saving benefits make aluminum a natural choice. Stamped sheets of aluminum, extrusions, and castings are expertly joined for rigidity and strength. A rigid and strong structure not only protects passengers, but also contributes to overall maneuverability behind the wheel. (Source: Bloomberg)
ALCOA EARNINGS ESTIMATES
This Quarter
06/2012
Next Quarter
09/2012
This Year
12/2012
Next Year
12/2013
Average Estimate
0.09
0.16
0.54
0.98
Number of Estimates
15
13
15
15
Low Estimates
-0.02
-0.02
0.03
0.54
High Estimates
0.20
0.26
0.81
1.56
Year Ago EPS
0.32
0.14
0.72
0.54
EPS Growth
-70.83%
14.29%
-24.44%
80.15%
It is expected that aluminum demand will increase over the next three years, outstripping supply growth. As a result, the aluminum market is likely to witness deficits for a prolonged period. This provides a backdrop of high alumina and aluminum prices and a corresponding improvement in the earnings of Alcoa. (Source: Zacks Investment Research)
Technical Picture
After creating a high in February and confirming that high in March this year, the stock was in a temporary downtrend along with the market that started in April. That downtrend ended in May as indicated by the RSI, Stochastics and MACD. The original uptrend of 2012 resumed again earlier this month, as indicated in the chart by the vertical red line and the red circles. The stock is now taking support at the 20-DMA, the line inside the Bollinger Bands. The immediate resistance will be at the upper band drawn in pink. A breakout is expected in the near term.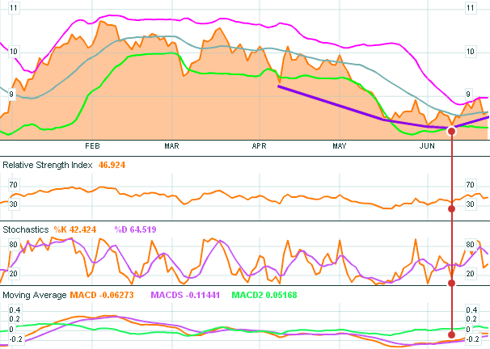 Click to enlarge
(Click to enlarge)
Given the strong fundamental outlook of the aluminum industry and the overall stock market, Alcoa is expected to outperform the Dow Jones Industrial Average in the coming weeks and months. The ongoing consolidation in the market has been providing excellent opportunities to accumulate fundamentally strong stocks. Medium to long term investors should accumulate the stock on every dip in the stock price.
Disclosure: I am long AA.