For those who are able to see a glass when it is half full, sales of newly built homes in May tagged the highest level in two years. Residential home construction is up 55% from the bottom. Gasoline prices are significantly lower than they were three months ago. And emerging markets like China are committing large sums of money to the International Monetary Fund (NYSE:IMF), indicating a greater willingness to foster the global financial system.
For the rest of us, let's return to financial media's regularly scheduled programming: Spain applied for hundreds of billions of dollars to bail out banks laden with toxic Spanish, Italian and Greek bonds. Egypt's new leader intends to reconsider its 33-year peace accord with Israel. And the 4-week average for unemployment claims in the United States reached its highest level since December.
In truth, it's not difficult to present a case for the bulls or for the bears. What's more, there's simply no telling which group has it right.
Can anyone truly know whether the EU will stand united or fracture into pieces? For that matter, can anyone swear on the life of a loved one that they know precisely how the markets will react to one or more uncertain outcomes?
Granted, the month of June has been awfully gloomy. Nevertheless, if one checks the scoreboard through 6/25/2012, U.S. stocks are nearly in the same place they were at the end of May. No better, no worse. The same can be said for many bonds and currencies. Even the CBOE VIX Volatility Index (VIX) is somewhat subdued, sitting just below a 50-day trendline.
Click to enlarge images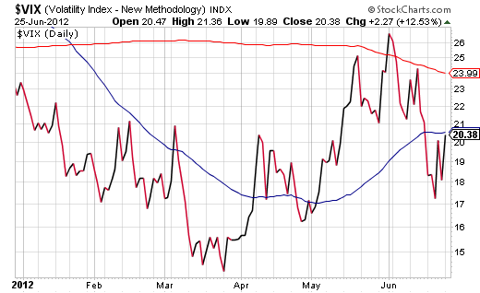 Think about the endless commentary about things that were supposed to be inevitable. The U.S. dollar's inevitable demise? Apparently, the greenback's finale has been delayed, as PowerShares Dollar Bullish (NYSEARCA:UUP) has reverted back to a 5-year mean value. Or how about the hatred for U.S. treasuries and the absolute certainty that interest rates would have to rise? Buyers of long maturities in Vanguard Extended Duration Treasury (NYSEARCA:EDV) have outwitted vigilantes once again.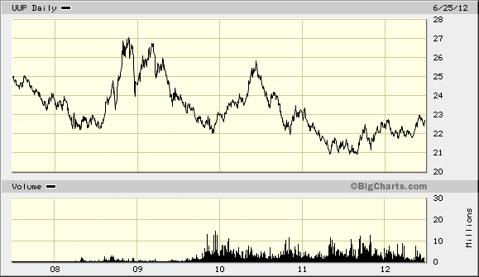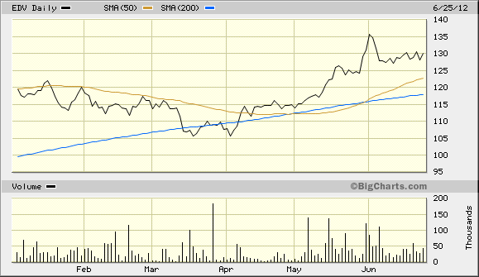 If there's one thing that stock, dollar, and bond bulls and bears agree on, it's the enormous amount of uncertainty in the investing environment. And while nobody seems to agree on what the outcome of the uncertainty is… uncertainty is what we have.
My approach to uncertainty is less "preachy" and more mechanical. Specifically, I control what is possible to control.
For example, when stock market benchmarks are moving around like jumping beans, I can shift into less risky stock assets. Recently, I downshifted from Vanguard Total Stock Market (NYSEARCA:VTI) to the lower beta Vanguard High Dividend Yield (NYSEARCA:VYM). Also, I can increase my income-oriented holdings to investments with historically appealing yields relative to government bonds. Recently, I increased my exposure to preferred shares via iShares Preferred (NYSEARCA:PFF) as well as iShares Barclays Intermediate Credit Bond Index (NYSEARCA:CIU) and iShares FTSE NAREIT Mortgage REITs Index (NYSEARCA:REM).
If markets simply can't hold up, I can control outcomes and raise cash in client accounts with stop-limit loss orders. With commodity prices plummeting since mid-March, investments in pipeline partnerships like JP Morgan Alerian MLP Index ETN (NYSEARCA:AMJ) and ALPS Alerian MLP ETF (NYSEARCA:AMLP) "stopped out." I locked in gains, avoided the ongoing deterioration and raised cash levels for client accounts.
Every single one of us who writes about the investment markets has an ego. And many of us believe we know what will happen next. Yet the savviest advisers are risk managers first and foremost.
Disclosure: Gary Gordon, MS, CFP is the president of Pacific Park Financial, Inc., a Registered Investment Adviser with the SEC. Gary Gordon, Pacific Park Financial, Inc, and/or its clients may hold positions in the ETFs, mutual funds, and/or any investment asset mentioned above. The commentary does not constitute individualized investment advice. The opinions offered herein are not personalized recommendations to buy, sell or hold securities. At times, issuers of exchange-traded products compensate Pacific Park Financial, Inc. or its subsidiaries for advertising at the ETF Expert web site. ETF Expert content is created independently of any advertising relationships.