Company Profile
McCormick & Company, Inc. engages in the manufacture, marketing, and distribution of flavor products and other specialty food products to the food industry worldwide. It operates in two segments, Consumer and Industrial.
McCormick & Company (NYSE:MKC) is scheduled to report its second quarter earnings results on June 27, 2012, before market open.
Technical Overview
(click to enlarge all images)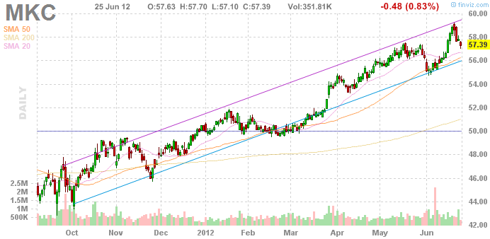 McCormick & Company has a market cap of $7.69 billion and it is currently trading around $57.39 with a 52 week range of $42.59 to $59.24. The stock has risen 13.86% year to date. The following table provides the key financial ratios for McCormick & Company:
| | |
| --- | --- |
| Key Ratio | Value |
| Current Ratio | 1.24 |
| PEG | 2.43 |
| P/E | 20.89 |
| Forward P/E | 17.27 |
| Profit Margin | 9.15% |
| Return On Assets (ROA) | 9.25% |
| Return On Equity (ROE) | 22.94% |
Recent News
Analyst Guidance and Earnings History
The second quarter revenues are expected to be $969.79 million when compared to $883.70 million for the same quarter last year. Earnings per share for the second quarter are expected to be 60 cents a share, up from a 55 cents a share in the year-ago period.
The average price target from analysts for McCormick & Company is $58.91 with average rating of OVERWEIGHT.
Out of the last 4 quarters, McCormick & Company has met or exceeded the EPS estimates all the 4 times. The following chart shows the Analyst estimates history and the actual EPS results: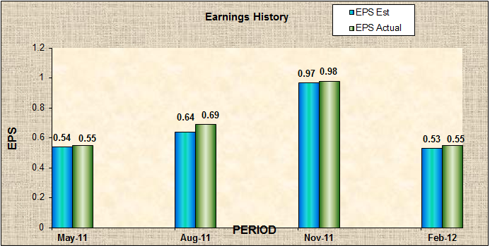 The following chart shows the annual summary of Sales and Net income for McCormick & Company: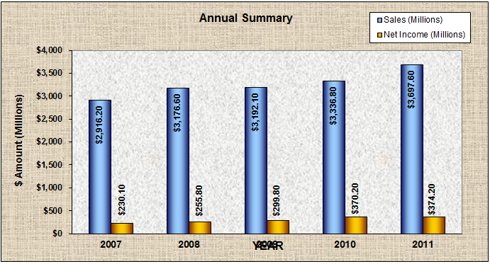 Competition
Campbell Soup Co (NYSE:CPB), H.J. Heinz Company (HNZ), and Tyson Foods Inc. (NYSE:TSN), are considered as major competitors for McCormick & Company and the table below provides the key metrics for these companies: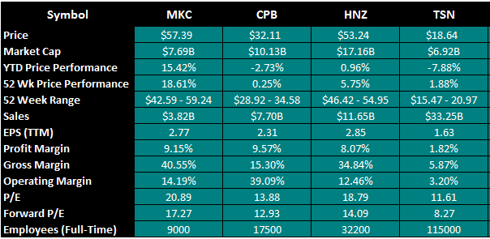 Sources: Some of the data is taken from Google Finance, Yahoo Finance, Nasdaq, Finviz and investor sites.
Disclosure: I have no positions in any stocks mentioned, but may initiate a long position in MKC over the next 72 hours.
Additional Disclosure: I change my positions very frequently and may initiate either long or short positions in the above mentioned stocks at any time.