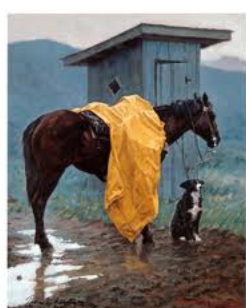 There was some good news Monday as New Home Sales rose much higher than expected (369K vs 350K expected and prior 343K) which should have emboldened bulls but really didn't as eurozone news dampened the mood. The weekend meeting between the four prominent eurozone leaders ended without anything being accomplished. Italy's Monti warned the eurozone has only a few days to survive. Germans warned Greece to stop asking for more money. The newly installed Greek finance minister resigned citing poor health. Spain has amped-up its bank bailout needs to $125 billion from $80 billion. They want the money now and without any strings attached. But strings it will be and they'll be hardwired per the Bundesbank. Soros also warned the eurozone has only a few days left to its existence. Rumors do continue Germans may just quit the euro which would be quite a shock to the system. Read the Spiegel interview with Finance Minister Schauble. Meanwhile, Chinese stocks fell to a 5 month low and BRICs in general are paying a heavy price.
The dollar (NYSEARCA:UUP) rallied as did the Japanese Yen (NYSEARCA:FXE), mostly against the euro on safe haven buying. At the same time gold (NYSEARCA:GLD) and other precious metals rallied on safe haven buying. Commodities (NYSEARCA:DBC) and crude oil (NYSEARCA:USO) overall were weaker but grains (NYSEARCA:JJG) are still on the rise given poor weather conditions. Bonds (NYSEARCA:IEF) were stronger given the stock sell-off and more safety plays.
Stocks fell sharply across the globe. Wall Street saw shares of major indexes drop from 1-2% overall. Even with the better housing data Homebuilders (NYSEARCA:ITB) fell overall. The largest laggards were financials and banks (XLF and KBE) as investors worry about eurozone exposure, hidden and real.
Tuesday will bring the Case-Shiller Home Price Index and Consumer Confidence data. But all eyes are on the eurozone. And, I don't know about you, but I'm starting to suffer from eurozone fatigue. So, whatever they have to do, please get it over with.
It appears the Supreme Court will deal with Obamacare on Thursday, while the eurozone awaits another Friday date with destiny.
Volume Monday was a little on the light side as investors must be in a "wait and see" mode. Breadth per the WSJ was negative.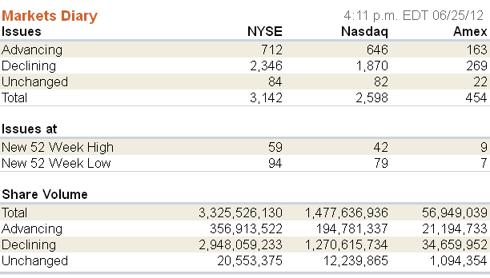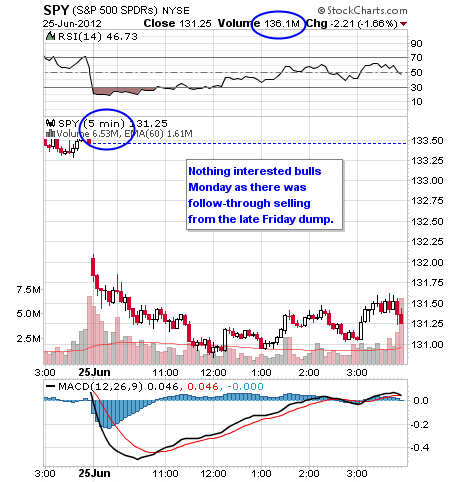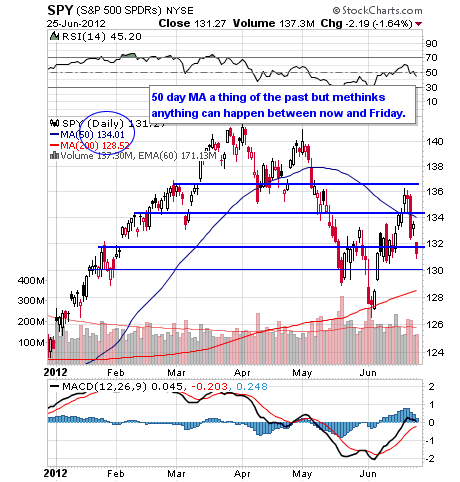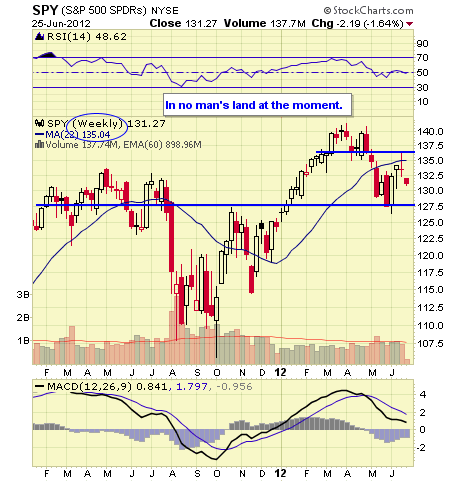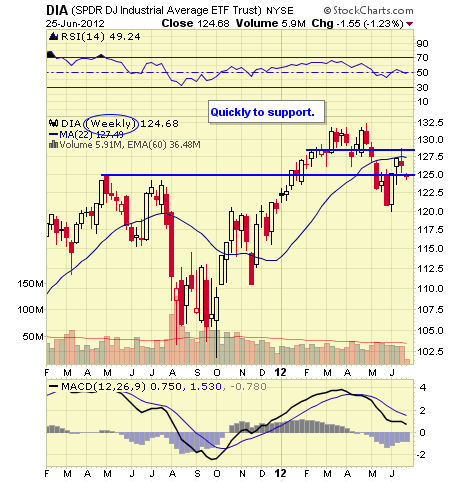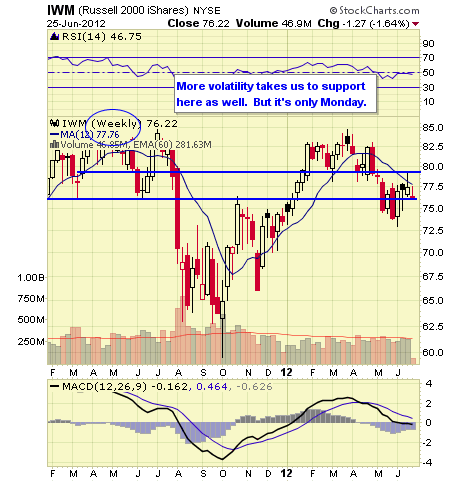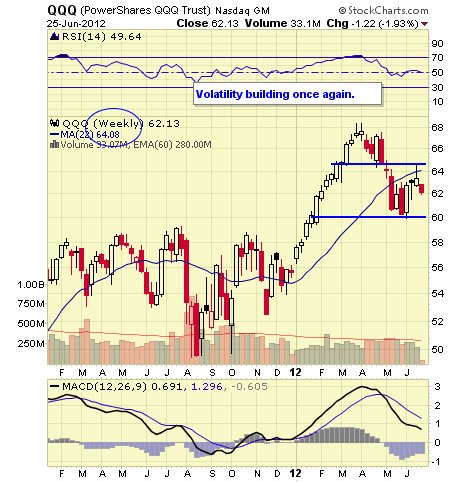 U.S. Sector, Stocks & Bond ETFs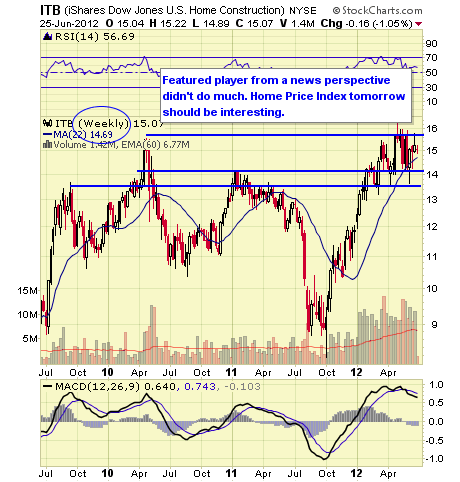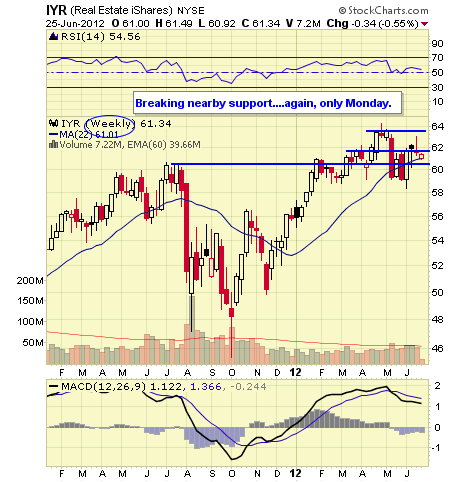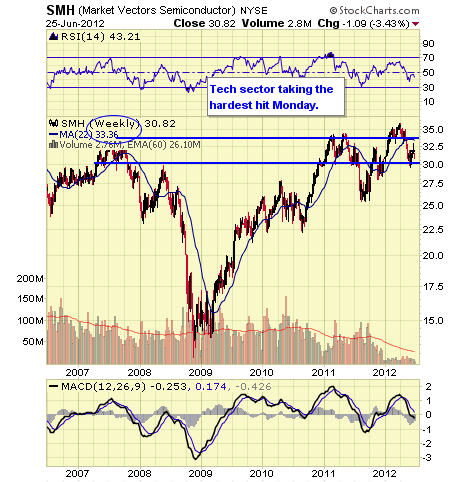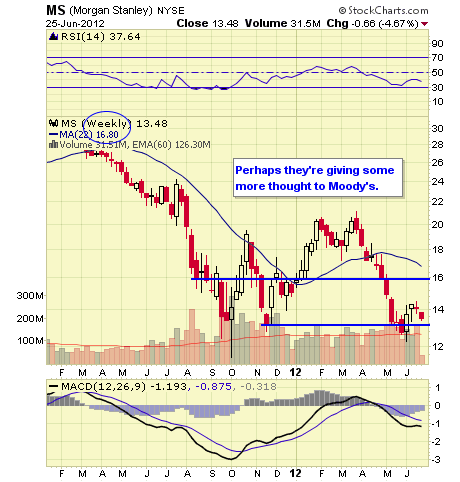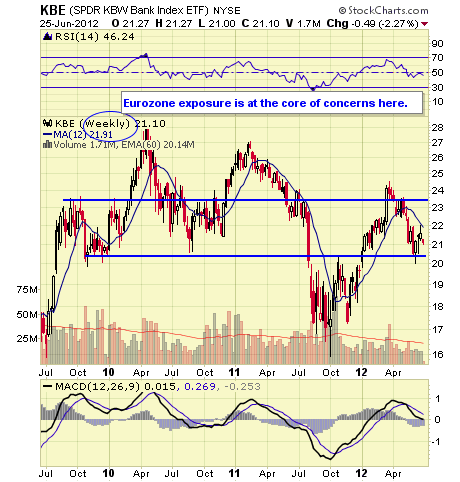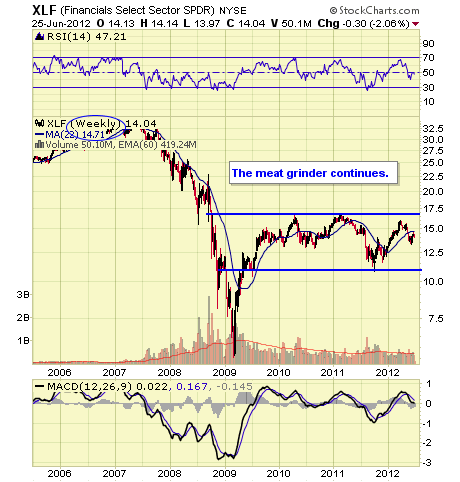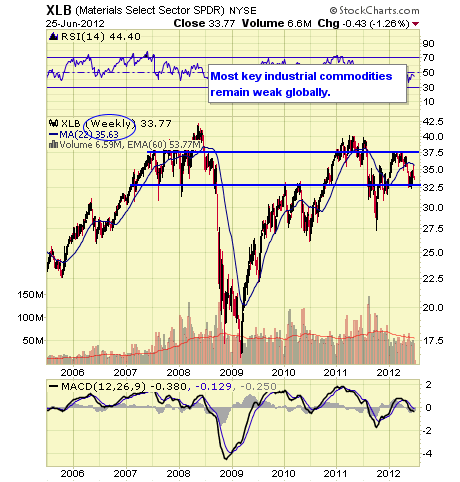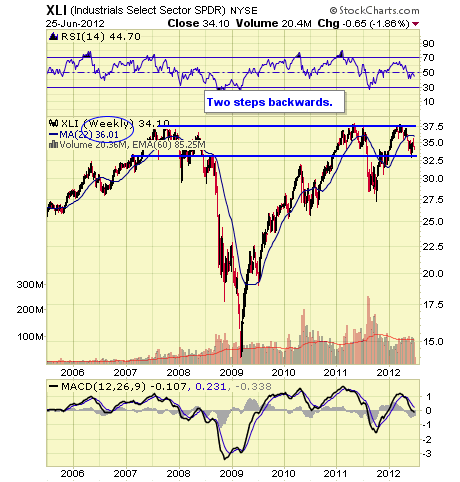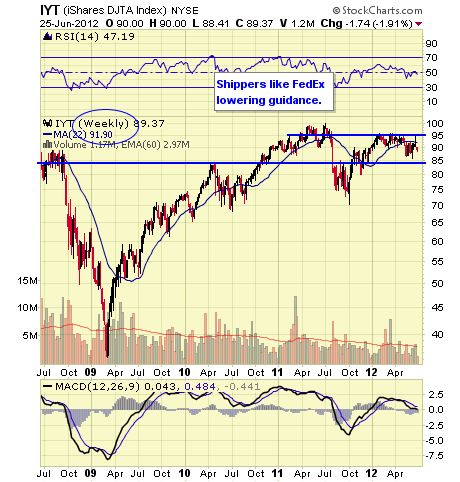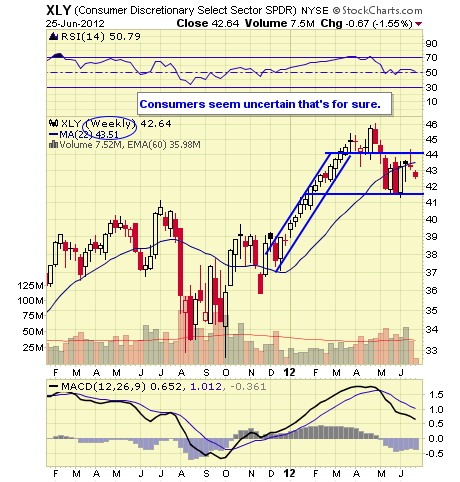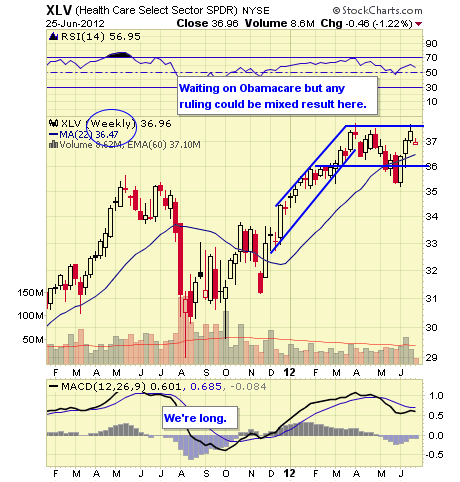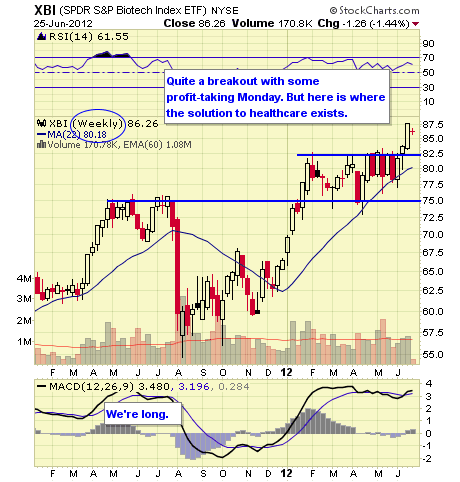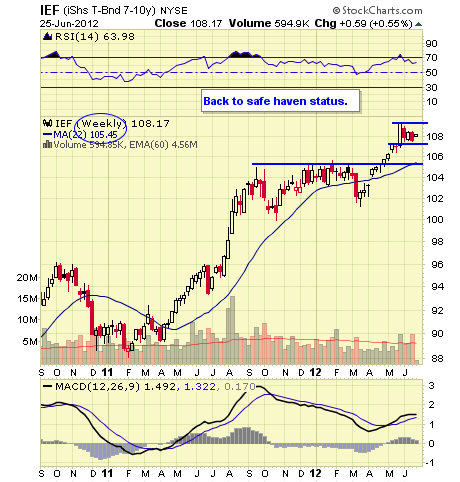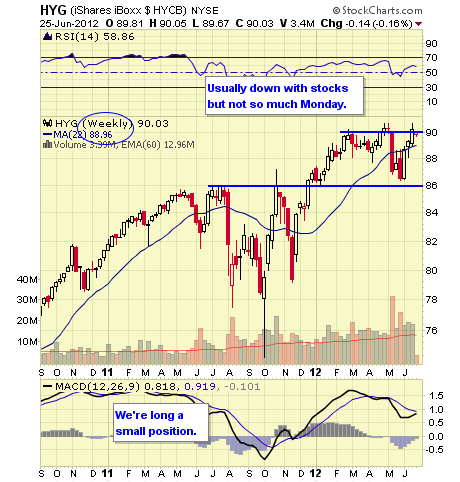 Currency & Commodity Market ETFs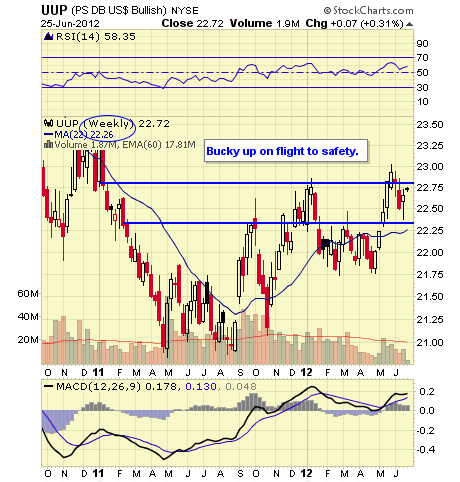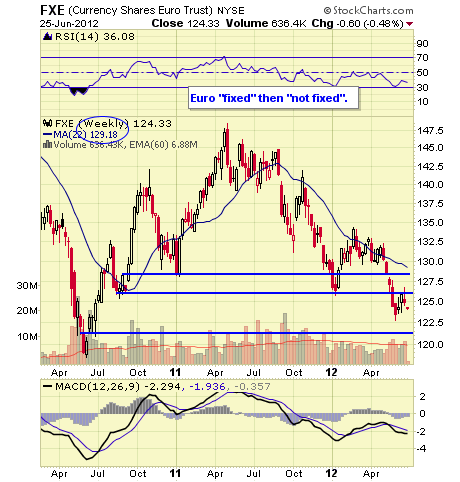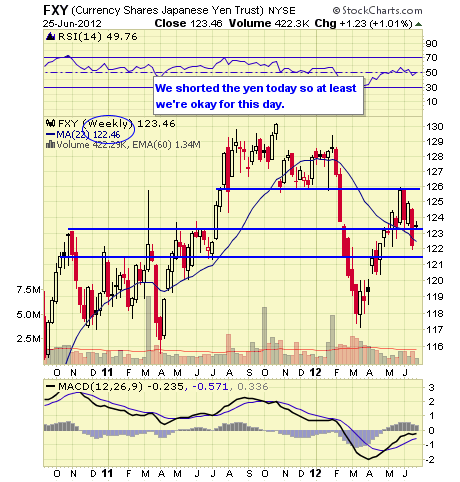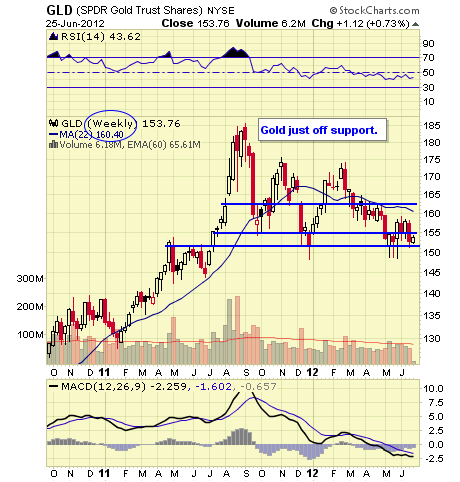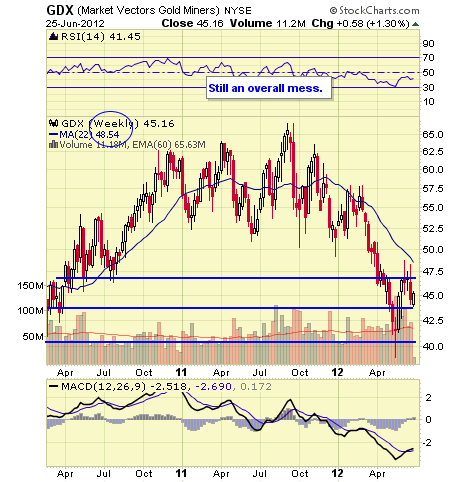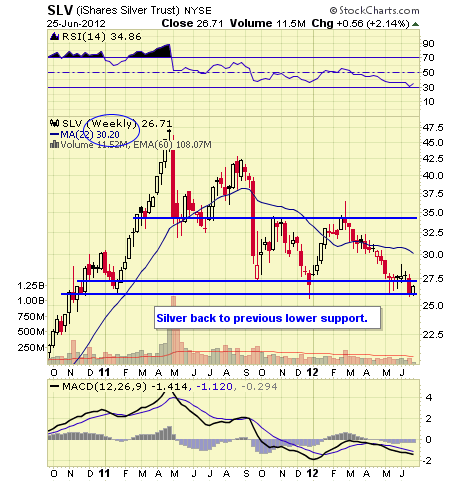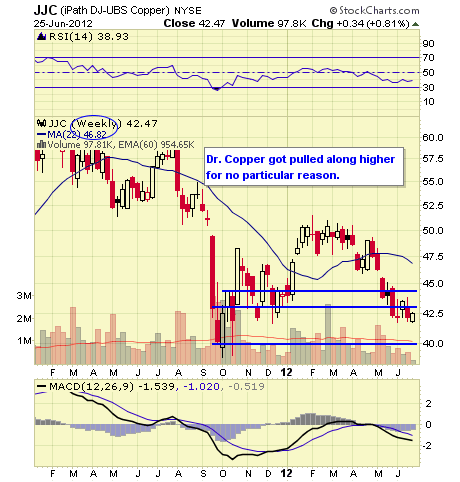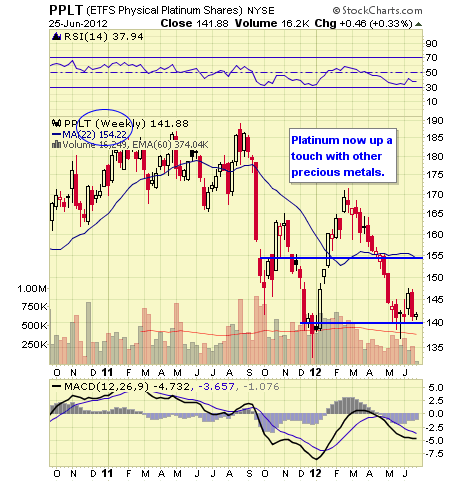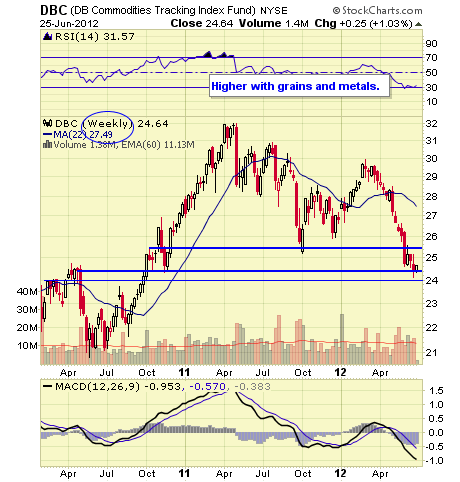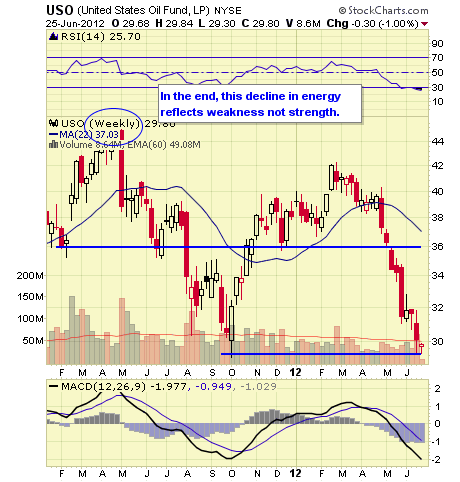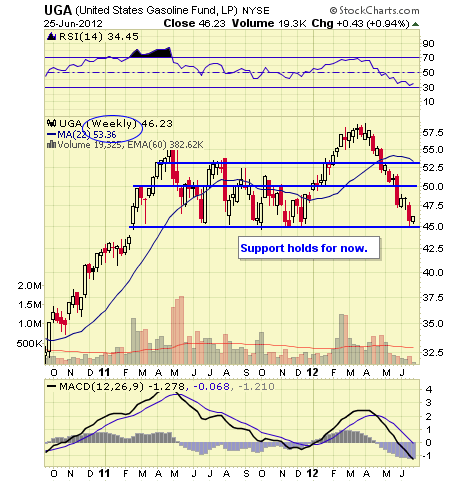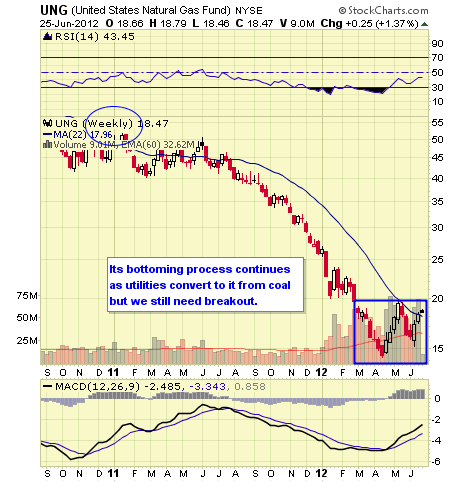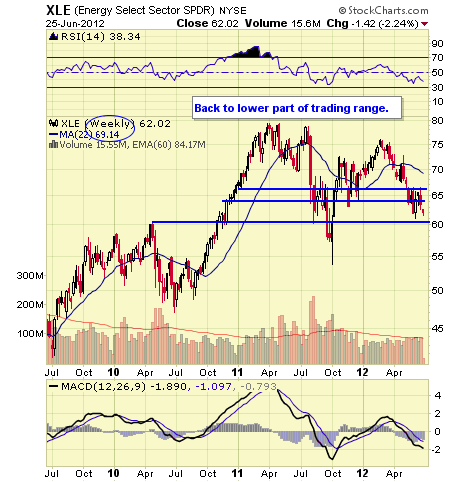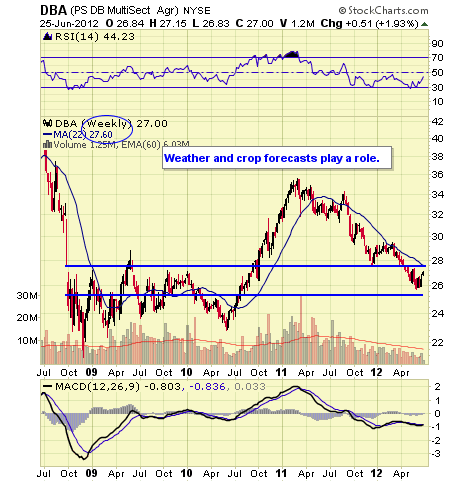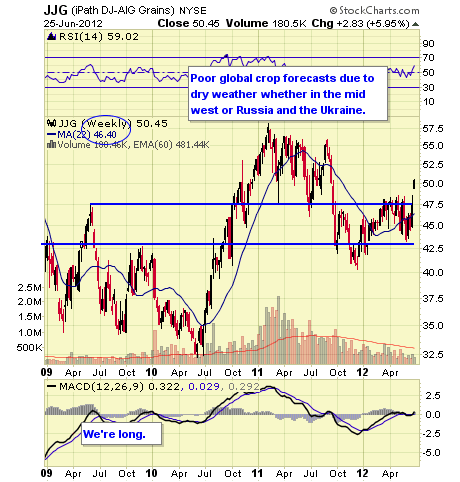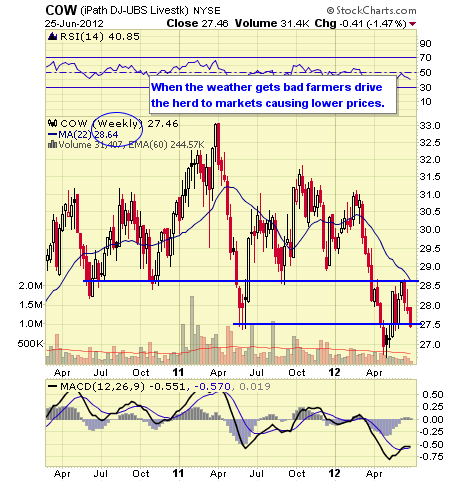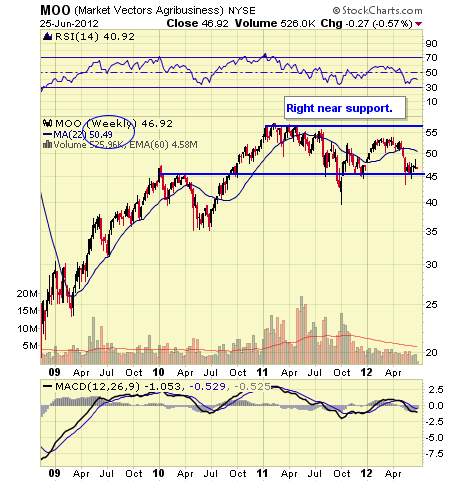 Overseas Sectors & ETFs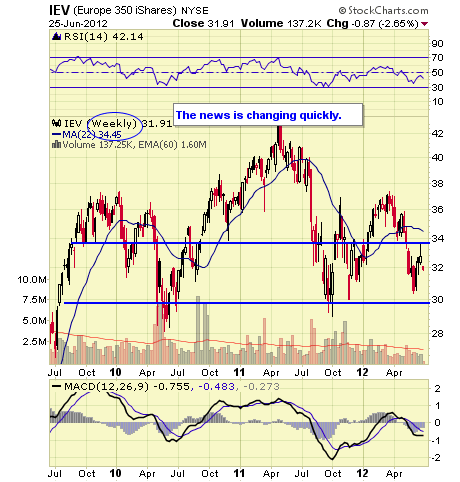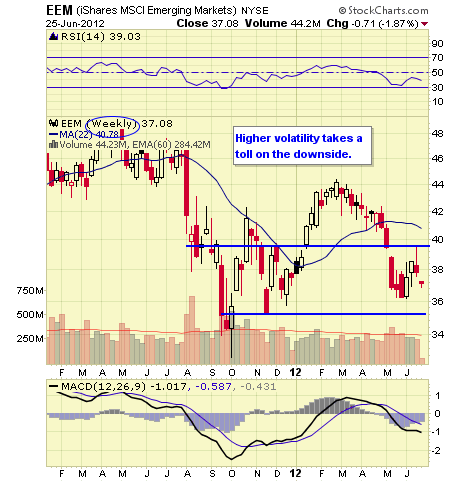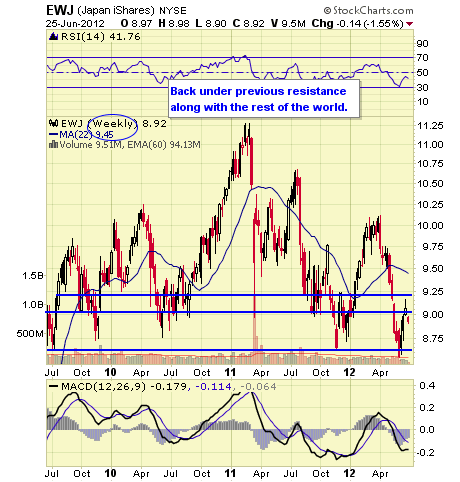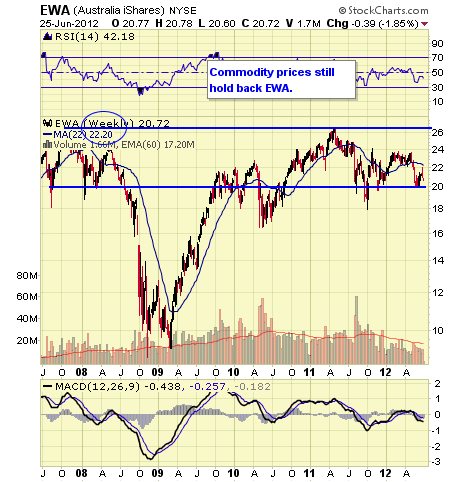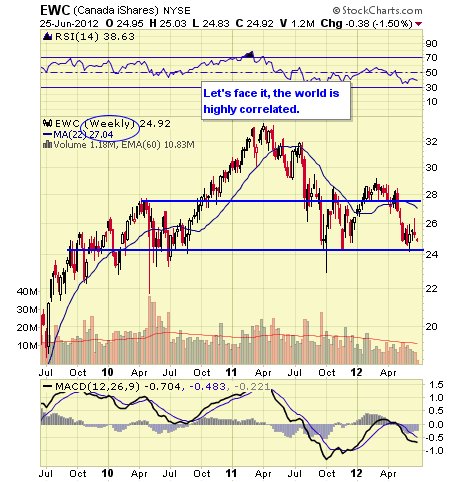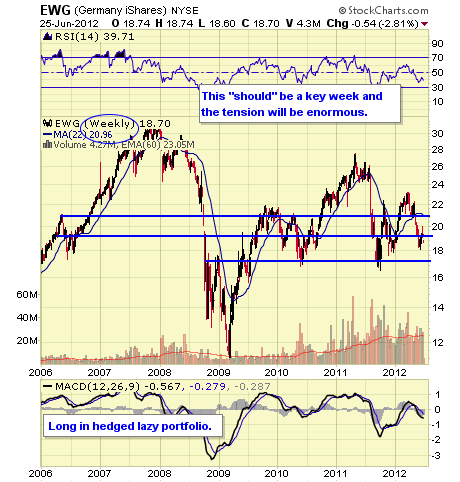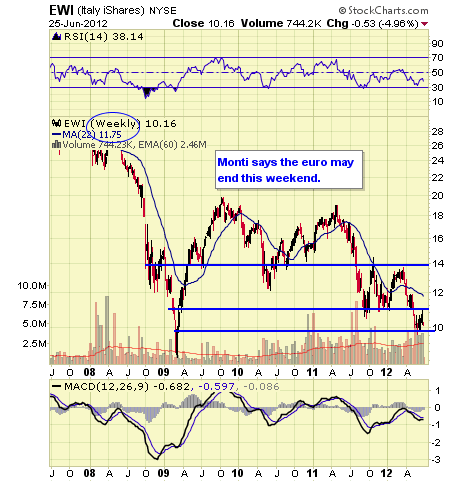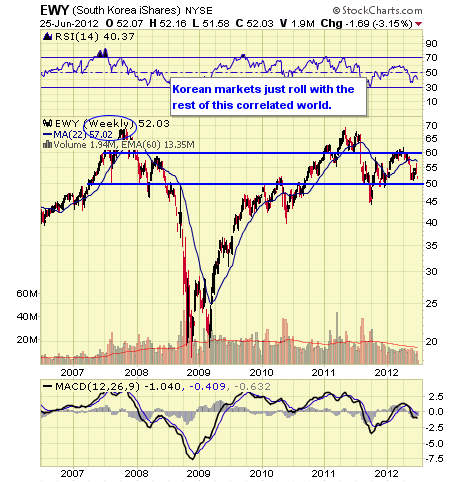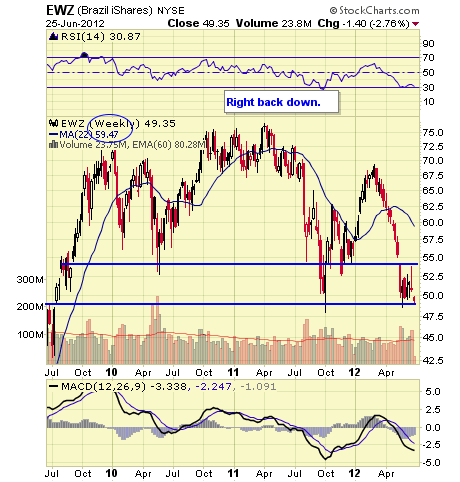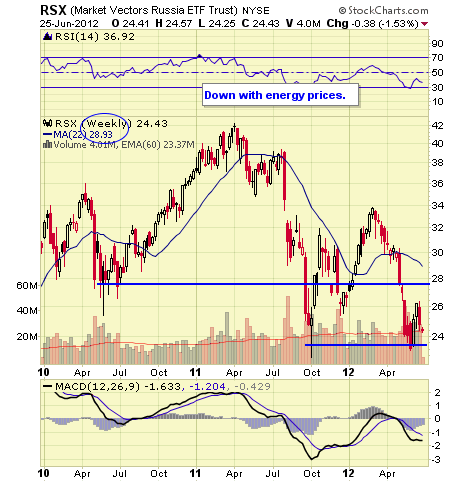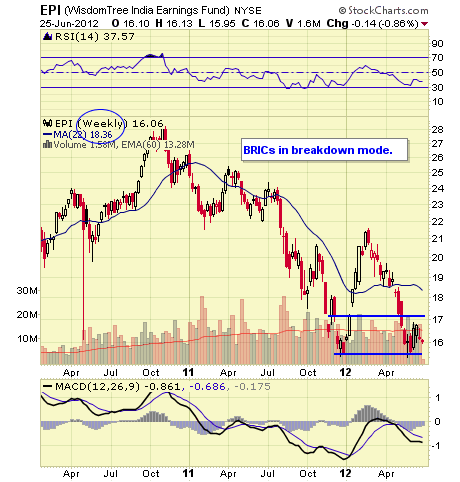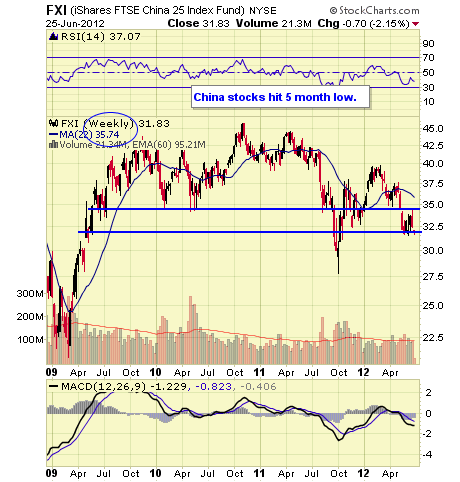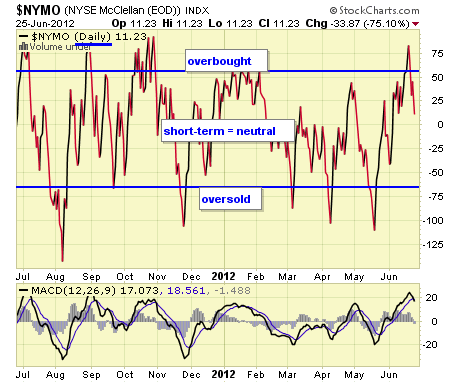 The NYMO is a market breadth indicator that is based on the difference between the number of advancing and declining issues on the NYSE. When readings are +60/-60 markets are extended short-term.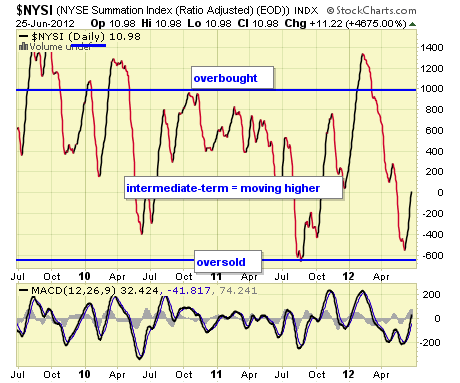 The McClellan Summation Index is a long-term version of the McClellan Oscillator. It is a market breadth indicator, and interpretation is similar to that of the McClellan Oscillator, except that it is more suited to major trends. I believe readings of +1000/-1000 reveal markets as much extended.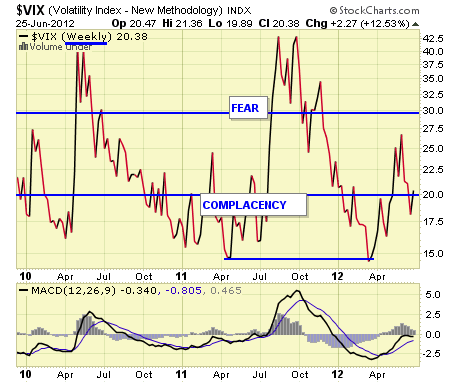 The VIX is a widely used measure of market risk and is often referred to as the "investor fear gauge". Our own interpretation is highlighted in the chart above. The VIX measures the level of put option activity over a 30-day period. Greater buying of put options (protection) causes the index to rise.
Here's the late-breaking text from Moody's regarding their downgrades of 28 Spanish banks. This will have repercussions for lenders and stimulate margin calls for these institutions forcing them to put up more capital. Perhaps they'll choose to ignore these as seems the mood now in Europe. Nevertheless, others might suggest Moody's is late with this.
It will be a tense week that's for sure.
Disclosure: I have no positions in any stocks mentioned, and no plans to initiate any positions within the next 72 hours.
Disclaimer: The ETF Digest maintains active ETF trading portfolio and a wide selection of ETFs away from portfolios in an independent listing. Current "trading" positions in active portfolios if any are embedded within charts: Lazy & Hedged Lazy Portfolios maintain the follow positions: SH, EFZ, VT, MGV, BND, BSV, VGT, VWO, VNO, IAU, DJCI, DJP, VMBS, VIG, ILF, EWA, IEV, EWC, EWJ, EWG, & EWU.
The charts and comments are only the author's view of market activity and aren't recommendations to buy or sell any security. Market sectors and related ETFs are selected based on his opinion as to their importance in providing the viewer a comprehensive summary of market conditions for the featured period. Chart annotations aren't predictive of any future market action rather they only demonstrate the author's opinion as to a range of possibilities going forward.