Pacific Sunwear of California
(NASDAQ:
PSUN
) is expected to report Q4 earnings with a conference call scheduled for 4:30 p.m. ET.
Guidance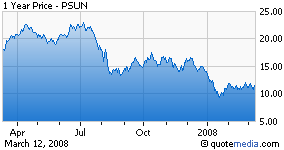 Analysts are looking for a profit of 30c on revenue of $391.9M. The consensus range is 29c to 31c for EPS, and revenue of $358.04M to $422.76M, according to First Call. The company recently reported its February same store sales were up 6% vs. consensus of down -0.4%. On January 10, the company forecast Q4 EPS in the range of 29c to 32c based on weaker-than-expected performance in December. Analysts believe retailers will be impacted by factors such as the consumer spending slowdown; higher gas and food prices, as well as turmoil in the housing and credit markets, are causing consumers to spend less.
Analyst Views
Friedman Billings believes that the companies which will continue to outperform are those aimed at the teen/young adult shoppers, as they aren't as impacted by macroeconomic pressures, possess more disposable income and want to keep buying new clothes. The firm has an Outperform rating on Pacific Sunwear. Roth Capital expects the company to offer conservative guidance, and advises buying the stock on any material weakness following the company's results. Roth believes the company is merchandising its juniors' business effectively, and the firm is pleased that the company will replace some of its footwear and accessories merchandise with apparel.