Linn Energy, LLC (LINE) made investors happy again today. Management pulled off another accretive deal on Monday. Per the below chart, Linn Energy has provided a 74.4% common stock return over the past 5 years.
Today's deal with BP America amounts to a little over $1 billion. The deal should provide ample room for Linn Energy's distribution yield to increase in coming quarters and years. This position represents an excellent yield for retirees who need reliable income.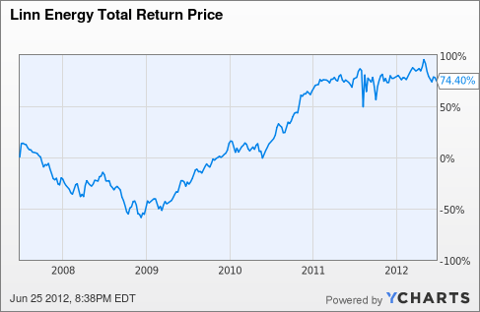 LINE Total Return Price data by YCharts
5 Year Return Chart
The company simply outperforms its peers. Although an upstream master limited partnership (MLP) is not ideal, Linn Energy has proven an upstream MLP concept works.
Jonah Field Acquisition Overview
Linn Energy announced plans to acquire properties in the Jonah Field, located in the Green River Basin of southwest Wyoming, from BP America Production Company for a contract price of $1.025 billion. The deal is expected to close by the end of July.
Linn Energy announced LinnCo's SEC S1 IPO filing to create shareholder value via capital fund raising:

LinnCo will not "own assets or operations" other than LINN units and associated assets. LinnCo's symbol will be LNCO. This is a creative and innovative deal.
Linn Energy is hedged 100% on anticipated natural gas production through 2017. Linn Energy is 100% hedged on expected oil production through 2017. The deal is a "…significant operated entry into the Green River Basin…" Linn Energy management is intelligent and acting proactively to create shareholder value.
Midstream MLP Preference
Everything being equal I prefer to own a midstream MLP. The premiere names include Enterprise Products Partners LP (NYSE:EPD) and MarkWest Energy Partners, L.P. (NYSE:MWE). Both are toll boot collectors. Midstream operators vary from the upstream MLP's. Upstream operators operate long term natural gas and oil production wells.
Midstream operators charge fees for pipeline access; natural gas liquid (NGL) storage; refined products, and crude oil storage and transportation. Typical midstream operations include natural gas transportation, gathering, processing, and storage. In addition, NGL fractionation, transportation, storage, and import and export terminaling; crude oil and refined products storage, transportation, and terminaling; offshore production platform; petrochemical transportation and storage.
Dividend Reinvested Plan
Linn Energy shareholders have been well rewarded by reinvesting their dividends into more Linn Energy shares. Per the dividend reinvestment calculations, the annual return since Linn Energy's initial public offering is 17.69%: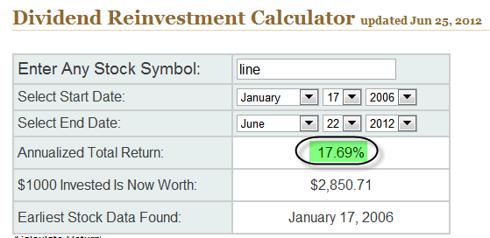 A 17.69% return is an impressive return based upon a conservative upstream limited liability corporation. If you can reinvest the dividends, I recommend doing so. Management is focused upon creating shareholder value.
Action
I recommend investors buy shares in Linn Energy. The oil and natural gas production are hedged out to 2016 and beyond. The current yield is 8% and should continue to increase. The management team is aggressive to complete accretive deals for shareholders. Management ensures production is hedged prior to any deal. Linn Energy continues to be a winning income story. Retirees can benefit by the stable and hedged quarterly distributions.