T is the twentieth letter in the alphabet. It is the most commonly used consonant and the second most used letter in the alphabet behind E. It is also the first letter in the ticker of our three newest picks. Picking stocks that begin with a certain letter is hardly an investment strategy but rather happenstance to be sure.
So dot your i's and cross your t's, and have a look at these.
Overview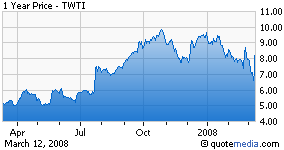 Third Wave Technologies (Nasdaq: TWTI) develops and markets molecular diagnostic products for various DNA and RNA analysis applications to clinical, research, and agricultural customers.
The company offers a number of products based on its Invader® chemistry for clinical testing. Third Wave offers in vitro diagnostic kits, and analyte specific, general purpose, and research use only reagents for nucleic acid analysis.
The company also develops various DNA and RNA analysis products for the research and agricultural biotechnology markets. Its customers include pharmaceutical and biotechnology companies, academic research centers, and health care providers. The company markets its products through an internal sales force, as well as collaborative relationships with pharmaceutical companies and research institutions in the United States and Europe.
TWTI Investor Highlights
Announced that the company achieved all primary clinical endpoints in the clinical trial for its human papillomavirus [HPV] tests.
Reported revenue of $26.3 million for the year ended Dec. 31, 2007, an increase of 25% from 2006. The company reported research revenue of $4.6 million for 2007. Total revenues for the year ended Dec. 31, 2007, were $31.1 million.
Announced the appointment of Christopher Burton as the company's senior vice president of sales and marketing. Mr. Burton, 41, brings nearly 20 years of selling and marketing experience to his new role at Third Wave. He joins the company from GE Healthcare.
Recently announced that Inverness Medical Iberica, the Spanish affiliate of Inverness Medical Innovations, will distribute Third Wave's HPV high-risk screening test in Spain and Portugal. Inverness Medical Iberica is a leader in the marketing of diagnostics to assist laboratory and health care professionals in both preventive and interventional medicine.
Overview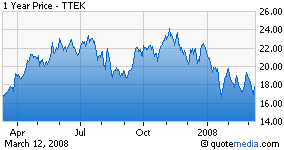 Tetra Tech (Nasdaq: TTEK) is a leading provider of consulting, engineering, and technical services. TTEK provides environmental water/wastewater management, infrastructure services, communications support, systems support, security design, and outsourced technical services. Tetra Tech currently has approximately 8,500 employees located in more than 275 offices worldwide.
The company operates in three segments: Resource Management, Infrastructure, and Communications. The Resource Management segment focuses on water resource management. It supports high priority government programs for water quality improvement, environmental restoration and productive reuse of defense facilities, and strategic environmental resource planning. This segment offers services to various projects that focus on surface water, groundwater, waste management, project management, and regulatory compliance.
The Infrastructure segment engages in the development of water infrastructure projects; institutional facilities; commercial, recreational, and leisure facilities; transportation projects; and systems and security projects.
The Communications segment offers technical solutions to design and build communications infrastructure projects. It provides engineering, permitting, site acquisition, and construction management services. Tetra Tech serves state and local governments; federal, state, and local government agencies; commercial and international customers; telecommunications companies; and cable operators.
TTEK Investor Highlights
Recently awarded contract to design, construct and operate remedial systems in preparation for development of 168 acres consisting of more than one million square feet of retail space, more than 1,300 residential units and 300 hotel rooms.
Announced it won a $150 million contract from utility PacifiCorp to install three wind energy projects in Wyoming. Work on the three projects will begin immediately and is expected to be complete in December 2008.
Recently announced that it is one of multiple contractors awarded the U.S. Air Force Center for Engineering and the Environment [AFCEE] 4P A-E 08 contract with a program ceiling of $3 billion. Under this five-year, indefinite delivery/indefinite quantity contract, Tetra Tech will provide architect-engineering [A-E] services to administer, coordinate, and technically support environmental, military construction, military family housing, and facility sustainment, restoration, and modernization [SRM] programs of interest to the government worldwide.
Announced that it has completed the tuck-in acquisitions of two consulting/engineering firms in the second quarter of fiscal 2008. Combined, the two firms have annual revenue of about $19 million and add about 130 new employees to the Company.
Announced its fiscal first-quarter profit jumped 37 percent on the back of strong demand for its consulting, engineering and technical services. Income for the quarter ended Dec. 30 rose to $12.9 million, or 22 cents per share, from $9.4 million, or 16 cents per share, the prior-year quarter. Revenue was up 27 percent year over year to $470.4 million from $369.2 million.
Overview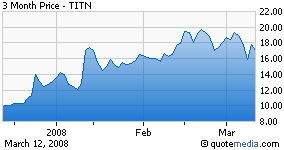 Titan Machinery (Nasdaq: TITN) owns and operates a network of full service agricultural and construction equipment stores in the United States. It operates as the retail dealer of Case IH Agriculture equipment and New Holland agriculture, case construction, and construction equipment.
The company also sells and rents agricultural and construction equipment, sells parts, and serves the equipment operating in the areas surrounding its stores. Its sells and services various agricultural equipment, including application equipment and sprayers, combines and attachments, hay and forage equipment, planting and seeding equipment, precision farming technology, tillage equipment, and tractors.
The company also offers various construction equipment, such as articulated trucks, compact track loaders, compaction equipment, cranes, crawler dozers, excavators, forklifts, loader/backhoes, loader/tool carriers, motor graders, skid steer loaders, telehandlers, and wheel loaders for use commercial and residential construction, road and highway construction, and mining applications.
Its customers include farmers, construction contractors, public utilities, municipalities, and maintenance contractors. The Company currently operates a network of 39 full service stores and two outlet stores located in the upper Midwest.
TITN Investor Highlights
Recently announced that it has acquired Ceres Equipment Inc., a farm equipment dealership of CaseIH and New Holland brands in Roseau, MN.
Announced third quarter, revenue increased 67% to $132 million from $79 million.
Gross profit for the third quarter increased 54% to $20 million, compared to $13 million in the prior year.
Operating income for the third quarter was $6.0 million compared to $2.8 million in the same period a year ago.
Net income for the third quarter was $2.7 million, or $0.36 per diluted share, versus net income of $0.8 million, or $0.13 per diluted share, for the third quarter last year.
For the nine months ended October 31, 2007, revenue increased $89.2 million, or 42.8%, to $297.8 million from revenue of $208.6 million in the same period last year. Net income was $4.9 million, or $0.72 per diluted share, for the period, compared to net income of $2.3 million, or $0.36 per diluted share, in the same period last year.
The Company currently anticipates revenue for the fourth quarter to increase by approximately 50% to 60%, as compared to the same period a year ago, to $127 million to $135 million. Earnings per diluted share for the fourth quarter are expected to be in the range of $0.01 to $0.03 per diluted share, which includes one-time IPO-related debt conversion and retirement costs of $3.8 million or $0.20 per diluted share. Excluding these costs, the Company expects earnings per diluted share to be in the range of $0.21 to $0.23.
Announced that it has acquired Avoca Implement and Greenfield Implement, two CaseIH farm equipment dealerships in Southwest Iowa.
Disclosure: none