While the US market is in a corrective state, why not take advantage of stocks poised for future growth.
While the S&P 500 has retreated, TJX Companies Inc (NYSE:TJX) has barely moved. If you want less volatility and more stability in your portfolio, consider this discount retailer. Below is a YTD chart of the S&P 500.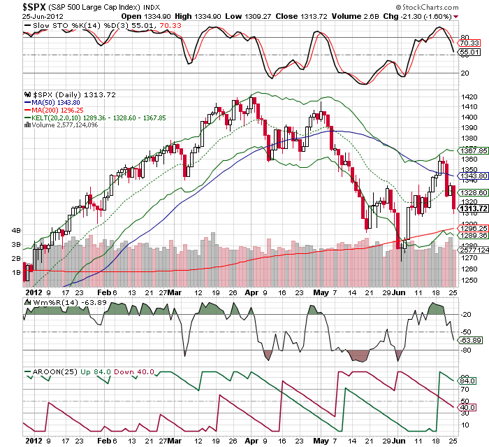 Now compare the chart above to TJX shown below in the same time period. Notice how this company has risen with the market while sustaining itself during market corrections?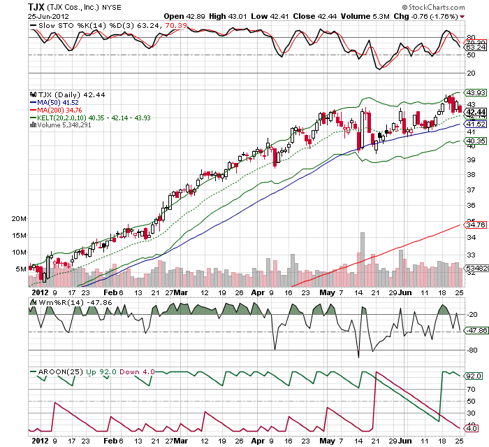 TJX Companies Inc. consists of many different stores:
Located in the U.S. are T.J. Maxx, Marshalls, and HomeGoods.
Located in Canada are Winners, HomeSense, and Marshalls.
Located in Europe are T.K. Maxx and HomeSense.
My personal favorite from the above list is T.J. Maxx of which there are over one thousand in the US. In my opinion T.J. Maxx has great products, great pricing, and excellent customer service. Let's see if the numbers support a healthy business model.
TJX reports earnings on August 13, 2012. According to yahoo finance the low future earnings estimates all beat last years.
Earnings Est
Current Qtr.
Jul 12
Next Qtr.
Oct 12
Current Year
Jan 13
Next Year
Jan 14
Avg. Estimate
0.51
0.61
2.42
2.70
No. of Analysts
25.00
25.00
27.00
26.00
Low Estimate
0.49
0.58
2.36
2.55
High Estimate
0.55
0.65
2.53
2.82
Year Ago EPS
0.45
0.53
1.99
2.42
The current dividend has a 1.06% yield with the ex-date approaching soon on 8/07/2012.
TJX Companies Inc has a healthy 47.43% return on equity, an 18.41% return on assets, and a 27.3% gross margin. The company's financials include roughly 1.5 billion in cash and a steadily improving gross income and operating income.
Disclosure: I have no positions in any stocks mentioned, but may initiate a long position in TJX over the next 72 hours.