Buying shares of a small biotech company is usually frowned upon in the world of investing, and for good reason. Many of these companies fail to ever pass the required standards of the FDA and never get their product on the market. In order to prevent going bankrupt, these companies usually perform massive share selling sessions that dilute the stock, and then follow with reverse splits to lower the amount of shares on the market. In between though, the stock price usually gets hammered and investors are left with nothing but regrets.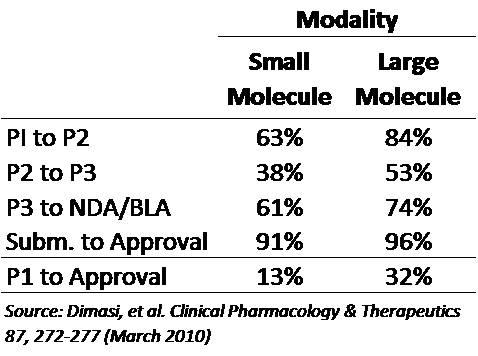 It can be tempting for new investors that are just entering the game, to look at small biotech companies and think they are high growth opportunities. I urge traders to reconsider for several reasons. These stocks are often pumped by larger investors pouring an unrealistic amount of optimism out on the market. Once people believe the hype, they buy into the stock and artificially inflate the share price. Then the larger investors either sell their shares or short the stock, and the share price plummets.
Another reason why buying small biotech companies is a poor idea is because it can take years and years for them to go through all the clinical trials. While your money sits still or slowly trickles away, you could've bought shares of an actual growth company, or even a stock that yields a hefty dividend. Invest in well known stable companies first before exploring other high-growth opportunities the market has to present.
With this all being said, there are only two small biotech companies I actually like-- and think more experienced investors should add to their watch list:
Discovery Laboratories Inc. (DSCO) is a small biotech company, but unlike those companies awaiting FDA approval on its major drugs, this company has had two products approved recently. These two products Afectair and Surfaxin will start being marketed later this year. Discovery Laboratories was recently added to the Russell 3000 but its share price still continues to fall. In the long-term though, I feel confident in the product the company has to offer. Check out this in-depth analysis of Discovery Laboratories.
Another company AspenBio Co. (APPY) is a stretch and I do not recommend anyone buys it. However, it does have one product, the Appyscore, which would make it much easier and much more cost effective to diagnose appendicitis. This is the only other small biotech currently on my watch-list. If the Appyscore ever gets approved, it could become a potential takeover candidate. AspenBio has recently performed a reverse split and further shrunk shareholder value. Although the company hasn't been good to its shareholders, the potential that the Appyscore would have at reducing the cost and effectiveness of diagnosing appendicitis gives this company a glimmer of value after the FDA approval hearing if it works out in its favor. The FDA hearing is supposed to take place late in 2012 to early in 2013.
Disclosure: I am long DSCO.