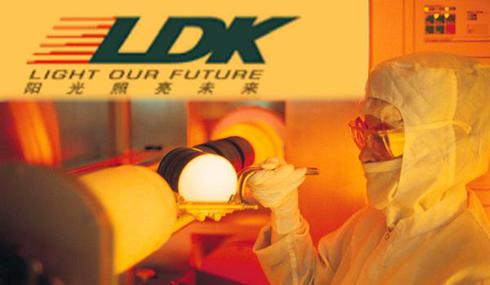 Click to enlargeLDK Solar Co., Ltd. (NYSE:LDK) released Q1 2012 earnings this morning, falling short of analyst estimates. The company posted -$1.46 in earnings per share; it was expected to lose -$1.14 per share for the period. Revenue was expected to reach $298 million. Actual revenue was $200 million, down 74% from the prior year quarter. Based on quotes from the pre-market, shares are set to open sharply lower.
LDK manufacturers solar panels and is based out of Xinyu City China. Through 2011, the company lost $655.5 million and experienced problems similar to those faced by the rest of the solar industry. The industry has felt pressure as demand cratered and margins got squeezed.
Click to enlarge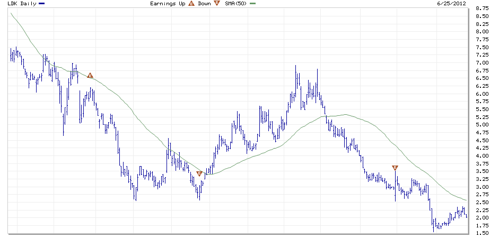 Click to enlarge
There is some optimism in the industry, however. With record low interest rates, financing for solar projects has never been cheaper. Add in the possibility that energy prices will experience inflation in the coming years and solar is likely to begin looking economically attractive as a long-term solution.
Even with the hint of optimism, the outlook is dim. Insiders are selling shares. Import tariffs and dropping prices should continue to squeeze margins. The once-strong European markets now show weaker demand as governments make major cuts to solar subsidies.
Other companies competing in this industry include First Solar, Inc. (NASDAQ:FSLR), Yingli Green Energy Holding Co. Ltd. (NYSE:YGE), Trina Solar Limited (NYSE:TSL), Suntech Power Holdings Co. Ltd. (NYSE:STP), JA Solar Holdings Co., Ltd. (NASDAQ:JASO),and ReneSola Ltd. (NYSE:SOL).
Other major earnings reports today
Robbins & Myers Inc. (NYSE:RBN) is expected to earn 90 cents per share on $267 million in revenue. The company is a supplier of equipment and systems for energy, industrial, chemical, and pharmaceutical applications.
H and R Block Inc (NYSE:HRB) and Sealy Corp (ZZ) will report after the close of the market.
Disclosure: I have no positions in any stocks mentioned, and no plans to initiate any positions within the next 72 hours.