Dividend growth stocks are an asset that are unique in their characteristics. Owners of dividend growth stocks receive a rising income stream year over year and thus are not constrained by a fixed income stream that is eroded in value by inflation. It is hard to predict what growth percentage can be expected from a portfolio of dividend growth stocks. I have held the common belief that there is a negative correlation between dividend growth percentage and dividend yield. I was curious though if this was an accurate assumption or if there are high yield high growth dividend paying stocks? I also believe that the EPS growth of the high dividend growth stocks will have to be close to the dividend growth or the payout ratio would be growing at an increasing rate.
Robert Allan Schwartz provides a wonderful website to use for free that helps to identify characteristics based on growth percentage and time. This website will be utilized to help facilitate the analysis. The website can be found here: http://www.tessellation.com/dividends/streaks.html
High Dividend Growth Stock Characteristics
The first item to consider when identifying a high dividend growth stock is what should be considered high growth? For this analysis I will categorize anything with a growth rate of 12% for 5 straight years as a high dividend growth company. This growth rate would effectively mean that the dividend per share amount per year will double every 6 years. I would love for my current salary to double every 6 years and consider this growth in income to be extraordinary.
According to Robert's website there appears to be 39 companies that have sustained a 12% growth rate for the past 5 years. With each passing year the number of companies that have held this 12% growth rate shrinks. There are only 13 companies that have held this rate for 8 years and only 2 have been able to maintain this rate for 12 years. I will analyze the following characteristics of the 39 companies to determine if we can come to any conclusions on how to identify the next high dividend growth companies:
5 Year CAGR or Average of the Following
Dividend Yield Average
Revenue CAGR
Earnings Per Share CAGR
5 Year Trailing Total Return
39 Companies With 12% Growth For 5 Years
AIRGAS INC (ARG)
ALLIANCE HOLDINGS GP LP (NASDAQ:AHGP)
AMERICAN EQUITY INVT LIFE HL (NYSE:AEL)
AMERISOURCEBERGEN CORP (NYSE:ABC)
ATRION CORPORATION (NASDAQ:ATRI)
BECTON DICKINSON AND CO (NYSE:BDX)
CASEY'S GENERAL STORES INC (NASDAQ:CASY)
CHURCH & DWIGHT CO INC (NYSE:CHD)
COCA-COLA FEMSA SAB-SP ADR (NYSE:KOF)
CUMMINS INC (NYSE:CMI)
CVS CAREMARK CORP (NYSE:CVS)
DARDEN RESTAURANTS INC (NYSE:DRI)
EMPRESA NAC ELEC-CHIL-SP ADR (NYSE:EOC)
EQUITY LIFESTYLE PROPERTIES (NYSE:ELS)
FACTSET RESEARCH SYSTEMS INC (NYSE:FDS)
FLOWERS FOODS INC (NYSE:FLO)
G & K SERVICES INC -CL A (GKSR)
HANOVER INSURANCE GROUP INC/ (NYSE:THG)
INTL BUSINESS MACHINES CORP (NYSE:IBM)
INTL SPEEDWAY CORP-CL A (NASDAQ:ISCA)
L-3 COMMUNICATIONS HOLDINGS (NYSE:LLL)
LOCKHEED MARTIN CORP (NYSE:LMT)
NATIONAL INTERSTATE CORP (NASDAQ:NATL)
NATIONAL RESEARCH CORP (NRCI)
NEWMARKET CORP (NYSE:NEU)
NOVO-NORDISK A/S-SPONS ADR (NYSE:NVO)
OWENS & MINOR INC (NYSE:OMI)
ROSS STORES INC (NASDAQ:ROST)
SAFEWAY INC (NYSE:SWY)
SHIRE PLC-ADR (SHPGY)
STERIS CORP (NYSE:STE)
STRAYER EDUCATION INC (NASDAQ:STRA)
STRYKER CORP (NYSE:SYK)
TELEFONICA SA-SPON ADR (NYSE:TEF)
TEVA PHARMACEUTICAL-SP ADR (NYSE:TEVA)
TOWER GROUP INC (NASDAQ:TWGP)
WALGREEN CO (WAG)
WW GRAINGER INC (NYSE:GWW)
YUM! BRANDS INC (NYSE:YUM)
Dividend Yield Average
After compiling the data together it appears that my hypothesis on dividend growth and dividend yield being negatively correlated is correct. I consider any company that has a dividend yield above 3.5% to be a high yielding stock. For the lower yielding stocks I would require a higher dividend growth rate in order for me to consider investing within the company. The average dividend yield for the past 5 years of our 39 companies is 1.7%. This means that our yield on cost after 6 years would be 3.4%. The high growth is nice to have but with a starting yield of 1.7% it would be difficult to justify investing solely for income. Total return would have to be one of the goals of the investment in order for it to be worthwhile.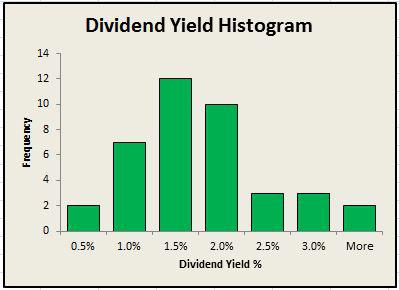 Revenue CAGR
The average revenue growth CAGR for our 39 companies over the past 5 years is 9.5%. It is interesting that the revenue growth for our average high dividend growth company is less than the dividend growth. This is a sign that the dividend growth of 12% is not a sustainable growth rate due to the top line not growing at the same rate. Revenue growth would have to be equal to or higher than the dividend growth rate in order to maintain the 12% growth.
On a positive note, there are 17 companies that do fit into the category of having enough top line growth to maintain the dividend growth. This is roughly 44% of the companies that we included in this analysis.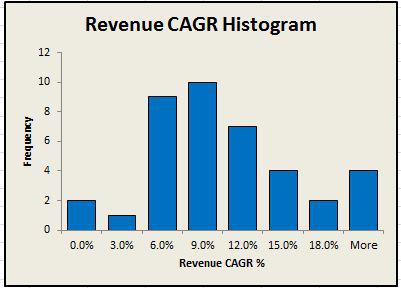 Earnings Per Share CAGR
This category has a lot more disparity compared to the previous characteristics. The relatively normal distribution we saw on the histogram of the previous 2 characteristics doesn't exist. The highest occurrence among the 39 companies is a ~20% EPS CAGR. This is substantially higher than the overall average which is 11.7%. Since the EPS CAGR average is higher than the revenue CAGR average this must mean that our average high dividend growth company is seeing an increase in margins. A company can only raise prices or cut costs for so long thus the difference between revenue growth and EPS growth can only last for so long. It is intriguing though that this average is significantly closer to our 12% dividend growth CAGR. It leaves hope that the 12% dividend growth can be maintained for longer than just 5 years.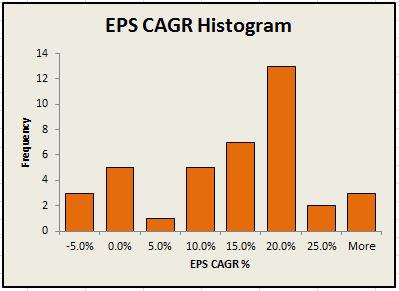 5 Year Trailing Total Return
A 5 year time period I suspected would not be enough to see a strong correlation between total return and any of the previous viewed characteristics. As suspected the 5 year trailing total return is pretty will distributed across the range of possibilities. The average 5 year TTR % is 7.2% thus it is quite a large amount less than our 12% dividend growth rate. I suspect that if the 12% dividend growth rate were to be maintained for 10+ years we would start to see a convergence with the trailing total return average. It is interesting to note that only 4 of the 39 companies had a negative trailing total return over this time period. This is a time period that includes the full force of the "Great Recession". It lends a small amount of credibility to the theory that high dividend growth companies will see greater total return especially when noting that the S&P 500 (NYSEARCA:SPY) has a 5 year TTR % of -0.39%.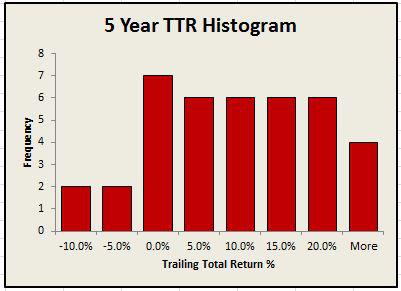 Conclusion
The average high dividend growth company ended up being about what I suspected. A low dividend yield and high EPS growth company that has also had a worthwhile trailing total return. To recap the average high dividend growth company looks like the following for the past 5 years:
Dividend Yield Average - 1.7%
Revenue CAGR - 9.5%
EPS CAGR - 11.7%
5 Year TTR - 7.2%
When going through the process of stock selection for dividend growth companies the high dividend growth is only one attribute to take into consideration.
For a younger investor it is possible that a high dividend growth company could be a great place to find outperforming stocks for dividend growth and total return. It would be interesting to see if these companies transition into higher yielding companies if they are unable to maintain the rapid dividend growth. If this transformation does typically occur then it could fit right into the plans of a younger investor transitioning to an older investor that has the need to start taking the income from their portfolio.
I am curious if there is a natural lifecycle that occurs or if there is a binary categorization between high yield or high dividend growth companies and never shall one become the other. When looking at the data above there are companies that do have a high dividend growth and high yield and if their financials are in favorable condition then these would be the optimal investments for the dividend growth investor.
If the investor created a scatterplot of average dividend yield and dividend growth CAGR for their selected time period they could quickly identify which companies fit into this optimal selection area.
In conclusion dividend growth is one of the fundamental characteristics that I look for in my equity investments. This rising income stream will ultimately replace my current income stream from my career. Maintaining a healthy growth rate for an income stream is critical to keep up with inflation and any investor should continue to monitor their holdings to make certain that this objective is being met over an acceptable time horizon.