When Sears Holdings (NASDAQ:SHLD) announced its restructuring of operations, the most discussed point was if this was the beginning of Lampert's own "Berkshire Hathaway". Rarely discussed is the fact that Sears has much more going for it compared to a dying/failing manufacturer of commodity textiles . The ignorant and impatient regularly call for a fire sale of assets as if they have no on-going value. This couldn't be further from the truth. In the most recent Annual Letter, Mr. Lampert discusses the unseen value held by Sears brands alone.
One of our most important resources is the great brands we own, in particular DieHard, Craftsman, Kenmore, and Lands' End. All four of these brands have significant equity with customers and provide tremendous opportunity for value creation. To illustrate, let me discuss one of them, DieHard, in more detail. Based on brand recognition studies, DieHard leads in customer recognition among car battery brands by a wide margin, but it lags dramatically in market share. Why? We believe it is due to fewer points of distribution. As a proprietary brand, DieHard is only available in 900 Sears Auto Centers and 1,400 Kmart stores. Yet it is competing with other batteries that are available in thousands of locations across the country. Further, a car battery purchase is a duress purchase event, in which the customer is looking for the nearest, most convenient solution. Unfortunately, it is not always us, but there is an opportunity for us to rethink our brand distribution strategy to create value.
This point, that DieHard is the most recognized battery brand, is rarely discussed. I honestly can't figure out why. There is a very obvious* avenue for growing DieHard sales - AutoZone (NYSE:AZO). Currently, DieHard is sold at 2,300 SHLD locations. AZO has about 4,000 North American locations. Not only does this double the points of sale, but it's easy to see more battery sales occurring at a ubiquitous auto parts store than at 1,400 weak big box retailers. I won't attempt to guesstimate the number of possible sales but it is easy to see a massive, perpetual flow of cash into Sears Holdings.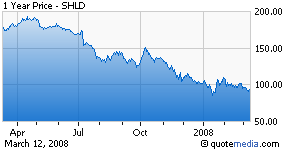 The same licensing scenario can easily apply to Kennmore and Craftsmen. As ESL/RBS builds its stake in Home Depot (NYSE:HD), they are presented with another chance to benefit on both ends of their licensed products. Craftsman is a great product but tool-buyers spend retail time in hardware stores and rarely make special trips to Sears/Kmart just for an American wrench or tool box.
An interesting twist on this brand-story is the fact that Sears Holding has securitized these three brands. Sears wrote $1.8 billion dollars worth of bonds backed entirely with these brands. The bonds are currently held in an offshore insurance subsidy owned by Sears. These bonds can sit and appreciate while acting like a potential $2 billion dollar insurance policy for the company. This portfolio of brands presents SHLD with strong potential future cash flow. Add the potential of real estate leasing, credit cards, continuing operations, buybacks and you have a holding company with far more potential than a useless textile factory. Somehow, Buffett did alright and Lampert should too.
*Buffett always mentions that he prefers doing business with people he likes. Maybe Lampert could take that a step further; only do business with himself. Mr. Lampert's investment groups own a controlling +34% stake in AutoZone.
Disclosure: Author has a long position in SHLD