ViroPharma (VPHM) has seen its stock fall to $8.80 a share from a late 2005 high of $24.36, and it looks like it will be stuck down around the single digits until it can bring new orphan drugs to market.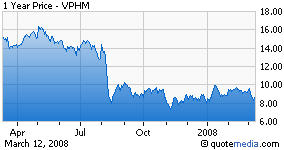 Because it plans to pour more money into research and development this year, the company is expected to report lower earnings for 2008. Analysts are projecting 2008 earnings of 79 cents and 2009 earnings of 57 cents, down from $1.21 in 2007 and 95 cents in 2006.
ViroPharma's key statistics are here. The company's profile is here. It's not surprising, then, that ViroPharma's daily, weekly, monthly and point and figure charts are flashing sell signals. Analysts' targets for the stock range between $7.50 and $18 with an average estimate of $13.06, according to wsj.com.
Analysts have a weakening hold on the stock, although one analyst yesterday upgraded the stock to buy from neutral. Investor's Business Daily says VPHM's earnings per share growth rate is better than the rates posted by 61% of publicly-owned companies. Its relative strength is a low 39, its group strength is a B, its sales + profit margins + return on equity rank is A and its accumulation/distribution rating is a B.
In other words, some institutions appear to be buying despite weak looking fundamentals and momentum. This looks like a very speculative stock. Tony Kent posted a more complete description of ViroPharma's product pipeline here on Seeking Alpha.
Disclosure: I do not have a position in VPHM.