Ford (NYSE:F) is rolling dice on Europe while Coke (NYSE:KO) is doubling down on India and News Corp. (NASDAQ:NWS) might be cleaving itself in half, all in what should be the quiet first week of summer.
First, haven't any of these manic companies heard of kicking it back on the beach? Second, which is the craziest?
After all, each possible foray has a considerable downside. Europe is imploding, as Ford begins volume vehicle production this week at a Romanian plant. Coke's just-announced expansion plans into India go out eight years, which amounts to two lifetimes in the fast-changing world of international commerce. And News Corp., we hear today, is reportedly weighing what often amounts to little more than a financial stunt: a spin off of assets.
So Dr. Freud, who is most Coo-Coo for Cocoa Puffs?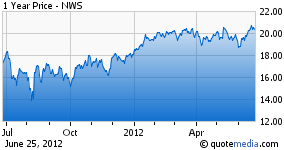 The answer is deceptively easy: News Corp.
In appraising companies -- and mental health -- we look for consistency. Coke has been investing in India consistently. Now, it's merely increasing the pace and scale of their investment. Ditto with Ford and Europe. You can quibble with their long-term focus on Europe and a case can be made that they should abandon it altogether. But at least there is sanity and security in the consistency of its efforts.
Then along comes News Corp.. Word is that they are considering separating their publishing assets out from their entertainment businesses.
This, though, runs counter to everything Chairman and CEO Rupert Murdoch has indicated he favored. Even as recently as last month, Murdoch said he did not believe in the concept of a spin off. This means either 1) the situation has changed for the worse-and quickly or 2) News Corp, is simply flailing about.
In either case, as a trader you have to tread carefully, no matter what the perceived short-term gains of a spin off. From a large perspective, appraising the prospects of companies is guesswork, at best, and often the best gauge is the presence of absence of consistency: hold a company up to their own standard.
As in the case of News Corp., when they say one thing and do another-it's crazy to think they're on the right path.
Disclosure: I have no positions in any stocks mentioned, and no plans to initiate any positions within the next 72 hours.