Shares of Republic Services Inc (NYSE:RSG) are down more than 16% over the past three months following a disappointing first quarter earnings report. However, there are now three reasons to consider buying RSG.
Dividend
Currently, RSG pays an annual dividend of 3.44% or $0.88 per share. This dividend yield is impressive considering the current yield on the 10-year U.S. Treasury note. As shown by the quarterly dividend history chart below, RSG has shown a willingness to increase the dividend over time.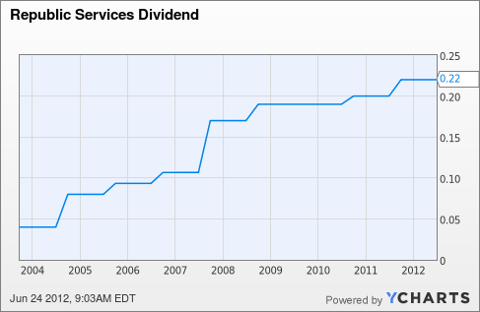 RSG Dividend data by YCharts
Recession Resistant Business
RSG's business is recession resistant because even if the economy slows, trash still needs collected. However, an economic downturn will have some adverse effects on the volume of waste produced as construction waste slows. Given the current uncertainty over the macro outlook, it is wise to invest in companies that will be less impacted by macro trends.
Bill Gates
RSG's largest shareholder is Bill Gates. The world's second richest man owns about 25% of the company through his investment vehicle, Cascade Investment LLC. Gates has proved to be an investor worth following as his highly concentrated portfolio has done well. Especially note worthy is the performance of his largest holding Canadian National Railway Co (NYSE:CNI).
Conclusion
Investors should use the decline in RSG to buy. The solid dividend, recession resistant business, and Bill Gates ownership are all reasons to consider investing in RSG.
Disclosure: I have no positions in any stocks mentioned, and no plans to initiate any positions within the next 72 hours.