I have written some articles on Sirius XM (NASDAQ:SIRI) that has brought out some rough feedback from Sirius XM shareholders, and I understand the frustration. It has been a favorite subject for years now and there have been few, if any, really rational arguments from both the pro and con sides.
For myself, I have seen this as dead money and the facts have proven me to be correct.
I would not buy the shares, I would not short the shares, and if I owned shares, I would probably just hang on to them. To me, that is the definition of dead money. Without a dividend, all a shareholder has right now, is hope.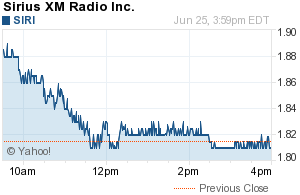 Yesterday (6/25) the stock shed almost 4% off of its share price which currently stands at $1.82.
The issues have not changed much:
Liberty Media (NASDAQ:LMCA) wants complete control of Sirius XM
Liberty Media owns close to 50% of all shares and has "capped" the share price at $2.15 by stating they will not pay more for the shares
Mel Karmazin has been exercising his options for cash, not for shares, and for whatever reason anyone wants to spin, this has not helped at all
Karmazin has sold roughly half of his position, and the "dumping" could continue for another 3-6 months
Traders are staying away because the RSI (relative strength index) has been terrible to trade within as has the very narrow range
Liberty Media bailed out Sirius from bankruptcy a few years ago and has not backed away from its "entitlement" position even though Sirius XM has made strong strides in growing their business, cash, and bottom line profitability
No Matter What Anyone Thinks, This Stock Is Stuck
I have read all sorts of articles recently that have suggested various ways to make money by owning SIRI shares. Mostly it has to do with buying shares and selling covered calls. That does make some sense if you were bullish about the stock, but actually if you were bullish about the stock you would just buy and hold. Anything else seems to me like an effort to disregard reality; the stock is stuck.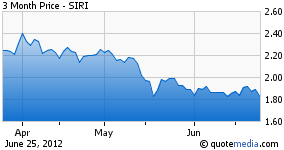 Just a quick glance at this 3 month chart should give anyone all the information they need.
In spite of the stronger fundamentals that Sirius XM has delivered. In spite of the Sirius XM stock fanatics who wave flags, carry torches, and claim allegiance to the stock "for eternity", the share price has crumbled.
It is my opinion that the share price will continue its death march (either down or sideways) until Liberty Media finally takes complete control, or when Mel Karmazin finally leaves.
As this article notes:
The chief executive has also publicly battled with Sirius' biggest shareholder, Liberty Media (NASDAQ:LMCA), over the latter's efforts to take control of the company. Last week, for the second time, the radio opposed a petition from Liberty to the Federal Communications Commission that asked for approval to get effective control. Karmazin has already been credited with the turnaround since 2009, when it was forced to accept funding from Liberty in return for cheap stock options that the latter is now using to demand ownership. After several years of losses, the company is expected to generate $689 million in cash this year. Its subscriber count has also risen 15 percent to 21.9 million since 2008.
To be candid, Karmazin has made this company into what it is today; Radio broadcasting at its best. That is the reason I have a lifetime subscription and always will, no matter who owns the company.
That being said, Karmazin himself could be standing in the way of any sort of shareholder value by continuing his battle with Liberty. He appears to be stubbornly holding out for more. My question to him is why? Why not let Liberty take control now? Why does he believe that shareholders are better off in limbo than in "moving on"?
As this article states, Karmazin is "preoccupied with Sirius XM's valuation". If that were completely true, why would he not negotiate with Malone and Liberty? Karmazin's contract runs out in about a year or so. Liberty can hold on until then, in my opinion, and they could ultimately have the power to put one of "their own" in charge and the "skids could be greased" for Liberty to finally take over anyway.
In the meantime the stock is stuck, and when one reads a more realistic article such as this one, a much clearer picture emerges of how this all could play out:
The mistake that investors continue to make is comparing Liberty's motives to their own. Investors assume that since Liberty has been Sirius' largest shareholder, they share similar interests -- one that includes an importance of a growing stock price.

The fact of the matter is, Liberty is far from having a retail mindset. Remember, this is the same company that was given 40% of Sirius by merely lending the company $530 million, a loan that Sirius repaid one year later. Yet many continue to assume that Liberty is looking at Sirius from their lens... as in being solely focused on the movement of the stock price. Simply put, that is not the case.

Liberty's Chairman John Malone is now laser focused on maximizing all of the value that remains in the company, which is one that produces a decent amount of cash flow. While that is a great thing for all interested, it is now clear that Malone intends to take it all for himself and his shareholders.
Finally, as the article notes:
While that may seem like a pretty shrewd position, sadly there isn't anything Sirius can do to stop him. All of the drama that continues to be played through the courts and with the FCC as the battle for control continues is essentially postponing the inevitable.
My Opinion
As I have often said, this stock is not going anywhere until all issues are settled. Once Liberty finally does take control then shareholders will know where they stand at some point
The problem is that there is no guarantee that anything good will come out of this for Sirius XM shareholders, and THAT is something shareholders should take a serious look at.
Disclosure: I have no positions in any stocks mentioned, and no plans to initiate any positions within the next 72 hours.