Pilgrim's Pride (NYSE:PPC) curtailed its poultry production business in a big way yesterday as the company announced the closure of 7 facilities and the loss of 1100 jobs. While the facilities were located throughout the country, the most affected area will be Siler City, North Carolina, where some 830 jobs were cut.
However, the company may not be finished yet, leaving the possibility of more closures on the table if necessary. On Monday, Pilgrim's Pride dropped from the turkey business by selling that product line and facilities to Hain Celestial Group for an undisclosed amount. Profit margins for both chicken and turkey have been slashed by the rising cost of corn or soybean based feed.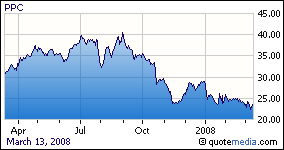 The company blames the federal government for policies that have directly led to the increasing prices for feed. According to CEO J. Clint Rivers, "Our company and industry are struggling to cope with unprecedented increases in feed-ingredient costs this year due largely to the U.S. government's ill-advised policy of providing generous federal subsidies to corn-based ethanol blenders." Mr. Rivers' claims have merit as there are currently 20 separate federal laws and incentives to increase ethanol production and many states offer their own incentives as well.
These subsidies and tax incentives are unnaturally raising demand for corn to be used in ethanol, which has not yet been proven to make an affordable and viable alternative to traditional fossil fuels. Corn prices recently reached a new record price of $5.795 per bushel.
The company was not keeping up as the corn prices continued their rise, and PPC's total costs for feed this year rose $1.3 billion over what they paid last year. For PPC, these cut backs were inevitable and will likely be just the first in an industry in need of cutting costs. Pilgrim's Pride stock has reflected the difficulty in the industry falling about 21% thus far in 2008.
We agree with the sentiment expressed by Mr. Rivers that the government policies have directly propped up the price of corn. It seems a classic case of robbing Peter to pay Paul: as the agricultural prices are propped up, those businesses that depend on their products are inadvertently hurt. That is why we generally discourage government intervention as it will undoubtedly help some and hurt others in a way that is anything but "fair."
After the announcement, PPC stock was up about 3% to $23.50. From a value prospective, the stock is trading within its historically normal bounds for price-to-sales and price-to-cash, albeit in the lower end of that range. We have an Ockham Rating on PPC of "Hold" and have a long range price target at $27, but due to rising corn prices the company will likely continue to see more troubled times.
Disclosure: None