When insiders buy shares on the open market, their companies are usually under valued. Corporate insiders often have the inside track on their companies' prospects. An insider probably wouldn't risk investing too much of his or her own money into his or her own company unless the insider thought the stock might rise.
I screened for companies where at least one insider made an open-market buy in the last 30 days. Here are 3 pharmaceutical stocks that I found:
1. Enzon Pharmaceuticals (NASDAQ:ENZN) is a biotechnology company dedicated to the research and development of innovative therapeutics for cancer patients with high unmet medical needs. Enzon's drug-development programs utilize two platforms - Customized PEGylation Linker Technology (Customized Linker Technology®) and third-generation mRNA-targeting agents utilizing the Locked Nucleic Acid (LNA) technology. Enzon currently has four compounds in human clinical development and multiple novel mRNA antagonists in preclinical research. Enzon receives royalty revenues from licensing arrangements with other companies related to sales of products developed using its proprietary Customized Linker Technology.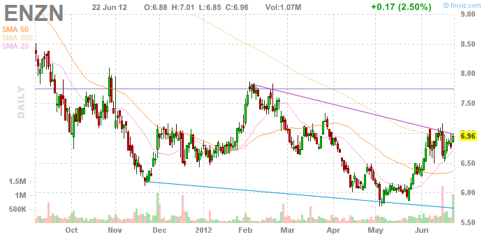 Insider Buys
George Hebard purchased 5,000 shares on June 20th and currently holds 18,737 shares. Mr. Hebard was appointed Interim Principal Executive Officer and Chief Operating Officer in May 2012. He joined Enzon as a director of the company on February 27, 2012. From September 2011 to April 2012, Mr. Hebard was a Managing Director at Icahn Capital LP, the entity through which Carl C. Icahn manages investment funds.
2. DURECT Corporation (NASDAQ:DRRX) is a specialty pharmaceutical company developing pharmaceutical systems based on its proprietary drug delivery platform technologies. The company currently has a number of late-stage pharmaceutical products in development addressing large markets in pain management, with a number of research programs underway targeting chronic disease and other therapeutic areas.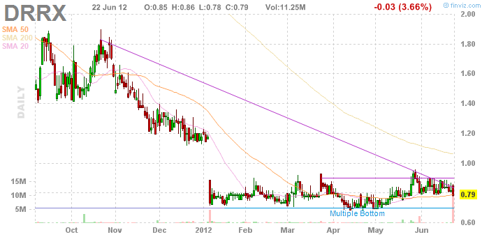 Insider Buys
Armand Neukermans purchased 20,000 shares on June 14th and currently holds 95,000 shares by a family trust. Armand Neukermans, Ph.D. has served as a Director since March 2001.
Felix Theeuwes purchased 190,113 shares during May 2012 and currently holds 2,182,714 shares by a family trust. Felix Theeuwes is Chairman, co-founder, and Chief Scientific Officer at DURECT Corporation, established in July of 1998 as a spinout from ALZA Corporation to focus on the development of pharmaceutical systems and products to treat chronic debilitating diseases and enabling biotechnology drugs.
David Hoffmann purchased 25,000 shares on May 10th. David Hoffmann has served as a Director since December 2002 and as a Lead Independent Director since December 2010.
James Brown purchased 20,000 shares on March 14th by Brown trust. Mr. Brown currently holds 1,764,530 shares directly and 560,000 by family trust. James Brown, D.V.M. co-founded DURECT in February 1998 and has served as President, Chief Executive Officer and a Director since June 1998.
3. OncoGenex (NASDAQ:OGXI) is a biopharmaceutical company uniquely focused on cancer treatment resistance. The company is committed to the development and commercialization of first-in-class, innovative therapies that target mechanisms of resistance and that have the potential to re-define treatment paradigms in a variety of cancers.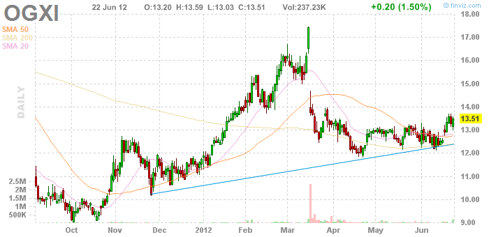 Insider Buys
Director Martin Mattingly purchased 1,000 shares on June 1st.
Conclusion
All three of these companies are currently up for the year but only modestly. I would be watching for potential catalysts for these companies. I would note the Carl Icahn connection at Enzon Pharmaceuticals.
Disclosure: I have no positions in any stocks mentioned, but may initiate a long position in ENZN over the next 72 hours.