The world of publicly traded partnerships - either MLP or LLC units - is dominated by energy companies. However, there is a significant minority of partnership companies which are involved in other lines of business. Two investment management companies, Blackstone Group L.P. (NYSE:BX) and Oaktree Capital Group LLC (NYSE:OAK), provide income investors investment access to successful money management firms.
The Companies
The Blackstone Group bills itself as a global leader in alternative asset management. The group's $156 billion of fee earning assets under management are pretty evenly divided between the asset classes of real estate, private equity, hedge fund solutions and credit assets. Blackstone Group also provides financial advisory services on another $1.7 trillion worth of assets. Revenue is a combination of asset fees and performance fees. Blackstone Group is the sponsor for two publicly traded closed-end funds, the Blackstone / GSO Long-Short Credit Income Fund (NYSE:BGX) and the Blackstone / GSO Senior Floating Rate Term Fund (NYSE:BSL). The company has a current market cap of $14.8 billion and went public with a 2007 IBO.
Oaktree Capital Group is a well-known and respected specialist in investing in distressed debt. The company was founded in 1995 and just went public in April 2012. Chairman and Principal Howard Marks is the guiding force behind Oaktree Capital. The company currently has $78 billion under management with public and corporate pensions as the largest client groups. Distressed debt, corporate debt and control investing are the largest asset classes under management. The April IPO put about 15% of the groups units in public hands and the company has a current market cap of $6.5 billion.
Financial Highlights
The Blackstone Group has doubled the amount of assets under management since the 2007 IPO. Revenues are a combination of fees on assets under management - which have steadily increased with the assets under management - and performance fees, which can fluctuate significantly quarter to quarter and year to year. For investors, an easy to follow metric is the distributable earnings per common units. Those distributable earnings for the last five quarters ending with the 2012 first quarter were 18 cents, 15 cents, 10 cents, 16 cents and 15 cents. Total for distributable earnings for full year 2011 was 60 cents per unit, compared to 62 cents in 2010. Since the start of 2010, Blackstone has been paying a 10 cent quarterly distribution for the first three fiscal quarter and a catch-up distribution for the fourth quarter declared in February and paid in March. Total distributions for 2011 were 52 cents per unit, down from 62 cents paid for 2010.
Oaktree Capital Group generates asset based fee income, net incentive income and investment income to generate a total amount of distributable income for each quarter. For the 2012 first quarter, distributable earnings were 67 cents per class A unit, up from 18 cents in the 2011 fourth quarter and lower than the 80 cents earning in the first quarter of 2011. Fee related earnings was level at 40 cents pre unit - plus/minus a penny - for all three quarters. A 55 cent distribution per unit was declared for shareholders of record on May 22, 2012.
Investment Considerations
The Blackstone Group has the potential to significantly increase distributable income through higher performance fees. At the end of the first quarter, the company had over $30 billion of committed, but un-invested assets, which, when put to work, will generate increased management fees. The distributable earnings have been trending down for several quarters and a positive turn in this metric would be a very good sign for investors. Based on the 52 cents in total 2011 distributions, Blackstone yields 4.4%. A couple of quarters of distributable earnings above 15 cents per unit would make this an attractive investment as the year-end approaches and if the market has not bid up the share price.
Oaktree Capital has a tremendous reputation for earning money for its clients. It will be interesting to see if it does the same for unit investors. The shares have dropped from a $43 IPO price to trade near $35. The single declared dividend puts the potential yield at 6.3%, assuming the company maintains the payout rate. If the distribution is at the same level for the next quarter, the unit price could move back up towards $40, but at this point in time, that is a speculative guess. Waiting and watching may be a better course for Oaktree Capital at this point.
Both companies report distributions to investors in the form of K-1's, requiring investors to go through the extra tax filing steps.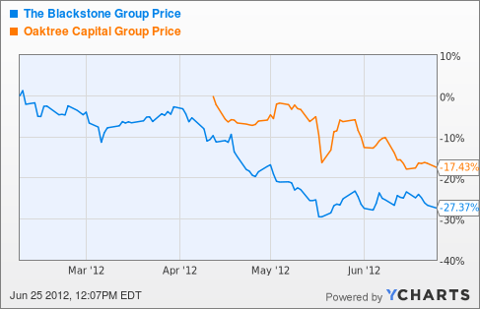 Disclosure: I have no positions in any stocks mentioned, and no plans to initiate any positions within the next 72 hours.