The merger of two of South America's largest airlines has completed - as of June 22 - with the resulting airline sitting as one of the largest in the world. Chile based LAN Airlines S.A. (NYSE:LFL) has combined with Brazil based TAM S.A. (NYSE:TAM). The airline holding company is called LATAM Airlines Group and trades in the U.S. under the LFL symbol.
Prior to the merger, LAN had a market cap of $9 billion and TAM was worth $4 billion. The total $13 billion market cap makes LATAM the second largest airline company in the world after Taiwan based Air China. To complete the deal, TAM shareholders swapped their shares for LAN/LATAM shares. The stock will be listed on the Chile, Brazil and U.S. stock exchanges.
In the merger announcement press release, the company projected total cost savings of up to $200 in the first year of the merger. Within four years, profits are expected to improve by $600 to $700 million per year on a combination of cost savings and fare increases. For comparison, in 2011, TAM reported earnings before interest and tax of about $500 million and LAN reported income before taxes of $380 million. Together, the two companies are expecting to nearly double profits in four years.
The combined LATAM becomes the dominant airline service provider in South America, including the fast growing Brazil market. Unlike U.S. airlines, these two company has been, by and large profitable, and actually pay investors attractive dividends. For the long term investor, this is a very attractive investment in the airline industry. In my view, the majority of airline stocks are some of the worst investments around. LATAM is a good choice for an investor who wants airline exposure in a portfolio and actually expect the stock to increase in value.
One negative for the company is the slowing growth of the Brazilian economy. Air travel has grown rapidly in Brazil in recent years and that growth is slowing. LATAM must manage the amount of service they offer into the Brazilian markets to avoid having too much capacity in the country.
From a personal point of view, I have flown on TAM several times, South America to New York and really enjoyed the level of service, even in coach. Good food and free beer, wine and scotch whiskey. Friends and acquaintances state that the service level from LAN is similar or better.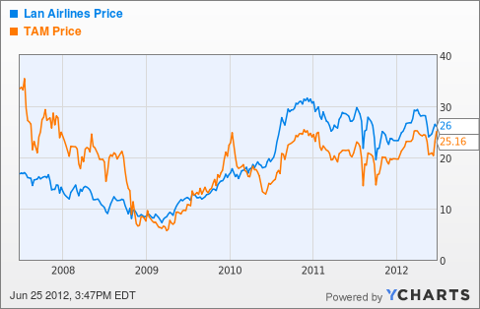 Disclosure: I have no positions in any stocks mentioned, and no plans to initiate any positions within the next 72 hours.