I have very little confidence in MBIA's (MBI) management. They are literally calling out to the weak handed short sellers that missed their recent 56+ point share drop to just jump on the bandwagon.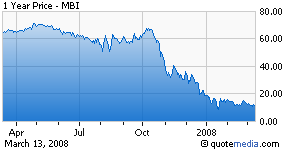 Management is what you actually bet for when long a stock, and ultimately who you will be betting against when shorting a stock. It appears as if MBIA's management is a safe short bet given this macro environment!
Fitch Ratings-New York-10 March 2008: Fitch Ratings President and CEO Stephen W. Joynt Tuesday sent a letter to MBIA in response to its letter of March 7, 2008 requesting that Fitch withdraw the company's IFS ratings.
--------------------------
Below is the full text of the letter from Fitch Ratings to MBIA:
March 10, 2008

Mr. Joseph W. Brown
Chairman and Chief Executive Officer
MBIA Inc.
113 King Street
Armonk, NY 10504

Dear Mr. Brown:

I am writing in response to your letter to Fitch Ratings delivered to us this past Friday requesting that we withdraw MBIA's Insurer Financial Strength (IFS) rating, but maintain MBIA's debt ratings.

Regarding the commercial relationship between MBIA and Fitch, as I suggested to you in our meeting on Friday, we are empathetic to the financial and operational stress MBIA is presently undergoing and are aware of the significant cost containment measures you are initiating. We are, therefore, willing to continue our ratings without charge to MBIA. I assume, in the interest of your stakeholders, that you will be seeking and will receive equal concessions and/or sizable fee reductions from both S&P and Moody's.

In addition, I would like clarification of your intentions regarding cooperation with our rating process. You stated in your March 7 press release, and in your letter to us of the same date, that you would like us to withdraw our IFS ratings, but continue rating MBIA's debt securities. Separately, by email sent a day later on March 8 (a copy of which is attached hereto) you requested that we return or destroy key portfolio information and discontinue all use of that information in proceeding with our rating analysis. It seems disingenuous at best to assert in your letter to investors published yesterday, March 9 (footnote 1), that you "intend to work with Fitch to perform the analysis needed to rate [MBIA's] debt securities", while privately demanding return of the portfolio information and materials that you freely provided to support our ratings and that of other rating agencies for many years.

It would appear that rather than "work with Fitch" your intention could be to emasculate our opinion by withholding information and subsequently discredit our opinion as being uninformed.

In your letter, you also state that the value of IFS ratings in today's volatile capital markets is disconnected from individual instruments insured by MBIA and "overwhelmed by the forces of trading markets in unrelated securities." If you believe that, then you should request withdrawal of all rating agencies' IFS ratings.

Your conflicting views lead me to question whether it is the Fitch capital model, rating process or fees that you object to or rather is it that you are aware we are continuing our analytical review and may conclude that, in our view, MBIA's insurer financial strength is no longer 'AAA'.

I believe the central issue is MBIA's financial strength and the value of your insurance policies to investors, not the value of an IFS rating. It seems an unusual first step in attempting to rebuild MBIA's reduced credibility with investors to limit information, decrease transparency
and restrict "informed opinions" (which I believe Fitch has) just because we may not conclude that MBIA is a 'AAA' company.

I believe that the best way forward for MBIA to reestablish the value of its products in the market is to make more information available to more rating agencies rather than just aligning MBIA with Standard & Poor's and Moody's.

For clarification purposes, I ask that you please address the following questions:

-- Will you provide typical management reports, qualitative risk limit information, and other private information (with the exception of portfolio specific details) that are typically provided to NRSRO's by all rated public financial institutions?

-- Do you expect to provide access to management comparable to the access provided by rated public financial institutions?

-- Since you are requesting we continue our public securities ratings, can you affirm that you regard the information and access you intend to provide should be sufficient for a NRSRO to form a reasoned conclusion about the creditworthiness of your company?

We are considering your request that we withdraw the IFS ratings and return the portfolio information you previously provided us and will be consulting with regulators, issuers, investors and our own advisors and expect to announce publicly our views in the next several days.

Very truly yours,
[signed]
Stephen W. Joynt
President and Chief Executive Officer
Fitch Ratings

Footnote 1
-- Available at: http://www.mbia.com/investor/publications/letter_030908.pdf
-- Also Investor Letter: Part 1: http://www.mbia.com/investor/publications/letter_030308.pdf
-------------------------------
MBIA Email to Fitch Ratings
To: , ,
From: "Pastore, Fred"
Date: 03/08/2008 03:42PM
cc: "Chaplin, Chuck" , "Wertheim, Ram"
Subject: Confidential MBIA Information

As noted in our letter delivered Friday afternoon, we request that Fitch remove from its MATRIX model input files all non-public details of our insured portfolio. This includes, but is not limited to:

--the "lower of" ratings information of other rating agencies;

--MBIA's internal ratings for all transactions;

--transaction level insured exposure data (i.e., gross and net par outstanding) and any other risk identification data (e.g., risk sector classifications, maturity date, country of risk);

-- details of MBIA's reinsurance cessions;

-- non-public details relating to MBIA's asset management business.

Since this non public information was provided in connection with the ongoing IFS ratings of MBIA and given our request for Fitch to immediately withdraw the ratings, we request that the use of such information for any purpose be immediately suspended, in particular for use in Fitch's MATRIX model.

Going forward, we do not intend to provide the detailed insured portfolio data necessary to run Fitch's capital model. In accordance the licensing agreement with Fitch, we will return the CD ROM containing the model program files and certify under a separate letter that we have deleted all copies of the program from our network, desktop computers and any other file storage devises.

We also request that Fitch return or destroy all non-public, confidential reports and insured transaction documents. This includes, but is not limited to:

-- quarterly Insured Portfolio Management Report;

-- quarterly Market Risk Reports;

-- MBIA underwriting memos, Offering Circulars, Indentures, Swap Confirms and any other transaction documents relating to MBIA's insured structured finance CDOs.

As we continue to evaluate our 5-year transformation plan, and as Fitch continues to develop its own business in the global capital markets, we expect that there will be opportunities to work with Fitch for ratings on the Company's future insurance entities.

Regards,
Fred

Media Relations: Kenneth Reed, New York, Tel: +1 212-908-0540.

Fitch's rating definitions and the terms of use of such ratings are available on the agency's public site, 'www.fitchratings.com'. Published ratings, criteria and methodologies are available from this site, at all times. Fitch's code of conduct, confidentiality, conflicts of interest, affiliate firewall, compliance and other relevant policies and procedures are also available from the 'Code of Conduct' section of this site.