In last Friday's trade the market bounced back from one of its worst declines so far this year. This bounce back was led by the financial sector which was one of the worst hit during Thursday's sell-off. This is another indication that the capital flight out of Europe and other overseas places remains in high gear, as these investors are moving their money to the U.S. for safekeeping, because the U.S. is still the safest place on the planet for their money. It also shows that this market does not want to be kept down and keeps popping up. But check these charts and note that for as long as the green, red and yellow Moving Average lines on these indexes remain in their bearish configurations, the market has no chance to initiate a sustainable rally.
Also, the relentless drop in the price of oil reflects a bearish scenario for the global economies and consequently for the stock market. If OPEC controls up to a point the supply and thereby the price of oil, that's one thing and the market may be able to cope with that. But if the global demand for oil is diminishing as it appears to be the case now, the market will respond with a very choppy trading environment and wild swings in either direction, as was the case last week.
Another reason why the financial sector led the market out of a hole last Friday was that Moody's Investors Services engaged in credit downgrades for some of the world's largest banks. These downgrades had been expected, but were mostly less severe than the market had anticipated, so it rallied. Ever since last February these banks were supposedly exposed to the risk of large losses from adverse capital markets activities. So now that it appears this headwind to the financial sectors of the market has been removed, the market's focus is shifting back to Europe, and here things are getting dicey.
In Europe, a new game of chicken is being played out, which could have dire consequences for the world's financial structures. The assumption was that with a new pro-Europe government elected in Greece, less stringent European bailout conditions could be negotiated. But that is not the way things are starting off. The new Greek government flatly declared that it will not comply with most of the onerous bailout conditions set by the largest European countries, while the leaders of these nations are adamant not to renegotiate these conditions to the point where Greece will be willing to comply with them. So both sides appear to be on a collision course, and is one of the reasons why the market is engaged in such choppy trading action.
Check these three Troika charts, SPX BGU bulls and BGZ bear below, and note that they are at a standoff, with the bulls at the bottom looking up, and the bear on top looking down. Now it is a waiting game to see when the green, red and yellow MA lines for the two bulls are turning into a positive configuration, while turning negative for the bear. Until this happens, expect the market to continue its volatile swings while mainly moving sideways.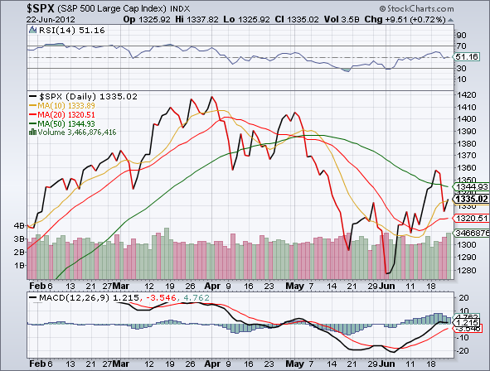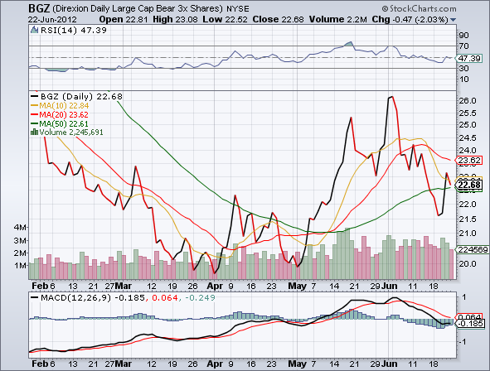 The USD Greenback reflects the urge and surge of overseas investors to seek the U.S. as safe haven for their capital. No gold, no oil nor any other commodity can match this urge. Note the strongly bullish green, red and yellow MA lines configuration which is matched by the bullish stance of the MACD momentum index and ditto for the RSI strength indicator.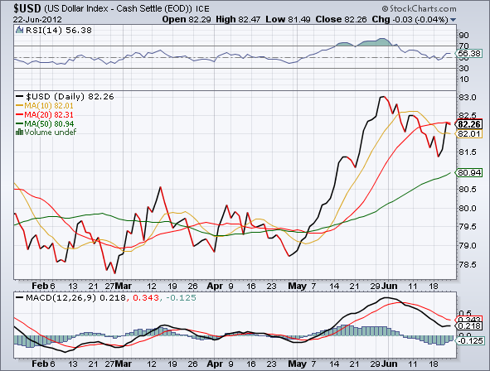 Gold is simply no match for the Greenback.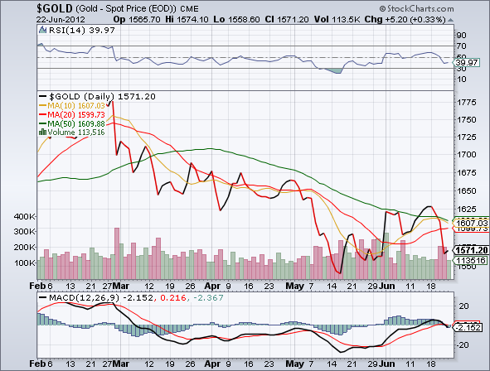 Ditto for oil WTIC.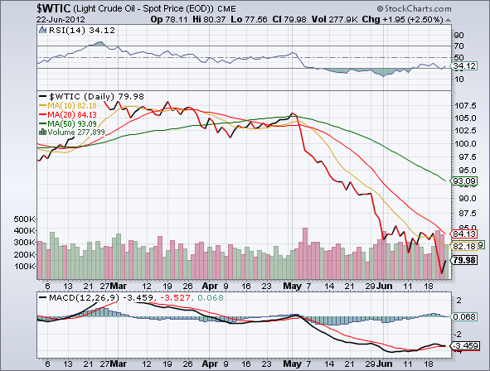 What applies to oil and gold equally applies to the commodity market CRB as a whole.
With the commodity market down and out, this commodity laden index TSX has no choice but to follow suit.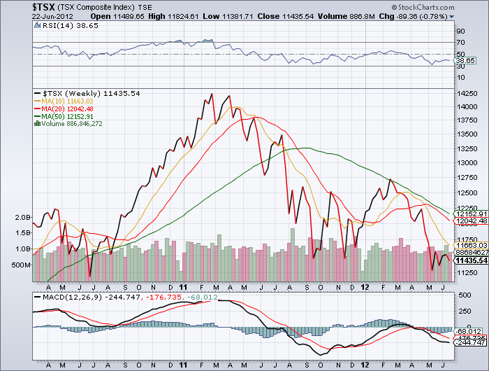 The index of this JNK junk bond market forecasting canary shows that the market is in gear to move higher, with even the MACD momentum index along with the RSI strength indicator pointing in the same direction. But for as long as the MA lines of this index remain in a bearish configuration, nobody is stepping on the gas pedal. What does a bullish configuration look like? Check these MA lines from early February to early April, now that was bullish.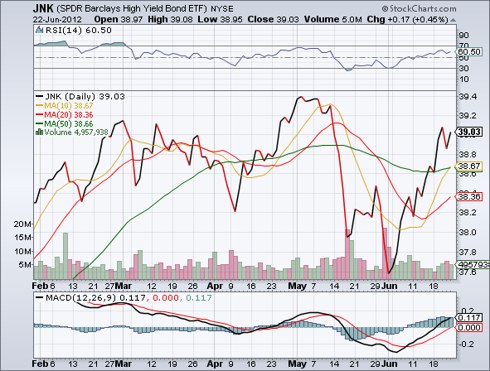 Here are some bull and bear ETFs from the favored list, to help you play the market in any direction.
Leveraged Bull ETFs: Russell 1000 2x NASDAQ 100 QLD, Russell Financials 3x FAS, ULTRA Tech 2x ROM, Small Caps 600 2x SAA, Semis 3x SOXL, Russell 2000 3x TNA, Tech Bull 3x TYH ,Russell 2000 3x URTY
Non Leveraged Long ETFs: Small Cap 600 JT, Russell 2000 IWO, NASDAQ 100 QQQ, Biotech XBI Health Care XLV, Vanguard Small Caps VB.
Leveraged Bear ETFs: Russell 1000 3xDeveloped Markets DPK, Ultra Short DOW 30, 2x DXD, Russell Financials 3x FAZ, Mid Caps 400 2x MZZ, Short DOW 30, 3x SDOW, Short Financials 2x SKF Semi Bear 3x SRTY.
Non Leveraged Short ETFs: S&P500 SH, Russell 2000 RWM, NASDAQ 100 PSQ, Active Bear HDGE, DOW 30 DOG, Short Financials SEF.
Disclosure: I have no positions in any stocks mentioned, and no plans to initiate any positions within the next 72 hours.