I am initiating coverage on AutoNavi (AMAP) with an Overweight rating and a DCF-based price target of $18. AutoNavi is a leading digital map content and navigation solution provider in China.
I am positive on AutoNavi because of its position in China's highly regulated land surveying and digital mapping industry, and its growth potential in mobile map content, navigation and location based services (LBS).
Business Overview
AMAP has three business segments:
Automotive Navigation provides digital map data for in-dash navigation system and portable navigation devices (PND)
Wireless and Internet LBS provides map and navigation data to mobile device makers, such as Samsung and Apple (NASDAQ:AAPL), and websites such as Google (NASDAQ:GOOG) and Tencent
Government and Enterprise Services provides aerial photogrammetry, digital city modeling and LBS services to the government and corporations
Investment Highlights
In-Dash Navigation Business Will Flourish Due To High Barrier To Entry
Unlike the US and Europe, China has a highly regulated land surveying and digital mapping industry in which only 12 Chinese companies hold the land surveying license. This policy creates a high barrier to entry for foreign companies and allows domestic firms to flourish. In the long term, I believe government will maintain this barrier for national security reasons (eg. Chinese government will never allow Google to survey Chinese land data and sell it to third parties).
Among the 12 qualified Chinese companies, AMAP is the clear leader. Since 2002, the company has invested over $80 million and digitally mapped 3.3 million kilometers of roads and 20 million point of interest (POI) in China.
Because of China's massive urbanization, new roads and cities create strong demands for accurate and comprehensive mapping and navigation services. According to iResearch, China's mapping service market is expected to grow to $420 million in 2014 from $262 million in 2012.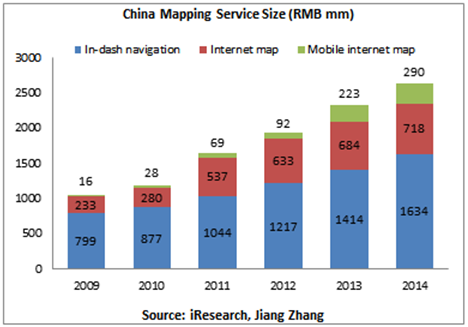 AMAP is the preferred map data provider for Audi. Other automakers such as BMW, Mercedes-Benz, VW, and Honda also use AMAP because it has the most comprehensive map database.
In China, automakers are increasingly adding in-dash navigation systems as standard equipment. According to the data from Research and Markets, 1,041 out of 3,698 car models sold in China were equipped with in-dash navigation, an increase of 6.7% from 2010. In addition, 20.4% of low-end models with RMB100-200K price tag are equipped with in-dash navigation, compared with only 12% in 2010.
The in-dash navigation market is a duopoly shared by AMAP and state-owned NavInfo.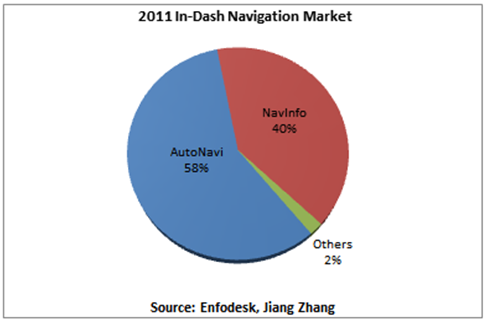 This duopoly has been consistent over the past several years and I do not believe this will change because AMAP is used by mostly European models whereas NavInfo is used by mostly Chinese and Japanese models. The duopoly allows both companies to collude and to make a healthy profit.
Promising Growth in Mobile
In the mobile space, AMAP provides map data and navigation, and collects revenue from pre-installed navigation solutions in mobile phones and downloadable navigation solutions and applications such as map display, route planning, point-of-interest, live traffic service.
Wireless and internet LBS accounted for 28% of AMAP's revenue in 1Q12, compared with 11% in 2Q10.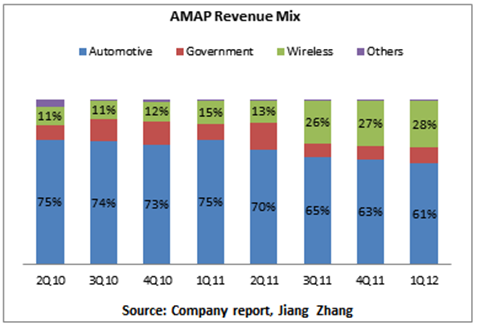 The company's mobile monetization strategy involves collaborating with carriers and brand handset makers to sell its mobile navigation service and providing free map data service to the consumers.
AMAP collaborates with China's three major carriers China Mobile (NYSE:CHL), China Unicom (NYSE:CHU) and China Telecom (NYSE:CHA) and its navigation service is preinstalled in all the Samsung smartphone models (including the new Samsung Galaxy S3), 80% of Motorola models, and 50% of LG models in China. The company also collaborates with HTC, Lenovo, Huawei, and ZTE. As a result, AMAP leads the mobile navigation market with 39% share.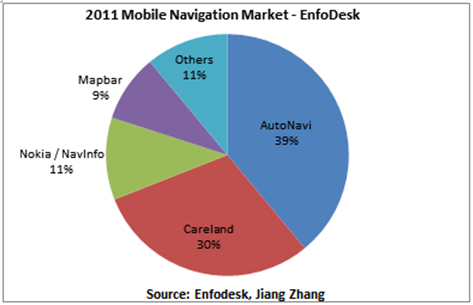 In the map data segment, the number of AMAP's total mobile app users reached 52 million in 1Q12 and management expects it to reach 100 million by year-end. While the number of free app users is truly impressive, I believe a more accurate metric is monthly active user (MAU) as a percentage of total app users to measure user engagement. Over the past year, user engagement more than doubled.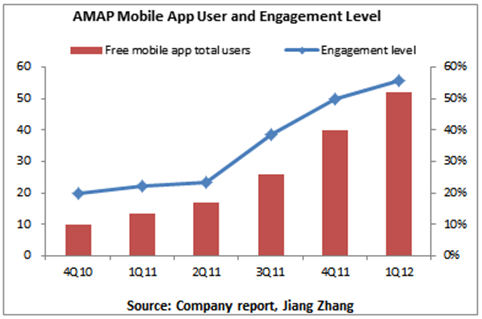 At the end of 2011, AMAP leads China's mobile map data market with 29% market share.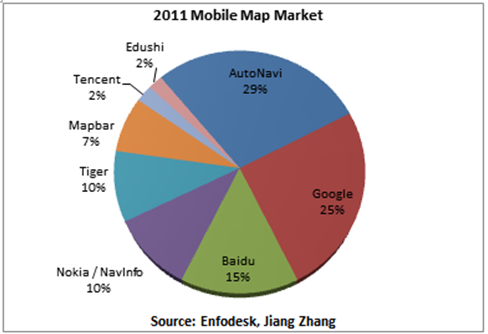 Note that Google use data provided by AMAP while Nokia (NYSE:NOK), Tiger and Baidu (NASDAQ:BIDU) use NavInfo. Technically speaking, AMAP has 56% share in mobile maps compared with NavInfo's 35%.
AMAP's mobile user base will climb further after Apple picked the company to be its map data and navigation partner in China by incorporating AMAP's services in the new iOS 6. I believe this partnership will be beneficial to AMAP's brand image and could lead to future purchase of its navigation service, which is priced at RMB 50. In my view, the price point is affordable to all Chinese smartphone users.
AMAP's position in mobile map also opens the door to O2O possibilities. I believe that AMAP's most valuable asset is its database of map content and user activities (real-time location, most traveled route etc). The information is valuable to travel agents, group buy companies, department stores so they can deliver promotional ads to users' mobile devices and in-dash navigation systems. AMAP could also form a revenue sharing agreement with POI (eg. Hotels, café, restaurants) for every reservation or online purchases made via AMAP's navigation services.
The company has not explored the O2O possibilities and is only focusing on building user base to gain the right critical mass. Overtime, LBS services and advertising are the most feasible routes for AMAP to pursue as it diversifies from in-dash navigation to mobile.
Competitive Analysis
Despite trailing behind AMAP in the in-dash navigation, mobile navigation, and mobile map markets, NavInfo has a solid position in the PND market. However, I do not view NavInfo's business sustainable because:
In-dash navigation is becoming the standard equipment in a number of car models sold in China
Proliferation of entry level smartphones allows drivers to spend an extra RMB 50 for a navigation application rather than RMB 200 - 1,000 for a PND
NavInfo's mobile position is weakening because it is tied heavily to Nokia, whose brand is declining due to wide adoption of Android phones in China
NavInfo's weakness is beginning to show in its fundamentals over the past two quarters.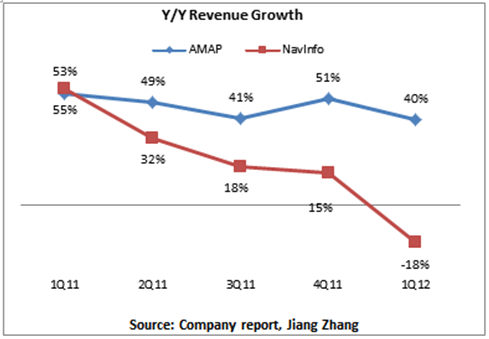 Mispricing exists between the two companies in that NavInfo is valued at more than twice of AMAP even though AMAP generates more revenue and achieves consistent growth than NavInfo.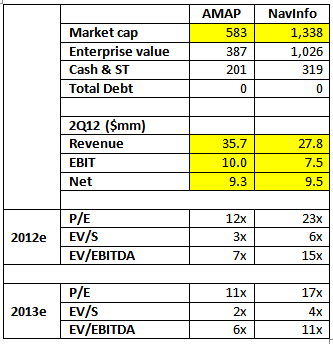 Key risks
Navigation Data Standard (NDS) - NDS is an initiative taken by the European automakers to standardize in-dash navigation and allow automakers to switch map system with little cost. BMW, one of AMAP's biggest clients, is adopting NDS standard in limited models. Audi and Benz have yet to switch.
Piracy - AMAP's digital map intellectual property can be pirated. Consumers who do not want to spend RMB 50 can obtain a pirated copy. However, pirated copy do not provide annual updates and buyers need to spend extra to obtain the update from the vendor. AMAP provides free annual updates to the authentic copies.
Privacy concern - users could turn off the LBS function in AMAP's navigation device due to privacy concern, thereby diminishing the company's growth potential and revenue source from LBS partners.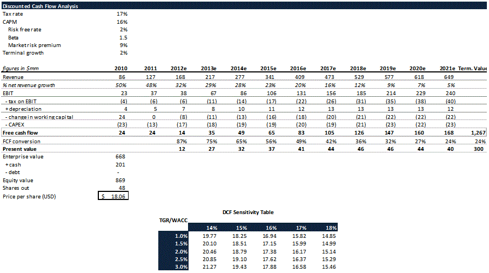 Disclosure: I have no positions in any stocks mentioned, and no plans to initiate any positions within the next 72 hours.