On March 6, Quiksilver Inc. (NYSE:ZQK) announced its 1Q`08 financial results. The company recorded net revenues of $650.3 million (consensus $560.9 million), higher by 14.5% year over year, and benefiting from the weak dollar translation. Unfortunately, the company's high expense base in tandem with a stiff operating loss for the wintersports business segment led to a quarterly net loss per share of $0.12 (consensus loss $0.10).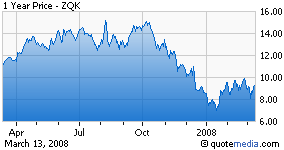 There are truly two ways to assess Quiksilver at the present time. The first, and more optimistic, is to view the business excluding the Rossignol Skis operation that has been a drag on returns since the 2005 acquisition. On this basis, the company performed reasonably well given the challenging consumer discretionary spending backdrop. Brands such as Quiksilver, Roxy, and DC Shoe continue to lead globally in their respective market niches. The other way to obtain a handle on Quiksilver is to look at the aggregate business, which is far less rosy.
1. Despite stating a desire to shed the Rossignol Ski business, the process is nowhere near complete. In the meantime, the business will continue to weigh on profits and cash flow. For 1Q`08, Rossignol Skis was an outright laggard, generating below average gross margins amid pricing pressure and poor demand.
2. Operating expenses must come down in order to realize financial benefits of apparel sales growth.
3. Debt levels continue to hinder Quiksilver.
Shares of Quiksilver have rebounded approximately 29.0% from the 52-week low hit on January 16, fueled by a round of upgrades out of major brokerage firms. To be sure, the company's near-term financials will be mixed as a result of prevalent macroeconomic themes (low consumer confidence, weakening home values, etc.) and internal factors (exposure to hardgoods). But, in our opinion it's prudent for investors to adopt a longer term approach to Quiksilver, one that will indeed exclude the albatross that has become Rossignol Skis. The eventual exit from this business should serve to (1) strengthen gross and operating margins, (2) boost cash flow, (3) reduce earnings risk/volatility, and (4) allow for greater managerial focus on leveraging core apparel brands.
Looking beyond this issue, we get the sense newly reappointed President Bob McKnight is about to embark on initiatives designed to make Quiksilver more competitive with its counterparts: such initiatives include trimming operating expenses, expanding product lines, and shoring up margins. After all, he has great impetus to stabilize the company as incentive compensation is tied to targets for EBIT/revenue growth, and shortly, to cash flow generation. We would continue to be buyers of the stock.
Written by Brian Sozzi, a Research Analyst for Wall Street Strategies (www.wstreet.com) specializing in the apparel/hardline goods sectors of the retail industry.