Currently, Nucor Corporation's (NYSE:NUE) stock may be likened to the best house in a bad neighborhood. Despite a difficult steel market, the stock has eased only 7% YTD versus prolific tumbles by competitors like U. S. Steel (NYSE:X), AK Steel Holdings (NYSE:AKS) and Steel Dynamics (NASDAQ:STLD); down 28%, 33% and 15%, respectively.
Nucor stock closed at $36.92 on Friday.
Nucor Stock Price and Volume (5 year weekly chart)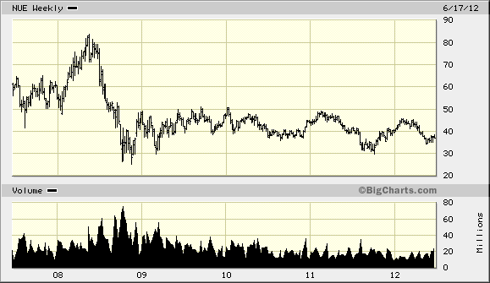 Click to enlarge
Source: www/bigcharts.com
What separates Nucor from its peers?
Nucor Corporation is a North American steelmaker, arguably the most efficient and best-run company in the industry. NUE operates multiple mini-mills, or smaller facilities, that permit the flexibility to ramp production up or down contingent upon market conditions. Nucor is a recycler, using scrap steel as the primary raw material in producing steel and steel products. Consequently, the company generates cash, even during down cycles.
The management team is lead by Dan Dimicco. His style is conspicuously forthright and unvarnished. The senior team is experienced. In addition, Nucor has an unmistakable ace in the hole: a 4% cash dividend yield. Indeed, the regular, or base dividend has been increased for 39 consecutive years. (Note: when business is expanding, Nucor has historically offered additional "special" dividends to shareholders.)
The company has demonstrated a commitment to long-term investors through the up and down cycles. The associated yield support (which kicks in at approximately 4%) has mitigated stock performance, even through tough industry stretches in 2009, 2011 and again this year. Based upon this historical data, I believe the stock price will not fall much below $35 a share.
Nucor is a core holding in my portfolio. Despite the short-term pain, the company is sound. Let's take a closer look.
Fundamentals
I like to start analyzing a company by reviewing the balance sheet. Nucor has a debt-to-equity ratio of 57%, and a debt-to-capital ratio of 36%. Both figures are acceptable. Long-term debt jumped a bit in 2010, but has remained flat since that time. Part of the company's strategy has been to build for the future during down-cycles, and the recent stretch has been no exception.
Return-on-equity and return-on-assets (trailing twelve months) are currently 10% and 6%, respectively. The Equity / Asset ratio (a favorite metric of the great value investor, Benjamin Graham) is 51%. According to Dr. Graham, a ratio above 50% indicates a quick screen for a sound financial enterprise.
Nucor has good liquidity. The current ratio is 2.9. Significant undrawn credit facilities are available for use. NUE management notes that it is the only major steelmaker with a A/A2 credit rating. The corporation holds $7.50 per share, or a fifth of the recent closing price, in cash.
Margins have weakened, but remain clearly in the black. The first quarter gross margin fell to 7.4% from 8.7% for the first quarter 2011. The operating margin eased from 7.1% to 5.3% over the same comparative period. The QoQ net margin fell about a percentage point. These margins also eased from the 2011 full-year figures.
Based upon 2012 first quarter financials, I calculated the annualized ROCE (return-on-capital employed) to be 8.8%. Despite working off relatively poor first 1Q results, this remains significantly better than Nucor's borrowing rate.
Nucor management has guided down EPS expectations for the 2012 first and second quarters. I expect full-year earnings to come in about $2.25. Nonetheless, I believe the 4% yield support will keep the stock price above the mid 30s. This level offers a P/E multiple well within Nucor's historical range during weak markets.
What is Expected Ahead?
The company continues to generate good cash flows. Nucor has the ability to quickly deploy or slow production and capital costs based upon business conditions. For patient investors, the company plans for the long view. The following slide offers some perspective.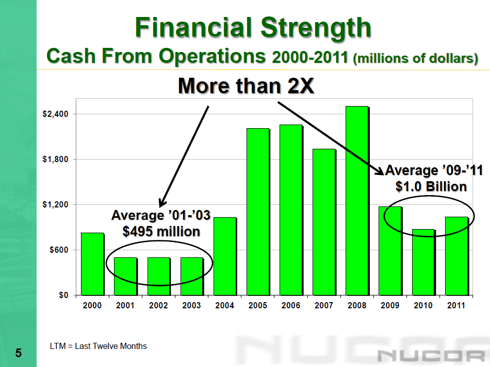 Click to enlarge
During the 2001-2003 downturn, cash from operations averaged $495 million a year. That may be compared with the 2009-2011 down-cycle, whereas cash from operations has averaged $1 billion annually. Nucor management historically invests in the business during weak periods, with the expectation of emerging strong than before.
In conjunction with the current down cycle, NUE has been building earnings power through:
steelmaking expansion (at seven different U. S. mills)
improved raw materials investments (Louisiana DRI facility / natural gas conversion)
downstream initiatives (NuMit / Steel Tech JV / Skyline acquisition)
The 2008 to 2011 period has seen Nucor management invest $5 billion in capital projects; the depreciation and amortization during this same period has been $2.3 billion.
Bottom Line Thesis
Nucor Corporation represents a premier company in a down cycle industry. However, the underlying business financial strength and strategic plan remain strong. As has been the case in the past, NUE management is using the current ebb in the steel business to reinforce their competitive position via expansion, acquisition and initiatives.
I believe the stock price has a floor underneath it: a 4% yield. The stock price has been supported by this yield several times in the past. Investors know that the NUE directors and management team will defend the cash dividend, as demonstrated by decades of dividend growth through economic expansion and recessions.
Over time, the steel business will recover, just as in the past. When it does, Nucor will emerge stronger than before the downturn. The subsequent business improvement will offer investors share appreciation as EPS recovers, as well as expected re-instatement of the special dividend.
Disclosure: I am long (NUE).