This article is a three-minute read for your future of investing wisely. My goal is to provide you and clients with consistent annual profitability. All my articles are a compilation of several hours of analytics. If you would like more than this quick insight into my work you might want to begin by reading "My Methodology" in this Instablog article.

The computer - integrated systems industry group is one of the best. It is composed of IBM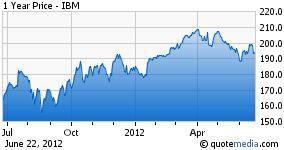 (NYSE:IBM) and other fine companies. I have selected three of the largest peer companies for this article. Remember, second and third-tier companies often have a lower risk. They also often have a better valuation for profit.
Apple, Inc. (NASDAQ:AAPL) is one of my top-five bellwether companies for my valuation work. I often use AAPL in a matrix, to gain a perspective of how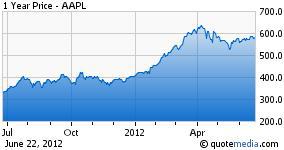 other companies rank and compare. These matrices always give me, the necessary, supportive and profitable results.
For this article, my focus is on IBM and AAPL. The remaining three companies are also well worth the time to study. They are: Micros Systems, Inc. (NASDAQ:MCRS), NCR Corp. (NYSE:NCR) and Diebold, Inc. (NYSE:DBD). It is impossible to give you my work for the entire industry group.
Buying for profit is a left and right brain proposition. These companies will all give you profits if you abide with simple rules. Within this current market time frame, the rule is not all that simple for most investors to handle. It is the, "wait for a while longer before buying" that presents a problem for most investors. My recommendation for the present time frame in this marketplace is to abide by the above "rule."
Conservative valuations and in-depth technical work produce the foundation for meeting your financial objectives. They nearly always foretell the near to short-term direction of a company's share price. And that is the key for consistent annual profits.
Again, my reason for the inclusion of Apple, Inc. in this article is for you to do your own comparison of the two companies. You should quickly see the rationale behind this exercise.
Source of raw data: Finviz.
Valuation for International Business Machines - IBM and Apple, Inc. - AAPL
IBM

AAPL

Comments for IBM:

Comments for AAPL:

Current Price:

$194.00

$582.00

These are not strong Valuations and Target Price Projections. The Valuation Divergence is negative. Although IBM edges AAPL in my current comparative analytics, it is not as strong as the financial analysts would have you believe. Projected earnings growth for IBM indicates that it will be declining through 2014. My technicals are currently graded as, "good" but the top has already been registered in March. Consensus opinions is much too bullish.

This suggests that IBM will continue to follow the general market indices.

At this time I recommend holding cash.

(Click on (chart) to view a 20-year chart for IBM).

Security's valuations should be updated and studied as frequently as possible. This work may or may not offer positive support or perhaps a negative warning! I do not recommend buying or holding IBM due my forecast of a bearish technical cycle.

These are also not strong Valuations and Target Price Projections. The Valuation Divergence is negative. When I do further fundamental studies, the result neither improves nor declines. Projected earnings growth for AAPL indicates that it too will be declining through 2014. My technicals are currently graded as, "good" as are my consensus opinions.

At this time I would not buy or hold either IBM or AAPL.
At this time I recommend holding cash.

(Click on (chart) to view a 20-year chart for AAPL).

Target Price:

Plus 10+% / minus 22+% from the current price.

Plus 8+% / minus 18+% from the current price.

Trailing P/E:

14.9

14.0

Forward P/E (fye 12/ date):

12.0

10.6

PEG Ratio:

1.39 - - ok

0.68 - - very good

Price to Sales:

2.15

3.77

Price to Book:

11.1 - - very high

5.24 - - very high

Dividend

1.71%

none

Return on Investment (R.O.I.)

21.5%

40.8%

Valuation Divergence:

(minus) - 24+% from current the price.

(minus) - 20+% from current the price.
Projected Price is calculated and produces a probable range of the current price over the coming one to three months. Fundamental Valuation and Technical Opinion is calculated and translated into a Rating. See the below Summary and you will quickly see how I focus on either the very best or the very worst. When the market is in between bullish and bearish cycles, I often recommend cash and patience as an alternative to being fully invested.
Summary Opinion of My Five Selected Companies
| | | | | |
| --- | --- | --- | --- | --- |
| Company Symbol | Fundamental - weighting (40%) | Technical - weighting (35%) | Consensus Opinion - weighting (25%) | Ranking ( 0 - 100 ) / Grade ( A - F ) / Direction (ascending / status quo / descending) |
| IBM | Very Good | Good | Very Good - Excellent | 85 / B -- descending |
| AAPL | Very Good | Good | Very Good | 83 / B -- descending |
| MCRS | Very Good | Poor | Very Good | 78 / C+ -- descending |
| NCR | Poor | Poor | Poor | 68 / D -- descending |
| DBD | Good | Good | Good | 78 / C -- descending |
My weighted Fundamental, Technical and Consensus Opinion ratings range from Excellent to Very Poor. Grades below 90 / A are not current (never are) candidates for buying.
Grades above 60 / F are not current (never are) candidates for short selling. Information and data are ever changing, so be alert. Every company's "Grade" can be from a neutral grade (60 to 90 / D to B) to a buy (greater than 90) or short sale (less than 60) in a very short time.
My methodology for grading all securities is by comparative analytics using my weighted fundamental, technical and consensus opinion date. If you were to go to MSN Scouter, you would find a very similar methodology for their rating any given company. They use several more criteria but give each receives a letter grade of A - F. For example: Apple, Inc. AAPL has for several years received a very high grade fundamentally as well as for their consensus opinion. However, when the technical weighting falls so does the technical "grade" it will receive. An example of a negative company would be Research in Motion Limited (RIMM). RIMM. Here the company has very poor grades in all three of my criterion. The difference between MSN Scouter and my work / analytics is the "accuracy." Apple and Research in Motion are used for examples because of the large divergence in both valuations and performance.
Direction is my long and short-term opinion of the trend. "The trend is your friend until it isn't!" It is when the "isn't" occurs that most investors tend to miss-judge.
Industry Status
The computer - integrated systems industry group is and has been very strong since early 2009. This fact is applicable, both fundamentally and on

the charts. IBM and AAPL are technically in sync with its fundamentals and are in stride with its industry. In more normal market time frames this would be a positive remark. However, regarding these securities and looking at the above tables and the charts, I get a mixed message. That is not unusual and only time will provide clarity as to that old question of buy, sell or hold?

My criterion for taking a bullish position is that the company must have the prospect within its fundamental valuation and technical chart to outperform the general market, its sector, and industry group.
Market Status
My general market opinion is that the fundamentals are over-valued; the technicals are over-bought, and the consensus opinion is way too bullish. I am currently a bear because my valuations are convincingly negative, and we are in a bearish cycle; it's just that simple.
Further support for my guidance for the general market can be read in my weekly Instablog article "Wednesday - General Market Update and Commentary."
Summary
Patience and discipline are more important than the above data, tables, charts and information. However, the focus is on that old question: do you buy, sell or hold? Do you have the patience and discipline to hold cash and wait until you can be sure to profit?
Currently, the above tables and charts present a clear and not-so-positive account of these five companies and the overall market indicators. It is a fact that the stock market cycles endlessly both fundamentally and technically from bullish to bearish and then back to bullish again. Unfortunately, this is a pattern that is not well-understood or taken advantage of by most investors.
This analytic work I do each day is fun and profitable. There is always a list of the best (for buying) and worst (for shorting) companies to further valuate and study. Seeking profits by focusing on the best companies or perhaps the worst companies is definitely a challenge. The companies between the best and the worst are never considered for investment. To be consistently profitable, I believe that we must be prepared with lists of the best and the worst companies. This work must be complete, well ahead of the next bull or bear market cycle.
Within this present bearish time frame, there is nothing (longer-term) wrong with these companies. It is simple what happens when they turn bearish, and is just the on-going "cycling effect" of the way the stock market works. I hope you understand and will continue to follow my work / analytics. It won't be long before I can offer you a bullish and up-beat forecast once again.
Conclusion
I am currently bearish on both the world economies and the general market. My more recent Instablog postings are focused on securities that should not be currently held in your portfolio. I suggest that it is vitally important for you to understand that holding cash during questionable time frames in the marketplace is a much wiser choice than holding your present positions. I can assure you that this is definitely a "questionable" time frame!
I can also assure you that I am longer-term bullish on all of these companies. Currently, we are in a time frame when it is often prudent to hold cash. Support for some of these companies current status will be posted this coming Saturday. My "Saturday Update" can be read weekly in my Instablog article.
Have fun, investing wisely.
Disclosure: I have no positions in any stocks mentioned, and no plans to initiate any positions within the next 72 hours.