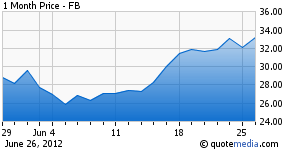 As a late twenty-something, my free time is primarily spent amongst friends, family, and the Internet. From the ashes caused by the dot.com darlings of the past, a new contender has emerged to provide us with a revolutionary means of consolidating our Internet time into one convenient location - offering us friends, family, news, entertainment and potentially everything else in the future. This integrated portal of life is Facebook (NASDAQ:FB).
The history of Facebook has been covered in numerous articles so I will not delve into its depths here. However, as a quick overview, Facebook shares debuted on May 18 and descended from an initial price of $38 to trade today at under $33 - about a 14% decline. Further technical issues with trading on the IPO day have caused NASDAQ officials to speak out and accept some of the blame for the decline.
While there are certainly more lessons to be learned from the Facebook IPO, I will address one, in the context of Facebook's new email system, here. When assessing a business for investment purposes, it is always wise to understand the company's business model and means of generating revenue and ultimately income. While the company has done a fantastic job accumulating users across the globe, and managed to retain their attention through providing a stickiness factor unmatched by nearly any other website, it is still refining its revenue generation model. I believe the stickiness factor just got a bit stickier with the automatic opt-in of your new @facebook.com email system and will ultimately serve as a key factor in generating advertising revenue.
While a recent survey conducted by Ipsos and Reuters has suggested that some of its visitors may be losing the sense of novelty about the site, its 900 million users still make it a popular destination with the most frequent users being aged 18 - 36 and approximately 60% of these being daily visitors. Facebook's email system may serve as another means of retaining these users on the site through providing one more critical service needed to manage your life. This consolidation of your e-life could be critical to Facebook's future success if it is coupled with the potential for the company to operate its own advertising network. Through becoming a focal point of its user's online world, Facebook has the opportunity ahead to amalgamate a plethora of data and produce distinctive ads to attract users to its future products and those of its partners. Further, the company's partners may be inclined to allocate larger percentages of their marketing budgets to a company/site that attracts nearly 900 million potential customers.
While a company that has not yet refined its revenue model is sure to experience bumps along the route, I believe Facebook has established itself as a key player in the industry and its users' lives. Ultimately, the company's success will depend on its ability to maintain this status. And while the future is never clear, I do not foresee a challenger as of yet that offers a viable alternative to Facebook. Google (NASDAQ:GOOG) and Myspace have tried and met with varying degrees of success - Google+ has about 170 million users and Myspace has trended towards a market focused on music. An interesting comparison may be to assess the Internet's impact on newspapers as this may shed light on Facebook's potential future competitors. The Internet has generally made global news readily accessible in a more timely manner to the public. This was once the domain of printed newspapers. However newspapers are generally losing this battle. While global news may trend towards the Internet, focused news relating to a niche topic or pertaining to a local area with a strong community may still be successful in printed form. Likewise, competitors to Facebook may spring up to cover a niche group that Facebook does not provide the necessary means to cover and share information, but the company's continued pursuit of becoming the focal point of your integrated Internet and physical lives will be key to the company's success.
When considering an investment, valuation should play a key part in the decision. While the price of shares in the company has come down from the IPO, they still trade at over at over 80x reported earnings. This high of a PE may suggest high hopes for a future of excellent growth and profitability, but it is always wise to assess the probability this will occur as expected. It is then good practice to discount the resultant number to accommodate the inherent inaccuracies in any forecast and unforeseen stumbles by the company along its path forward. In my view, I will not purchase Facebook shares at this level. However, I believe in the company's prospects and will keep a watch for a dip in price.
Disclosure: I have no positions in any stocks mentioned, but may initiate a long position in FB over the next 72 hours.