Despite record-high oil prices, PowerShares Dynamic Oil and Gas Services ETF (NYSEARCA:PXJ) closed on Monday down 9.5% year to date and 4% over the last week, facing some of the toughest adversity of its short life.
When PXJ debuted on Oct. 26, 2005, the Philadelphia Oil Service Sector Index [OSX]—which includes six of the ETF's top eight holdings—closed at 165.6, after a two-year leap of 94%. The index topped 312 to start 2008, marking another 88% jump; thereby rising, as the sector tends to do, with skyrocketing crude oil prices.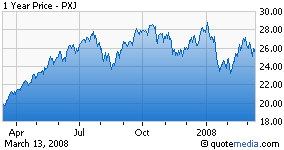 From Jan. 3 to March 10, the OSX fell 14.8%, as concerns about a slowdown in North America weighed on the sector, thanks to fears of a recession, fierce competition, and higher costs.
Oil prices continued to streak upward, topping $109 per barrel on Monday and gaining $20 in just a month. The weak dollar combined with speculation from funds and worried investors that were piling into commodities. And yet those concerns did weigh on oil services stocks, at least through Monday. On Tuesday, OSX recovered nicely on the Fed's news and more intraday highs for oil, gaining 3.5% to nearly make up for the tough week.
PXJ invests in oil field services firms, from big names such as Halliburton (NYSE:HAL) and Schlumberger (NYSE:SLB) to contractors and drillers (Diamond Offshore Drilling (NYSE:DO), Noble (NYSE:NE)) and other providers, such as Trico Marine Services (TRMA), which provides marine vessels and support to offshore producers.
Coming off a 39.3% return in 2007, among the top 30% of natural resources funds, PXJ's year-to-date loss of 9.9% (through March 7) was among the bottom 20%, as commodity funds took the lead. That's reflected in our PowerShares Momentum Tracker, which shows that commodity funds last week held the top seven spots, while PXJ resided at number 17.
Still, prior to last week's downturn, PXJ moved eight spots up the table in four weeks, to No. 18. In fact, all the fund's top-10 holdings had positive one month returns, with several posting big gains. The ninth and 10th largest holdings, Trico Marine and GulfMark Offshore (NYSE:GLF), were the top two year-to-date performers, with returns of 10.8% and 11.1%, respectively. Both are tied to offshore exploration and pleased analysts with strong fourth-quarter results on the back of long-term contracts at strong day rates. Trico shares gained 29.6% in a month (through March 10), while GulfMark posted a 24% return.
Exposure to smaller firms is one thing that sets PXJ apart from many of the sector's funds. As regular readers know, the Intellidex model seeks sector beating stocks using proprietary quantitative factors. It also divides holdings into larger- and smaller-cap groups: 40% of the assets equally among eight larger stocks and the other 60% equally among 22 smaller names.
Consider PXJ vs. Fidelity Select Energy Service [mutual fund ticker: FSESX]. They share seven top-10 holdings, but PXJ's emphasis on smaller stocks gives it an average market cap of $5.77 billion, with more than 70% of assets invested in medium- and small-cap stocks. FSESX, with a market cap of $17.06 billion, had 65% of assets in giant- and large-cap names. The small stocks may offer more growth now that the big boys have appreciated so much. In 2008 at least, PXJ's focus has paid off. FSESX was down 13.4% as the larger oil services names struggled.
Some analysts see the whole sector as strong going forward, regardless of the U.S. economy. The rationale? Demand for drilling rigs and other services will continue to be high, so long as oil prices stay at historically high levels. Energy companies are ramping up exploration and production [E&P], especially in low cost frontier regions, which require the specialized services of some of PXJ's holdings.
S&P remains positive on both drillers and equipment/services stocks, based on expectations for continued high capital spending, especially outside North America. While rig utilization and day rates limped through "a prolonged malaise in 2007," as S&P's Stewart Glickman wrote recently, he expects demand for oil services to increase on "higher spending by major oil companies and state-owned oil companies."
Worldwide, spending on E&P is expected to jump 11% in 2008, according to Lehman Brothers. The key continues to be global growth, with 16% outside North America vs. 3.5% here, in part because of uncertain natural gas prices.
Natural gas hit $10.02 per thousand cubic feet on Monday, closing in the double digits for the first time since January 2006. The fuel was twice as high as a year ago, which, PXJ bulls hope, will lead to more spending on gas deposits.
All that said, PXJ and its sector are likely to be highly volatile, given the cyclical nature of the industry and energy prices. Many analysts warn that oil can't stay near record highs forever. "It will end in tears," Rob Laughlin, senior broker at London's MF Global, told Bloomberg. "But not yet." If and when it does, PXJ will likely feel the pain, too.