You buy and hold tech giants not just because of what they have, but because of what they can buy. You buy smaller companies in hopes they can be sold to these big companies at a profit.
Big tech companies buy smaller ones in order to add their features and grow their own base. Yammer was such a small company, despite the $1.2 billion Microsoft (NASDAQ:MSFT) paid for it, and investors who bought into Yammer probably understood that from the start.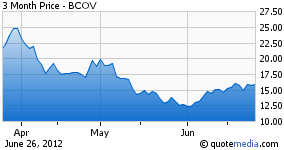 I suspect Brightcove (NASDAQ:BCOV) is similar, despite its having gone public early this year, and its latest moves smell like it's sprucing itself up to take that Yammer-like plunge.
Brightcove built its business providing back end support to media companies and other video producers. Its technology for this is App Cloud (two words), which marries HTML5 web development with cloud content services. A version of this, App Cloud Core, has now been released as open source in hopes of bringing mobile content developers into its fold.
The company itself is focusing on iOS, according to TheVerge, seeing Apple's AirPlay as the key that can separate cable bills into their component parts for people, turning networks into apps. The open source play extends its reach into the Android space.
But when you start playing so deliberately among technology giants, playing with key technologies like HTML5, mass media and public cloud development, I think it's wrong for investors to look at you strictly from a profit standpoint.
And investors don't.
What would you pay for a company whose sales are running toward $80 million/year (but increasing at nearly 25% per year) that has yet to achieve profitability? Or a development company that actually had to take out debt last year to leverage that equity - the current debt load is about three times cash on hand. Their most recent quarter showed a loss of 17 cents per share, but revenue beat by $2 million, about 10%, so that's good.
Well, the public market gives that a valuation of about $431 million, which comes out to about six times trailing revenues.
I don't think that's excessive.
Assuming you see this Cambridge, Massachusetts company as takeover bait, as an important technology supplier at the center of where the big fish are seeking their next meal.
This is a company that could bring you a surprising return at some point in the next two years, and if you're of a speculative bent you might want to put it on your radar. Failure to generate a sale, however, will not lead to a winning investment. That's just the way the game goes. You don't get to be a big fish by serving the bigger ones.
Disclosure: I have no positions in any stocks mentioned, and no plans to initiate any positions within the next 72 hours.